USN Energizing Amino Stim Fruit Punch - 30 Servings
Item #: USN15
UPC: 6009706098629
Energizing AminoStim is an Amino Acid performance powder with added energy ingredients. AminoStim features (3) patented scientifically proven ingredients for all day Focus, Energy & Recovery support.
Key Features:
8.6g Amino Acids per serving
154mg Caffeine per serving
Patented Carnosyn®
Patented Teacrine®
Patented InnovaTea®
Delicious taste
Sustained energy & focus blend
BENEFITS
AminoStim can be used as a pre-workout, pre-exercise, pre-sport, or anytime Amino & Energy boost. The blend of BCAAs and EAAs provide recovery benefits, Carnosyn® Beta Alanine helps maximize muscle performance, and the energy & focus blend of Caffeine, Teacrine®, and InnovaTea® provides a sustained release.
DIRECTIONS FOR USE
Mix: (±1-2) scoops (11-22g) with 10-18 fl. oz. of cold water and shake well.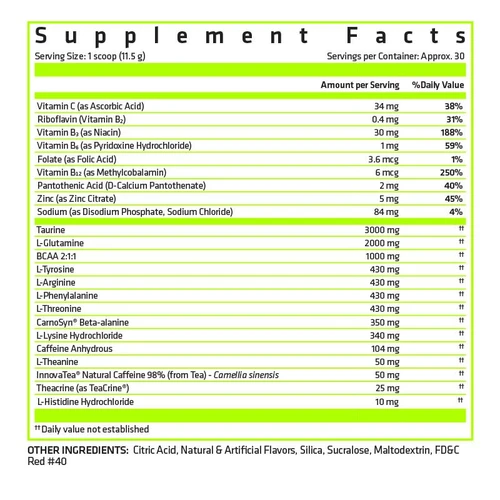 *These statements have not been evaluated by The Food and Drug Administration. This product is not intended to diagnose, treat, cure or prevent any disease.

More items you might like
Loading...