USN Phedracut Burn X Black - 50 Caps
Item #: USN14
UPC: 6009544918103
25% Off w/code DPS10
Out of Stock

Burn X Black is a powerful thermogenic fat burner that features patented ingredients to stimulate fat loss and provide maximum energy output.
Key Features:
250mg Caffeine Anhydrous
200mg Advantra Z®
100mg L-Tyrosine
75mg Dynamine™ (40% Methylliberine)
60mg Paradoxine® Grains of Paradise Extract
50mg Theobromine
5mg BioPerine®
2.5mg Alpha-Glycerophosphocholine (a-GPC)
2.5mg Yohimbe HCI
.5mg Alpha Yohimbine
BENEFITS
Cutting-edge formulation with patented ingredients have been shown to increase fat loss, accelerate thermogenesis, suppress appetite, increase energy & focus.
DIRECTIONS FOR USE
Take: As a dietary supplement, take one serving (1 capsule) with 8-12 fl. oz. of water in the morning, and one serving (1 capsule) with 8-12 fl. oz. of water 5-6 hours later. USE ONLY AS DIRECTED.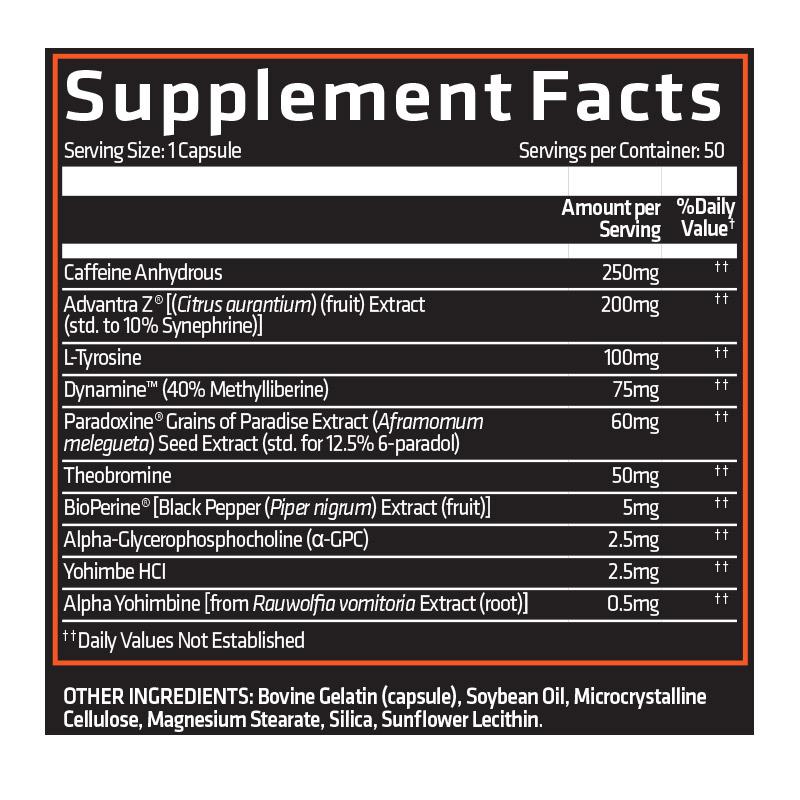 *These statements have not been evaluated by The Food and Drug Administration. This product is not intended to diagnose, treat, cure or prevent any disease.
More items you might like
Loading...