Perfect Sports APEX Grass Fed Whey Chocolate Ice Cream - 5 Lb
Item #: PER14
UPC: 699097730145
30% Off w/code DPS10
Out of Stock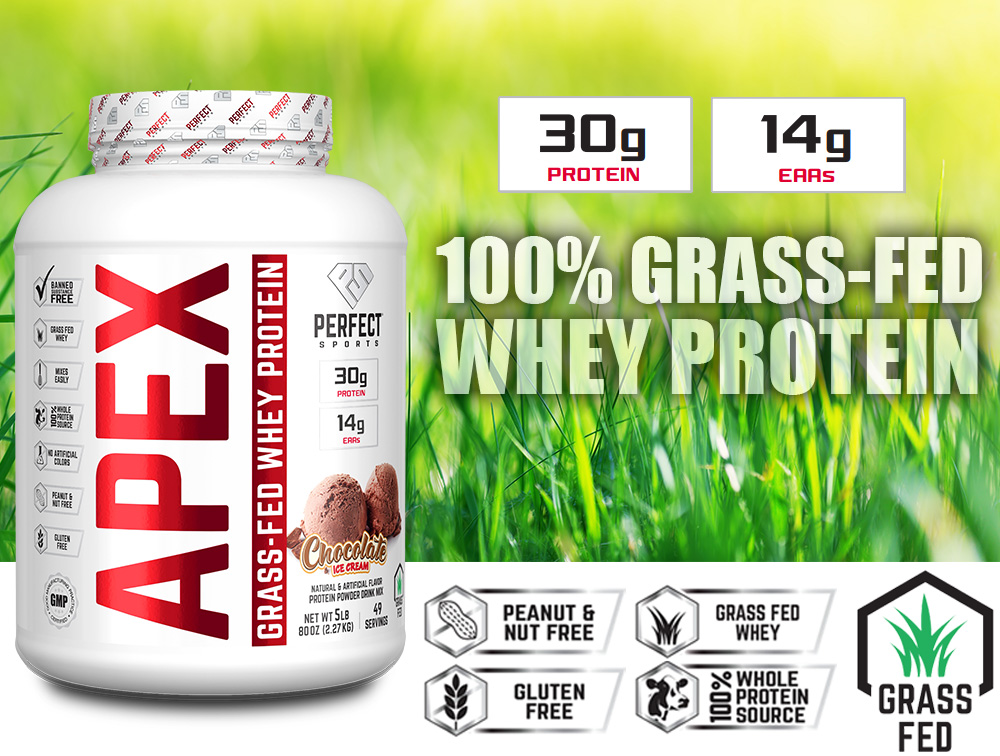 GRASS-FED WHEY PROTEIN
APEX Whey offers 30 g of premium grass-fed whey protein per serving. This high-grade protein source provides 14 g of essential amino acids (EAAs), which includes 6 g of branched chain amino acids (BCAAs), along with 16 g of non-essential amino acids. These amino acids are required to support muscle growth and repair.*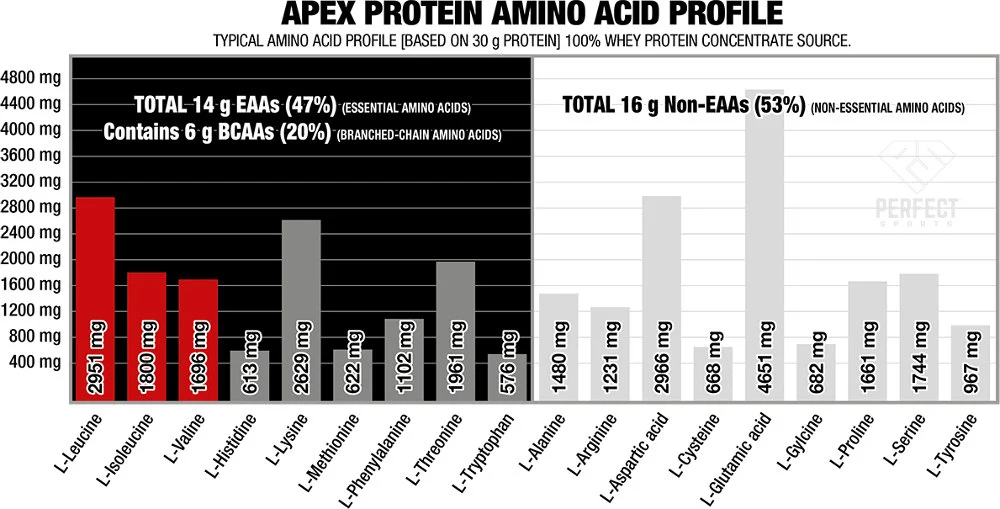 SUPERIOR PROTEIN FOR SUPERIOR RESULTS!
PERFECT Sports® APEX Whey contains only whole intact whey protein with no amino acid spiking, no banned substances, no artificial colors, fillers or aspartame. Each serving provides 30 grams of high-quality, grass-fed whey protein that is low in carbs and contains no trans fats.*

UNDENATURED PROTEIN = MORE PROTEIN!
To ensure a higher yield, the protein found in APEX is processed at 4° Celsius. This purification process helps ensure that the protein and bioactive whey fractions in the formula stay intact. These bioactive whey fractions have their own unique biological properties to help support muscle repair and growth, digestive health, immunity, liver function and overall health.*
With APEX Whey you're getting high-quality protein that has not been denatured by heat, enzymes or acids and is easily assimilated by the body. If a protein has been subjected to harsh chemicals, excessive heat or enzymes, these whey fractions will not be present in the protein.*
GOVERNMENT-CERTIFIED MANUFACTURING
PERFECT Sports APEX Whey is engineered in our own government-certified manufacturing facility to ensure purity, potency and optimal quality. By manufacturing our own products, we maximize value while producing the highest quality supplements commercially available. Our ingredients are lab tested to ensure that what's on our label is inside every bottle.
EASY-TO-MIX FORMULA
The APEX Whey formula has been instantize to mix up easily with a shaker cup or in a glass with a spoon. Simply mix 8 fl. oz (1 cup) of cold water or your favorite beverage to deliver a delicious milkshake taste! For best mixing results, add liquid before powder.*
More items you might like
Loading...