Blackmarket Labs Guerilla NINE EAA's Strawberry Lemonade - 30 Servings
Item #: BLM16
UPC: 858113007726
GUERRILLA NINE
Guerrilla NINE was formulated for the workout veterans looking for advanced recovery supplementation. NINE is enhanced with a full profile of Essential amino acids, clinical dosing of KSM66, and Aquamin providing you with a great tasting recovery supplement.
Amino9 is a Leucine-enhanced, clinically-substantiated* blend of all nine essential amino acids (EAAs), including the three BCAAs — leucine, isoleucine, and valine. Amino9 is designed to help bodybuilders, competitive athletes, and anyone leading an active lifestyle to recover after strenuous exercise, improve body composition and maintain muscle.
Benefits:
– EAAs have been shown to stimulate as much MPS as whey protein.
– EAAs activate MPS with a lower insulin spike than whey protein.
– EAAs stimulate more muscle protein balance than BCAAs.
– EAAs are like "BCAAs Plus" because EAAs contain BCAAs!
– EAAs can have a lower cost-per-dose than whey protein.
– EAAs require a lower dose than whey protein.
Features
– Fast-acting, free-form EAAs
– Easy to flavor and sweeten
– Easily soluble and dissolves clearly in water
– Stable in Ready-To-Drink beverages
– Low calorie
– Easy on the stomach — no bloating
– No lactose (dairy-free)
– Gluten free; allergen-free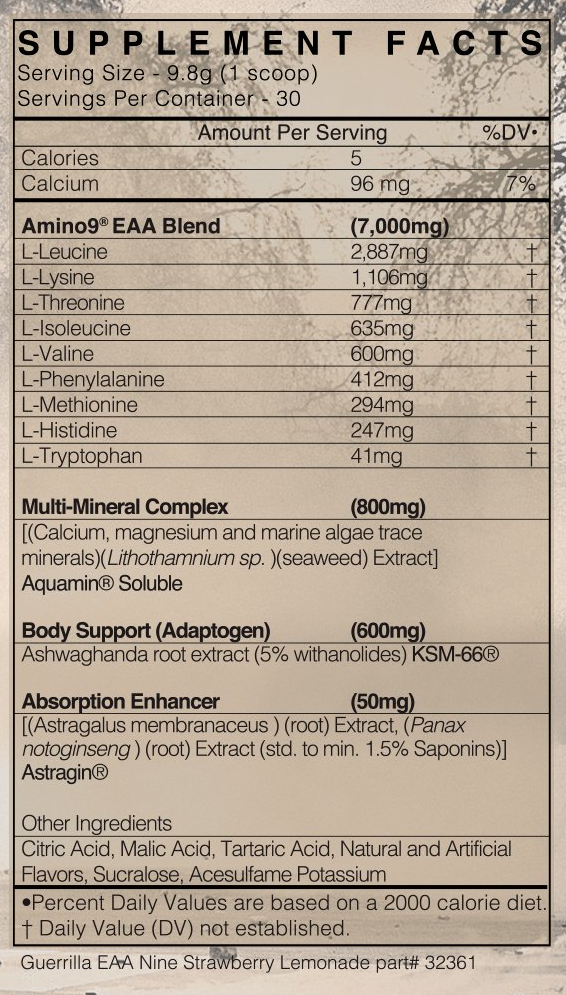 These statements have not been evaluated by the Food and Drug Administration. This product is not intended to diagnose, treat, cure or prevent any disease. For best results supplements should be taken as directed over time, at maximum dosage in conjunction with a healthy diet and regular exercise program.
Warning:
Consuming this product can expose you to chemicals including Lead, which is known to the State of California to cause cancer and birth defects or other reproductive harm. For more information go to www.P65Warnings.ca.gov/food.
More items you might like
Loading...