Gaspari Nutrition Proven Immunity Refreshing Citrus - 30 Servings *Closeout
Item #: GP349
UPC: 646511027916
†IMMUNE SYSTEM SUPPORT
Helps Support A Healthy Immune System†

Supports Healthy Blood Sugar Levels†

Assists In Maintaining Healthy Cholesterol Levels†

Health and wellness have never been more paramount than they are now. With that being so essential Gaspari Nutrition® has carefully formulated Proven Immunity™, an immune health booster containing superior ingredients that have been utilized to maintain a healthy immune system for years.
Gaspari's Proven Immunity™ contains Beta-Glucan, a polysaccharide that may offer a number of health benefits; including maintaining healthy cholesterol levels, supporting healthy blood sugar levels, and overall immune system support. Proven Immunity™ also contains Vitamin C, Vitamin D, and Zinc which have been known to possess immune-enhancing properties and help play synergistic roles in supporting components of our immune systems by fortifying the epithelial barriers, cellular defense, and antibodies which constitute the three main lines of defense for our immune systems. All that and it comes in a deliciously refreshing easy to mix Citrus flavored powder.
SUGGESTED USE: As a dietary supplement, take 1 scoop with 8-12 fl. oz. of water daily or as directed by a healthcare practitioner.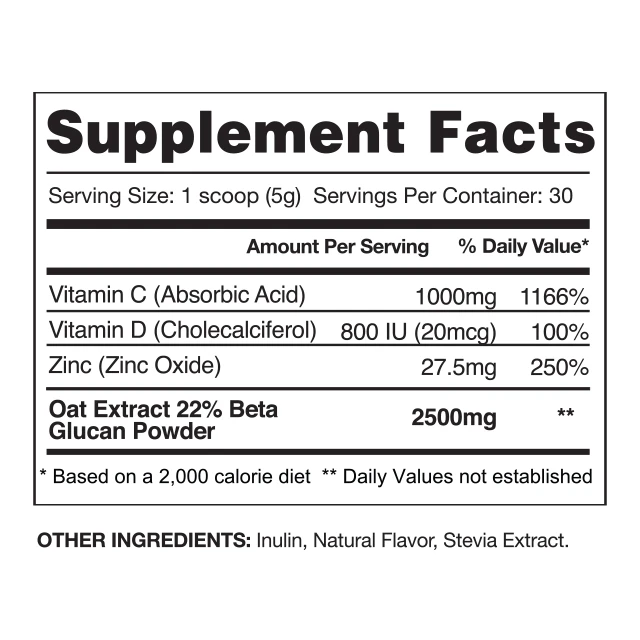 WARNING: As with any dietary supplement, consult your healthcare practitioner before using this product, .especially if you are pregnant, nursing, or otherwise under medical supervision.
KEEP OUT OF THE REACH OF CHILDREN STORE IN A COOL DRY PLACE. STORE AWAY FROM HEAT AND MOISTURE. TAMPER EVIDENT: DO NOT USE IF SEAL UNDER CAP IS BROKEN OR MISSING

*Statements on this website have not been evaluated by the Food and Drug Administration. Products are not intended to diagnose, treat, cure, or prevent any disease.
More items you might like
Loading...