Ignite Nutrition Dominate-Up Fruit Punch - 30 Servings
Item #: IGN01
UPC: 850007175085
DOMINATE-UP WILL CHANGE THE WAY YOU LOOK AT PRE-WORKOUTS
When we decided it was time to show the rest of the pre-workouts on the market how it's done, we decided to formulate a complete and balanced pre-workout. One that would blow away the competition. You want a pre-workout that can power you through the toughest training sessions without the crash and jitters. You also want a product that is dosed effectively, giving you what you need to get the job done in one serving. Just wait until you try Dominate-Up! This isn't just another pre-workout. We are going to redefine what you should expect from a pre-workout!
Dominate-Up features a complete profile using branded ingredients that are effectively dosed. You should expect nothing less from Martyn Ford's Ignite Nutrition.
PUMP BLEND
For many bodybuilders and athletes, it's all about the muscle pump. And for good reason. Who doesn't want to take a look in the mirror and see a raging monster looking back? After all, a huge, full looking physique is a major factor. This pump isn't just for the aesthetics, it also promotes functional benefits including increased blood flow which helps to deliver additional nutrients and oxygen to your tired muscles. Dominate-Up further separates itself from other pre-workouts by including ingredients for both nitric oxide production and increased cell volume. This translates into hydrated muscles with increased ability to perform.
L-CITRULLINE – 3,500MG
GLYCERPUMP GLYCEROL POWDER (STD. 65% GLYCEROL) – 2,000MG
PERFORMANCE BLEND
A great pre-workout needs to offer more than merely energy or huge pumps. A great pre-workout must provide effective performance. Ignite Nutrition understands this and made sure Dominate-Up gives you everything you need to dominate your training session.
BETA-ALANINE – 1,800 MG
L-TAURINE – 1,000 MG
CREATINE
L-TYROSINE – 500 MG
RIBOSE – 200 MG
FOCUS BLEND
The fabled mind-muscle connection doesn't just apply to bodybuilding, it applies to all sports. The connection you have with your working muscles during a training session is the difference between a great workout and merely going through the motions.
CHOLINE BITARTRATE – 500 MG
ALPHA GPC (50%) – 100 MG
TOOTHED CLUBMOSS (STD. TO 1% HUPERZINE A – .05 MG)
STIM BLEND
490 mg (Total Caffeine 330mg) - Caffeine Anhydrous, Theobromine, Hordenine HCL, N-Methyltyramine HCL, Dicaffeine Malate (Infinergy), Caffeine Citrate.
CAFFEINE
THEOBROMINE
HORDENINE
N-METHYLTYRAMINE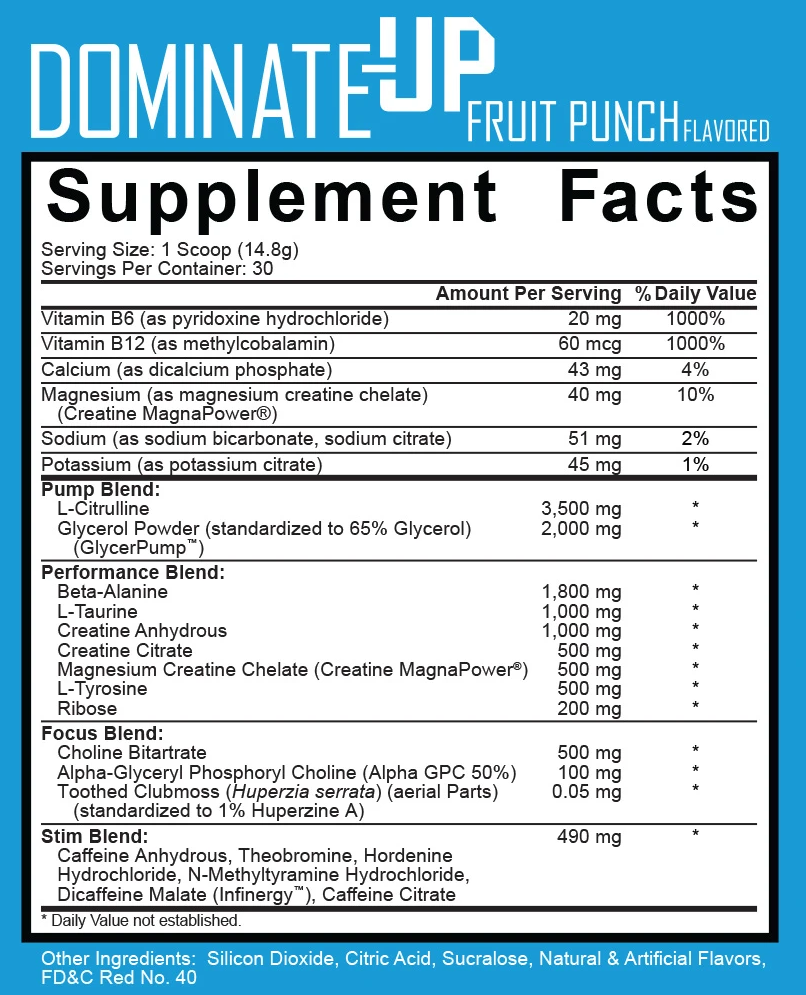 1. https://examine.com/supplements/citrulline/
2. Van Rosendal, S; Guidelines for glycerol use in hyperhydration and rehydration associated with exercise.; School of Human Movement Studies, The University of Queensland; 2010; https://www.ncbi.nlm.nih.gov/pubmed/20092365
3. Lorenz M, Wessler S, Follmann E, et al. A Constituent of Green Tea, Epigallocatechin-3-gallate, Activates Endothelial Nitric Oxide Synthase by a Phosphatidylinositol-3-OH-kinase-, cAMP-dependent Protein Kinase-, and Akt-dependent Pathway and Leads to Endothelial-dependent Vasorelaxation. J Biol Chem. 2004;279(7):6190-6195. doi:10.1074/jbc.M309114200.
4. Effects of ß-alanine supplementation on exercise ... (n.d.). Retrieved from https://www.ncbi.nlm.nih.gov/pmc/articles/PMC3374095/
5. (n.d.). Retrieved from https://www.physiology.org/doi/pdf/10.1152/physrev.00037.2007
6. Van, L. J., Oosterlaar, A. M., Hartgens, F., Hesselink, M. K., Snow, R. J., & Wagenmakers, A. J. (2003, February). Effects of creatine loading and prolonged creatine supplementation on body composition, fuel selection, sprint and endurance performance in humans. Retrieved from https://www.ncbi.nlm.nih.gov/pubmed/12546637
7. Kendall, K. L., Smith, A. E., Graef, J. L., Fukuda, D. H., Moon, J. R., Beck, T. W., . . . Stout, J. R. (2009, September). Effects of four weeks of high-intensity interval training and creatine supplementation on critical power and anaerobic working capacity in college-aged men. Retrieved from https://www.ncbi.nlm.nih.gov/pubmed/19675499
8. Branch, J. D. (2003, June). Effect of creatine supplementation on body composition and performance: A meta-analysis. Retrieved from https://www.ncbi.nlm.nih.gov/pubmed/12945830
9. Deijen, J. B., & Orlebeke, J. F. (n.d.). Effect of tyrosine on cognitive function and blood pressure under stress. Retrieved from https://www.ncbi.nlm.nih.gov/pubmed/8293316
10. Mccartney, N., Spriet, L. L., Heigenhauser, G. J., Kowalchuk, J. M., Sutton, J. R., & Jones, N. L. (1986). Muscle power and metabolism in maximal intermittent exercise. Journal of Applied Physiology, 60(4), 1164-1169. doi:10.1152/jappl.1986.60.4.1164
11. https://ods.od.nih.gov/factsheets/Choline-HealthProfessional/#h7
12. Choline - PubMed Central (PMC). (n.d.). Retrieved from https://www.ncbi.nlm.nih.gov/pmc/articles/PMC2518394/
13. https://examine.com/supplements/alpha-gpc/
14. Treating senile dementia with traditional Chinese medicine. (n.d.). Retrieved from https://www.ncbi.nlm.nih.gov/pmc/articles/PMC2684515/
15. Bogaard, B. V., Draijer, R., Westerhof, B. E., Meiracker, A. H., Montfrans, G. A., & Born, B. H. (2010). Effects on Peripheral and Central Blood Pressure of Cocoa With Natural or High-Dose Theobromine. Hypertension, 56(5), 839-846. doi:10.1161/hypertensionaha.110.158139
16. Hordenine: Uses, Side Effects, Interactions, Dosage, and Warning. (n.d.). Retrieved from https://www.webmd.com/vitamins/ai/ingredientmono-1528/hordenine
17. Beta-Phenethylamine Derivatives. (n.d.). Retrieved from http://pubs.acs.org/doi/abs/10.1021/ie50422a007
More items you might like
Loading...