PES Prolific Raspberry Lemonade - 40 Servings
Item #: PES58
UPC: 040232426469
20% Off Special Offer
Out of Stock
Hits Like the First Time Every Time†
Pumps | Performance | Energy†
Two Forms of Caffeine | Cognitive Compounds
Feel The Mind-Muscle Connection†
Tingle Free | Gluten Free | Vegan | Keto-Friendly
The Last Pre-Workout You'll Ever Need

Experience The Difference
Have you been finding yourself changing pre-workouts every few weeks? Are you satisfied the first 1-2 times you use a new one, but by the end of the tub you find yourself chasing that initial feeling you haven't felt in weeks? You are not alone. In fact, that was the #1 complaint by all pre-workout users we questioned.
With all of the pre-workouts out there simply trying to put a new spin on stimulants, how many of them actually contain ingredients that can contribute to the workout you are about to give all of your effort to? If you are a dedicated athlete you know that you have to spend hours in the gym week in and week out for incremental gains over time. So why shouldn't the product dedicated solely to enhancing your workout have the same mindset? What good is a blend of stimulants with zero ingredients for the long term approach of bodybuilding and training?
Prolific has a unique formula based on cognitive, performance-driven, pump-packed, and energizing components to deliver a newfound experience that never gets dull. Prolific cares about every rep of every workout from beginning to end, because we know that is what truly matters for your goals.
The Mind Muscle Connection
Have you ever showed up to the gym feeling great, thinking it was going to be another solid day of lifting, but instead for some reason you just have a terrible workout? You feel disconnected, suddenly unfocused, and beyond frustrated by the end of your session. It sounds like you had some serious mind muscle disconnection.
This special connection is what you are focused on in every rep you take. Feeling the firing of muscle fibers, and the powerful contraction during each rep. Supercharging this mechanism will give you an all new workout experience. Feel the power in each rep, the dominating contraction, and enjoy the lasting pump after every set.
We have developed a special formula to create the ultimate foundation for getting your mind and body working in harmony as the ultimate powerhouse.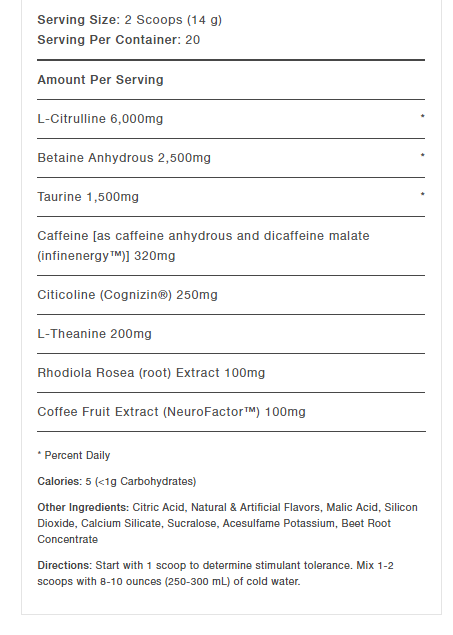 The Difference Between High Volume & Prolific
Prolific and High Volume share a lot of similarities when it comes to pump and performance. Both will take your workout to the next level. However there is one striking difference between the two products:
High Volume = Caffeine & stimulant free. The High Volume formula is focused around only pump and performance, not energy. This makes it the perfect product for those wanting to avoid caffeine, those who have already consumed caffeine from something like an energy drink, coffee, Alphamine, etc., or those who are training later at night and don't want caffeine that close before bed.
Prolific = Contains caffeine. Prolific offers an amazing pump and performance experience just like High Volume, with the additional of two types of caffeine + multiple cognitive compounds for that focused, mind-muscle connection.
Why do some people take both? You may often see people who are stacking High Volume with Prolific. These users are typically looking for a medium amount of energy from 1 scoop of Prolific, but want a huge pump and performance experience, so they add in a scoop of High Volume. By taking 1 scoop of each product it is like they are getting 2 scoops of "pump & performance" with 1 scoop of energy. If you choose to stack them, you can just mix them in the same cup together.
Do you need to stack them? Not at all. Both products are formulated to be fully effective by themselves. Some users have just found their special pre-workout cocktail blend that they personally prefer.
How does Alphamine fit in? Our third and final product in the pre-workout category is Alphamine. Alphamine does not have any type of pump or performance angle. It is strictly an energy powder. It contains 125mg caffeine per scoop and 84 scoops per bottle, making it the most cost effective energy product you will find. You can use Alphamine in place of when you'd normally consume a coffee or energy drink.
More items you might like
Loading...