Redcon1 Total War Fireball OLYMPIA Limited Edition - 30 Servings
Item #: RDC141
UPC: 037203150232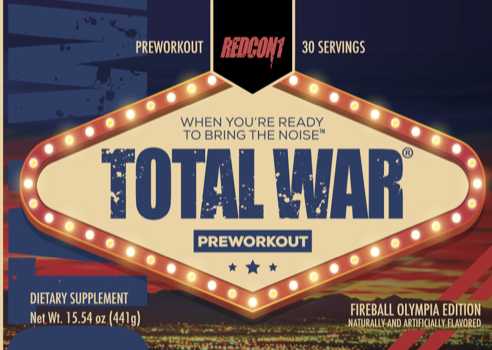 Train and compete with lights out intensity and energy. Total War is what every pre workout wishes it was, packing more fire power per serving than anything in its class. Whether you train before work or school, middle of the day, or later in the evening Total War has the ability to come through every time out. The powerful combination of stimulants and focus factors along with N.O. compounds makes Total War an all-in-one pre workout supplement. Enjoy the most energy, focus, and skin splitting pumps you've ever felt during a workout. You won't want to go home at 30 or 40 minutes, but instead somebody will need to pull you out of the gym.
Total War is not for the faint of heart, but for the serious athlete or gym goer who expects to perform at the highest level of readiness when called upon.
1. How is TOTAL WAR different from other pre-workouts on the market?
Milligram for milligram you won't find a stronger product. All ingredients are at clinical dosages for efficacy as well as full label transparency. Additionally, we do not use artificial colors in the products. Lastly, it is a complete pre-workout, combining endurance, pump, energy and focus elements, it is not just a concentrated stimulant based pre-workout.
2. What is the clinical dosage of Citrulline Malate for pumps?
The clinical dosage of citrulline for pumps is 4 grams but the study was conducted with 6 grams of l-citrulline malate 2:1, which yields 4 grams of elemental citrulline; same as what is in TOTAL WAR.
3. How can I stack TOTAL WAR and BIG NOISE?
For optimal results, take 1 scoop of TOTAL WAR 30 minutes prior to training.
4. Can I still take MENTAL TRIGGER or DOUBLE TAP throughout the day if I use TOTAL WAR pre-workout?
We wouldn't recommend using all three at the same time. Since all 3 products contain stimulants, we would suggest making sure your servings of each product are separated by 3-4 hours.
5. Am I able to use TOTAL WAR prior to cardio, is there any benefit?
Due to the stimulant portion of TOTAL WAR you will definitely get a benefit precardio for energy and focus.
6. How does TOTAL WAR vary from most stim-based pre-workouts on the market?Can I use TOTAL WAR on days I'm feeling tired or do I need to take it every day for results?
Yes, however, it's most beneficial used on training days.
7. Do I need to cycle off of TOTAL WAR?
We recommend 12 weeks on 4 weeks off to avoid becoming tolerant to the effects of the stimulants contained within TOTAL WAR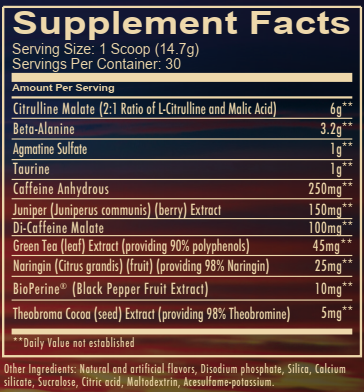 WARNING: This product is intended to be consumed by healthy adults 18 years of age or older. This product contains 350mg of Caffeine per serving. Do not use if you are pregnant, nursing, sensitive to caffeine or other stimulants, taking any prescription or over-the-counter medications or supplements, or if you have or suspect you may have a medical condition, including but not limited to: high or low blood pressure, cardiac arrhythmia, stroke, heart, liver or kidney disease, seizure disorder, thyroid disease, psychiatric disease, diabetes, prostate enlargement or if you are taking a MAO Inhibitor. Do not use if you are prone to dehydration or exposed to excessive heat. As with any dietary supplement, consult a healthcare professional before using this product. Discontinue 2 weeks prior to surgery. Immediately discontinue use and consult a healthcare professional if you experience any adverse reactions.
KEEP OUT OF REACH OF CHILDREN.

More items you might like
Loading...