5% Nutrition Kill It Reloaded Blue Raspberry - 25 Servings
Item #: 5P029
UPC: 850006755462
We took a serious look at the pre-workout category and knew we could improve. Enter, Kill It Reloaded. Our latest pre-workout designed to dominate the stimulant-based category of pre-workouts!
When you walk into the gym, you want a complete pre-workout that gives you everything you need to drive you through your most intense sessions – extreme energy, ultra-sharp focus, improved endurance, increased strength, and the fabled mind-muscle connection. We designed Kill It Reloaded to be your go-to pre-workout – every time you train.
Kill It vs. Kill It Reloaded
• 7 grams in more active ingredients
• Additional creatine and more caffeine
• Features a new, nootropic blend
Optimized Nitric Oxide Blend
Kill It Reloaded maximizes muscle pump in two ways: we use ingredients that optimize muscle cell volume and by pulling water into the muscles for insane pumps.
GlycerPump
We start the process with a complex including 2.5 grams of the revolutionary GlycerPump the new King of Glycerol supplements. This compound solves the stability problem that's dogged every other form of Glycerol. GlycerPump is hands-down the most stable form of Glycerol available on the market today. This cutting-edge ingredient will not clump, absorbs better and mixes easier than any other type of Glycerol on the market.
Next, we've added Taurine to help pull water into the muscles and push the pump even further. We take the pump to the extreme by increasing nitric oxide production thanks to 4 grams of pure L-Citrulline is not the diluted Citrulline/Malic Acid combination used by most companies to save money, but pure L-Citrulline, the most effective nitric oxide booster on the market. Then, we add L-Norvaline, a version of the BCAA L-Valine. L-Norvaline works by inhibiting the enzyme arginase, the "shut off valve" for NO production in the body turn this valve off and you dramatically increase nitric oxide production for unbelievable pumps!
Every pre-workout gives you something for muscle pumps but no other pre-workout on the market gives you the powerful 1-2 combination that Kill It Reloaded does! Dare to compare and you will see that the competition doesn't even come close.
Stim Blend
3 Forms of Caffeine for a jitter-free workout!

Caffeine Anhydrous + Caffeine Citrate + InFinergy Di-Caffeine Malate
Now, sporting 325mg of caffeine from three different sources, our innovative Stim Blend consists of Caffeine Anhydrous, Caffeine Citrate, and InFinergy Di-Caffeine Malate. Don't worry, unlike other pre-workouts, our stimulant blend avoids the jitters and mid-workout crash. You'll experience an immediate rush of energy while keeping that energy flowing throughout your workout.
Creatine Blend
A powerful 2.5-gram Creatine Blend, it's about time this proven ingredient is back in a pre-workout! The Kill It Reloaded Creatine Blend combines Creatine Anhydrous, Creatine MagnaPower, and Creatine Pyruvate to provide maximum endurance and improved strength as well as increased cell-volume and it does it without gastric discomfort or bloating. That's Creatine done right. To block fatigue and give you maximum endurance, there are 2 grams of Beta-Alanine so you can push through the pain zone and hit those growth reps that's what a pre-workout should do.

Nootropic Blend
Our advanced Nootropic Blend with 250 mg Choline Bitartrate, 100 mg L-Theanine and 100 mcg Huperzine A to ramp up focus, increase motivation and give you the must-have mind-muscle connection so you can Kill It in the gym every time you walk in the door.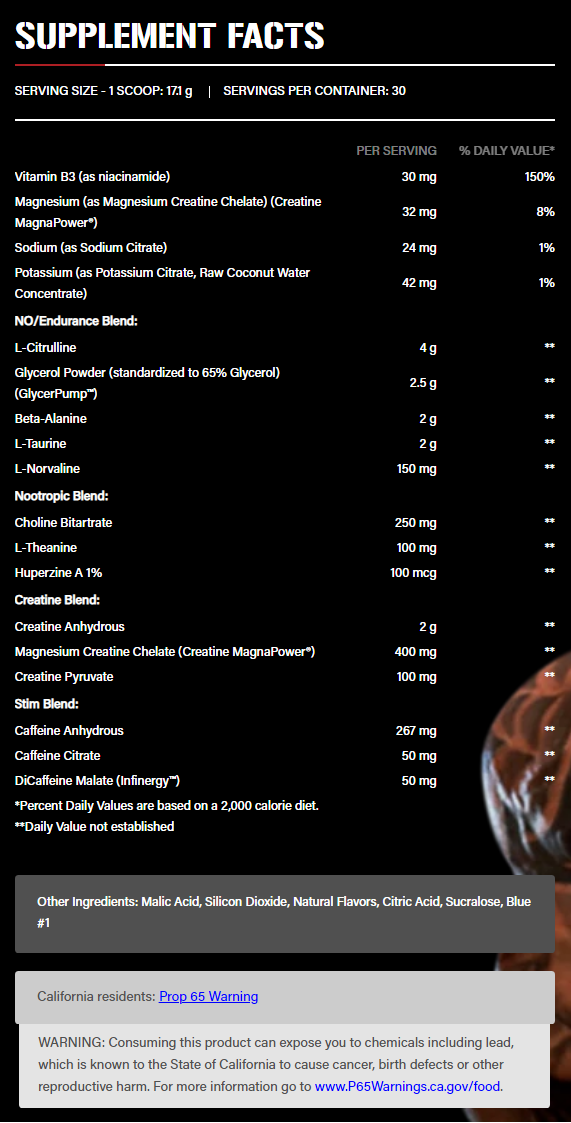 REFERENCES
Woolf, K., Bidwell, W. K., & Carlson, A. G. (2008, August). The effect of caffeine as an ergogenic aid in anaerobic exercise. Retrieved from
https://www.ncbi.nlm.nih.gov/pubmed/18708685
Suzuki T, Morita M, Kobayashi Y, Kamimura A. Oral L-citrulline supplementation enhances cycling time trial performance in healthy trained men: Double-blind randomized placebo-controlled 2-way crossover study. Journal of the International Society of Sports Nutrition. 2016;13:6. doi:10.1186/s12970-016-0117-z.
https://www.ncbi.nlm.nih.gov/pmc/articles/PMC4759860/
Van Rosendal, S; Guidelines for glycerol use in hyperhydration and rehydration associated with exercise.; School of Human Movement Studies, The University of Queensland; 2010;
https://www.ncbi.nlm.nih.gov/pubmed/20092365
Chilibeck, P; Effect of creatine ingestion after exercise on muscle thickness in males and females.; College of Kinesiology, University of Saskatchewan; 2004
https://www.ncbi.nlm.nih.gov/pubmed/15595301
Hoffman, J; Effect of creatine and beta-alanine supplementation on performance and endocrine responses in strength/power athletes.; Dept. of Health and Exercise Science, The College of New Jersey; 2006;
https://www.ncbi.nlm.nih.gov/pubmed/17136944
PRODUCT WARNINGS
These statements have not been evaluated by the Food and Drug Administration. This product is not intended to diagnose, treat, cure, or prevent any disease.
More items you might like
Loading...