Primeval Labs Creatine - 80 Servings
Item #: PL287
UPC: 682863051575
What can be said about creatine that hasn't already been said a thousand times over?
It is the single most successful, consistently proven effective bodybuilding supplement in history. Creatine monohydrate has been extensively researched in both young and old individuals, and shown to not only be beneficial but more importantly, safe.[1,2]*
Various studies have shown that creatine monohydrate may improve[2,3,4,5,6,7,8,9,10]*:
Lean mass gains*

Energy production*

Power*

Strength*

Hydration & thermoregulation*

Resistance to fatigue*

Post-exercise recovery*

Working memory & intelligence*
Due to the laundry list of benefits creatine supplementation has been noted to offer, we can think of no better single ingredient to usher in the Primeval Labs Commodity Series of products than Creatine Monohydrate!*
Primeval Labs Creatine supplies 5 grams of pure creatine monohydrate (the most well-studied form of creatine) per serving.*
How Does Creatine Work?
When you ingest creatine either from food or dietary supplements, it binds to a phosphate molecule to form creatine phosphate.*
As you probably know, ATP (adenosine triphosphate) is the body's primary energy source, and our bodies create ATP from the oxidation ("burning") of carbohydrates, protein, and fat we obtain from our diet.*
So, how do we get energy from ATP?
Hydrolysis is a chemical process resulting in the breakdown of a compound due to reaction with water. When ATP is hydrolyzed (reacted with water) one of the high-energy phospho-anhydride bonds in ATP is broken, giving off a considerable amount of thermal energy which can then be used to perform work, such as contracting a muscle to lift a weight.*
After ATP is hydrolyzed, it now becomes ADP (adenosine diphosphate), since it has lost one of its phosphate groups.[11]*
From an energy-yielding standpoint, ADP is fairly useless, that is until it regains a phosphate group and becomes ATP once again.*
Now, here's where the magic of creatine comes in.*
Our muscles store creatine as creatine-phosphate (phospho-creatine). During the first few moments of intense exercise, our muscles rely on the phosphagen energy system, which consists of ATP stores and phosphocreatine stores.*

While this energy system excels at helping us perform powerfully explosive movements, it can only fuel top end performance for a brief amount of time (~10 seconds). Once your ATP stores are exhausted, your body switches over to oxidizing carbohydrates and fats to regenerate ATP.*
However, with greater creatine phosphate stores (like those obtained from supplementing with creatine monohydrate), the body's ability to more rapidly regenerate ATP is enhanced, allowing you to maintain a higher level of performance for greater periods of time. This allows muscles to increase their total workout output before succumbing to fatigue.*
Essentially, the main mechanism by which creatine enhances performance is through enhancing energy production.*
But that's not all.
Creatine also enhances cellular hydration due to its osmotic properties. This encourages muscle cells to absorb and hold onto extra water.*
Improved cellular hydration promotes greater stamina, and it also has been noted to increase protein synthesis (which supports muscle growth).[12]*
Plus, when muscles are well-hydrated, they look bigger, fuller, and more pumped!*
What Can I Stack Creatine With?
Primeval Labs Creatine is stimulant-free and can be used in conjunction with any other Primeval Labs supplements.*
Do I Need to Cycle Creatine?
No.*
Creatine is non-hormonal and does not need to be cycled.*
When Should I Take Creatine?
Creatine can be taken any time of day as its energy-boosting effects are the result of your muscles becoming saturated with creatine. That being said, we are fans of taking it post-workout as both insulin sensitivity and nutrient uptake by muscle cells is greater following exercise.*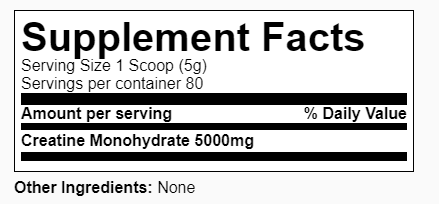 Disclaimer:
*These statements have not been evaluated by the Food and Drug Administration. This product is not intended to diagnose, treat, cure, or prevent any disease.
References
Jagim AR, Stecker RA, Harty PS, Erickson JL, Kerksick CM. Safety of Creatine Supplementation in Active Adolescents and Youth: A Brief Review. Front Nutr. 2018;5:115. Published 2018 Nov 28. doi:10.3389/fnut.2018.00115
Kreider, Richard B., et al. "International Society of Sports Nutrition position stand: safety and efficacy of creatine supplementation in exercise, sport, and medicine." Journal of the International Society of Sports Nutrition, vol. 14, no. 1, 2017.
Persky AM, Brazeau GA. Clinical Pharmacology of the Dietary Supplement Creatine Monohydrate. Pharmacol Rev. 2001;53(2):161 LP-176.
Bird SP. Creatine Supplementation and Exercise Performance: A Brief Review. Journal of Sports Science & Medicine. 2003;2(4):123-132.
Branch JD. Effect of creatine supplementation on body composition and performance: a meta-analysis. Int J Sport Nutr Exerc Metab. 2003;13(2):198-226.
Parise G, Mihic S, MacLennan D, Yarasheski KE, Tarnopolsky MA. Effects of acute creatine monohydrate supplementation on leucine kinetics and mixed-muscle protein synthesis. J Appl Physiol. 2001;91(3):1041-1047. doi:10.1152/jappl.2001.91.3.1041.
Smith AE, Walter AA, Herda TJ, et al. Effects of creatine loading on electromyographic fatigue threshold during cycle ergometry in college-aged women. Journal of the International Society of Sports Nutrition. 2007;4:20. doi:10.1186/1550-2783-4-20.
Hadjicharalambous M, Kilduff LP, Pitsiladis YP. Brain serotonin and dopamine modulators, perceptual responses and endurance performance during exercise in the heat following creatine supplementation. Journal of the International Society of Sports Nutrition. 2008;5:14. doi:10.1186/1550-2783-5-14.
Rae C, Digney AL, McEwan SR, Bates TC. Oral creatine monohydrate supplementation improves brain performance: a double-blind, placebo-controlled, cross-over trial. Proceedings of the Royal Society B: Biological Sciences. 2003;270(1529):2147-2150. doi:10.1098/rspb.2003.2492.
Benton D, Donohoe R. The influence of creatine supplementation on the cognitive functioning of vegetarians and omnivores. Br J Nutr. 2011;105(7):1100-1105. doi:10.1017/S0007114510004733.
Persky AM, Brazeau GA. Clinical Pharmacology of the Dietary Supplement Creatine Monohydrate. Pharmacol Rev. 2001;53(2):161 LP-176.
Stoll, B., Gerok, W., Lang, F., & Haussinger, D. (1992). Liver cell volume and protein synthesis. Biochemical Journal, 287(1), 217-222.
More items you might like
Loading...