Pro Supps Dr. Jekyll Pump Liquid Shot Orange Sherbert - 30 Servings
Item #: PK554
UPC: 818253028975
LIQUID SHOT MUSCLE VOLUMIZER
DR. JEKYLL PUMP LIQUID SHOT
Dr. Jekyll Pump Liquid Shot was designed with maximum pumps in mind. For those looking to optimize their pump during training, this stimulant-free formula combines the power of Nitrosigine®, HydroMax and Citrulline to deliver powerful pumps, improve recovery and prolong training endurance. The highly concentrated delivery method provides a rapidly absorbed, powerful and easy to consume formula that enhances blood flow and promotes improved training adaptation. Great for use as a stand-alone product or stackable with your favorite pre-workout, Dr. Jekyll Pump Liquid Shot is the quick and convenient way to take your pump to the next level! All the power of a big pump product, in a delicious, take anywhere, quick consumption shot. †
Enhances Training Endurance †

Promotes Nutrient Delivery & Recovery †

Non-Stimulant Energy to Power You Through Your Workout †

FREQUENTLY ASKED QUESTIONS: WHAT IS JEKYLL PUMP SHOT? Jekyll Pump Shot is a stimulant-free, liquid pre-workout designed to be taken prior to training to promote enhanced endurance and muscle pumps. †
CAN I STACK JEKYLL PUMP SHOT WITH MY PRE-WORKOUT? Yes! Jekyll Pump Shot was created to be the perfect complimentary pump enhancement product. It can be used as a standalone product for a 100% stimulant free pre-workout or can be stacked with any pre-workout to enhance pumps, vascularity, training endurance and recovery. † As always when using a Dietary Supplements please consult your physician.
WHAT IS NITROSIGINE? Nitrosigine is a unique ingredient that bonds arginine, inositol, and potassium silicate to harness the functionimproving effects of both arginine and silicon on blood flow. Nitrosigine is an inositol-stabilized form of arginine that delivers improved bioavailability of both the silicon and the arginine compared to traditional L-arginine alone. † There is a wide array of positive benefits of incorporating Nitrosigine including improved vasodilation, sustained muscle pumps, enhanced nutrient delivery and cardiovascular health. † Nitrosigine is remarkably powerful, promoting the relaxation of blood vessels as shown in studies to be more effectively than traditional L-Arginine alone. † Lastly, a key feature of Nitrosigine is that the body doesn't appear to build a tolerance to its effects over time. †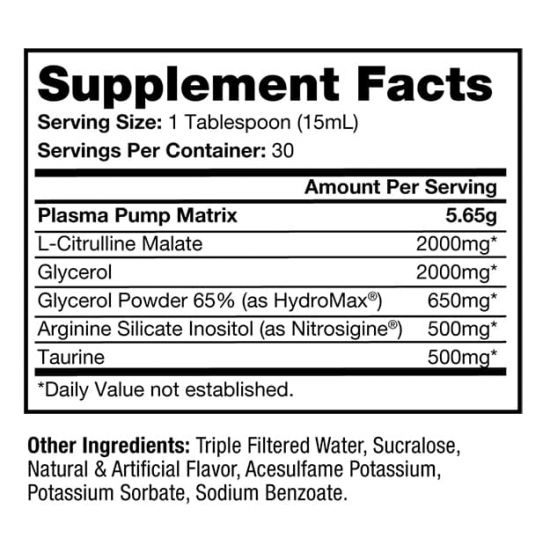 SUGGESTED USE: Consume 1 serving (15ml or 1 tablespoon) of Jekyll Pump Liquid Shot 20-30 minutes prior to training alone or along with your pre-workout. For maximum pump, take 2 servings along with 10oz of additional liquid throughout your workout. †
WARNING: This product is intended for healthy adults, 18 years of age or older. Consult a physician prior to using this, or any other dietary supplement. Do not take this product if you are pregnant or nursing, if you have or suspect you may have a medical condition, or if you are taking any prescription or over-the-counter medications. Do not take this product if you are taking any blood pressure medication. Do not exceed recommended serving. Immediately discontinue use and consult a qualified medical professional if you experience any adverse effects.
KEEP OUT OF REACH OF CHILDREN.
More items you might like
Loading...