GAT Flexx BCAAs Sour Ball - 30 Servings
Item #: GA141
UPC: 816170022113
20% Off w/code DPS10
Out of Stock
PLANT FERMENTED BCAAs | SUPPORT MUSCLE GROWTH AND REPAIR*
GAT SPORT brings you the most comprehensive and delicious fermented BCAAs drink on the market. Mouth watering candy flavors provide incredible lasting taste satisfaction. Flexx BCAAs deliver 7 grams of essential amino acids to protect athletes hard-earned muscles. Flexx BCAAs 2:1:1 ratio of Leucine to Isoleucine and Valine is the most scientifically studied ratio for athletic performance. This combination has been shown to be effective in numerous studies to reduce muscle damage and accelerate recovery from resistance training.* Exceptional taste. Superior formula.*
ELECTROLYTES & COCONUT WATER POWDER
For athletes that train hard and perspire heavily, electrolyte replenishment is vital. Flexx BCAAs provides electrolytes and Coconut Water Powder to prevent dehydration.* Additional lean muscle results are supported by L-Carnitine, which helps convert fat to energy while you're training.*
PRODUCT HIGHLIGHTS
Delivers 7 grams BCAAs*

Electrolyte Hydrators*

2:1:1 Optimal BCAA Ratio

Fat Burning Support*
Directions for use:
Mix 1 serving with 6-8 oz. of water and drink before or after workouts and before bedtime. For best results, take an additional serving during training and throughout the day on non training days.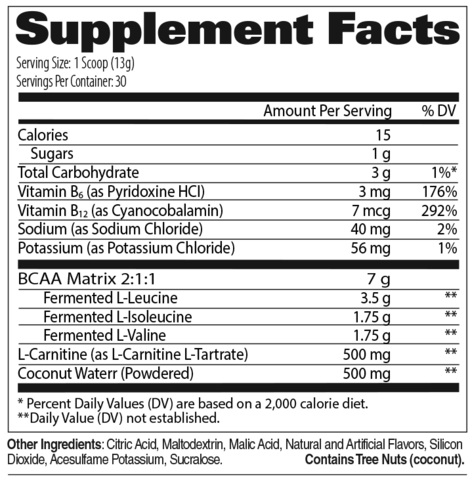 * Statements on this website have not been evaluated by the Food and Drug Administration. Products are not intended to diagnose, treat, cure, or prevent any disease.
More items you might like
Loading...