Vega Essentials Plant Based Food Shake Chocolate - 17 Servings
Item #: VE014
UPC: 838766011103
20% Off w/code DPS10
Out of Stock
VEGA® ESSENTIALS
68% of respondents would recommend this to a friend
Made with real, plant-based ingredients, Vega® Essentials gives you the nutritional building blocks to help start your day strong. You'll feel confident you've made a smart choice—without having to know all the answers to good nutrition.
20 grams protein

Veggies & greens

Vitamins & minerals

16% DV fiber

1 gram Omega-3 ALA

130-140 calories

1 gram sugars

WHY YOU'LL LOVE IT
Take on the morning chaos with a head start on your daily essentials. Vega Essentials gives you basic nutritional building blocks (faster than you can pour a bowl of cereal):
20 grams plant-based protein
A blend of pea protein, flaxseed, and hemp protein to help you take on your day

Veggies and greens
Need help fitting in veggies and greens into your busy day? Sip vegetables and greens including broccoli, kale, and spirulina

25% DV of 12 vitamins and minerals
16% DV fiber
4 grams of fiber from flaxseed, organic acacia gum, and inulin
1g Omega-3 ALA
Essential fatty acids from flaxseed
130-140 calories
No Sugar Added*

*Not a low-calorie food. See Nutrition Facts Panel for calorie and sugar content.
SHAKE IT UP!
Mix one serving of Vega Essentials with 1 ½ cups (12 fl. oz.) ice-cold water, non-dairy beverage or juice for optimum deliciousness.
BLEND IT!
For a satisfying start to your day, blend one serving of Vega Essentials into your favorite smoothie recipe. For blendspiration check out our Recipe Center.
BAKE IT!
Yes, you can bake with Vega Essentials! Swap Vega Essentials for 1/8 to 1/4 of the flour in sweet baking recipes. Find everything from pancakes and waffles to brownies made with Vega Essentials in our Recipe Center.
Store in a cool dry place, away from direct light. For tub: Do not use if seal is broken. Tub contains silica packet to maintain product freshness. Do not consume.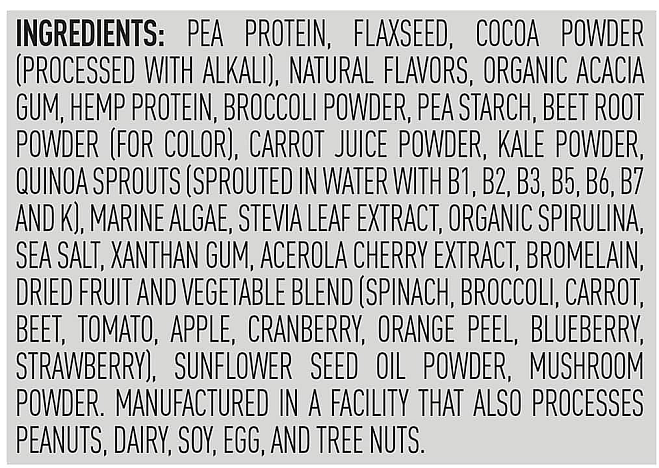 Is Vega Essentials gluten-free, vegan, or paleo/grain-free?
Yes, Vega® Essentials is gluten-free, vegan and grain-free. Vega Essentials is tested to ensure every batch results in less than 20ppm for gluten, which is recognized by Health Canada, US Food and Drug Administration (FDA) and the World Health Organization as the gluten-free threshold. Vega Essentials is vegan certified through Vegan Action to verify that it is made without any animal byproducts including dairy, eggs and honey. There are no grain, dairy, or caloric sweetener ingredients in Vega Essentials, making it appropriate for some definitions of paleo lifestyle. Check the ingredient list to determine whether it will fit within your lifestyle.
What are the sources of protein in Vega Essentials?
Vega® Essentials contains 20 grams of a complete multisource plant-based protein blend of pea, flaxseed and hemp protein ingredients.
Why is Vega Essentials so green?
Vega® Essentials is proudly green. Vega Essentials comes by that beautiful, rich green hue honestly. No food coloring added! You may notice that it's even greener once you add water. That's because spirulina is highly soluble and dissolves in water. You just can't camouflage awesome.
What is organic acacia gum?
Organic acacia gum is the main source of fiber in Vega® Essentials. Each serving of Vega Essentials has 4 grams of fiber from organic acacia gum and inulin.
What is inulin?
Inulin is a starchy fiber found in many plants. Vega® Essentials Vanilla flavor contains chicory root inulin, which contributes to the 4 grams of fiber per serving.
What is spirulina?
Spirulina is a multicellular algae. Spirulina has an amino acid profile, as well as beta carotene.
What is xanthan gum?
Xanthan gum is a complex carbohydrate used in Vega® Essentials to provide a thick, satisfying mouthfeel.
Where do the vitamins and minerals come from?
Vega® Essentials is made with real plant-based food ingredients. It contains 25%DV of 12 vitamins and minerals from plant-based food ingredients.
Where does the sodium in Vega Essentials come from?
The majority of sodium in Vega® Essentials is naturally occurring. Plants naturally absorb mineral content from the soil in which they are grown and this is then reflected in the final product. Pea protein is naturally higher in sodium than some other protein powders. A very small amount of sea salt is added, mostly for taste.
I'm allergic to nuts—are there any nuts in the natural flavors?
While Vega® Essentials does not contain any nut ingredients, it is not produced in a nut-free facility. Safety is paramount to us at Vega®, therefore all our facilities are 3rd party audited and follow Good Manufacturing Practices (GMPs) to ensure all allergen ingredients are stored away from non-allergen ingredients, and strict sanitation procedures are followed, to ensure risk for cross contamination is minimized. Since every allergy is unique and has a different severity level, we advise our consumers to make their own decision, depending on their individual health condition and dietary restrictions and by speaking with their health care practitioner.
Can I eat too much Vega Essentials?
Even good things should be enjoyed in moderation and we suggest you enjoy Vega® Essentials as part of a balanced diet. If you have questions about your specific nutrition needs, it's best to talk to your dietitian or health care practitioner.
Can I give Vega Essentials to my kids?
We recommend speaking to your pediatrician first to determine if a particular product is right for your kids. You and your doctor can learn more about all of our products on our website.
Can I take Vega Essentials while pregnant?
Great question! We get asked this fairly often by many new moms and parents who want to make sure they're doing what is best for their babies. Our recommendation is to always check with your doctor or healthcare practitioner on whether or not you personally should use Vega® products while pregnant or breastfeeding. Your doctor has the full scope of your overall health and wellness goals so they will be a better judge in determining whether this is a time when you should be introducing a new food or supplement into your routine or continuing with your current intake.
I don't like the taste of stevia. Will I like Vega Essentials?
We've added stevia to Vega® Essentials because it is our favorite sweetener. Stevia is plant-based and contains no calories, and we think it adds a delightfully sweet flavor to Vega Essentials and other Vega plant-based protein powders. If you can taste the stevia, try adding a squirt of lemon juice or a handful of dark leafy greens to your Vega Essentials smoothie. If you're particularly sensitive to the taste of stevia, some flavors of our smoothie products have less stevia than others. We recommend checking out: Oh Natural and Viva Vanilla Vega® Protein Smoothie Natural and Vanilla Vega® Protein & Greens Vanilla Vega Sport® Protein If you're looking for a Vega® product without stevia, try these: Vega One™ Unsweetened Natural Flavor Vega® Omega Oil Vega® Maca Chocolate Bar Vega® Maca Vega® Chlorella Vega Sport® Pre-Workout Energizer Vega Sport® Endurance Gel Vega One™ Bar Vega Sport® Protein Bar Vega® Snack Bar
Why do the instructions say mix with a non-dairy beverage? Can I mix it with milk?
We love non-dairy beverages such as almond, hemp, coconut, or rice milk (to name a few) mixed with Vega® Essentials, but if you only have dairy milk in your fridge, go for it!
When is the best time to eat Vega Essentials? Is Vega Essentials a meal replacement or a protein shake?
Vega® Essentials is a food—so you can enjoy it anytime you would eat other foods you love—at meals, snacks or anywhere in between. Check the Nutrition Facts Panel to ensure that it has the amounts of macro and micronutrients that you are looking for. Vega® Essentials is also a great way to eat more protein—it has 20 grams protein, as well as veggie and greens ingredients, 25% DV 13 vitamins and minerals, fiber, and Omega-3 ALA. Of course, even good things should be enjoyed in moderation and we suggest you enjoy Vega® Essentials as part of a balanced diet.
Is Vega Essentials organic?
Whenever we can, we'll choose organic ingredients for Vega® Essentials. As demand for organic ingredients grows, it's getting easier every year to find reliable sources of organic ingredients. Acacia gum, a source of fiber in Vega Essentials is certified organic, as is the spirulina.
Is Vega Essentials non-GMO?
Yes, Vega® Essentials is verified non-GMO through the Non-GMO Project.
What is the amino acid profile?
The amino acids in Vega Essentials aren't added but rather are naturally occurring from the ingredients in the blend. We're happy to let you know that we use a complete multisource plant-based protein blend that offers 20 grams of protein (which has all essential amino acids) per serving.
We understand reviewing specific amino acids is important to you so we're happy to offer you the typical amino acid profile. This is the typical Amino Acid profile calculated from supplier information for the Vanilla flavor of Vega Essentials. These values may vary slightly between flavors and lots.
Typical Amino Acid Profile per serving (grams)*
Alanine 0.77
Aspartic Acid 2.17
Arginine 1.61
Cystine 0.17
Glutamic Acid 3.21
Glycine 0.74
Histidine 0.47
Isoleucine 0.87
Leucine 1.55
Lysine 1.34
Methionine 0.19
Phenylalanine 1.01
Proline 0.85
Serine 1.01
Threonine 0.75
Tryptophan 0.19
Tyrosine 0.68
Valine 0.92
*calculated from supplier information for Vanilla Vega Essentials. Many vary between flavors and lots.
What are the vitamins and minerals in milligrams?
Note that as this is a food product, values may differ slightly from batch to batch, and flavor to flavor. Each serving of Vega® Essentials has approximately:
Vitamin A 1500 IU
Vitamin C 27 mg
Calcium 200 mg
Iron 3.6 mg
Vitamin D 100 IU
Vitamin E 7.5 IU
Vitamin K 20 mcg
Thiamine (Vitamin B1) 0.45 mg
Riboflavin (Vitamin B2) 0.6 mg
Niacin 5 mg
Vitamin B6 0.5 mg
Vitamin B12 0.48 mcg
Biotin 75 mcg
Pantothenic Acid 2.5 mg
Phosphorus 300 mg
Magnesium 40 mg
Sodium 216 mg
Potassium 350 mg
More items you might like
Loading...