Ultimate Nutrition Up All Night - 28 Tablets
Item #: UN574
UPC: 099071000118
20% Off w/code DPS10
Out of Stock
About Up All Night:
Ever hoped for desire, better performance, and success when the time calls?
Well, the research team at Ultimate Nutrition has formulated a product that can help in all these areas so that you are not left high and dry when the moment is right. Ultimate Nutrition's UP ALL NIGHT formula contains ingredients that have been scientifically shown to enhance sexual mood, increase testosterone, decrease cortisol, reduce stress, and optimize success for wherever and whenever you choose to be intimate1,2,3.
UP ALL NIGHT accomplishes this with the synergistic effects of Beta Alanine, LongJack, Tribulus Terrestris, L-Arginine, and Maca.
Get In The Mood
In the UP ALL NIGHT Formula, Beta Alanine plays a role in several key features of this product. Beta Alanine has been shown to be a mood enhancer and stress reducer, which can aid in sexual desire and better performance when the moment hits1,3. Beta Alanine also has the capability to decrease the perception of exertion, meaning that you can prolong performance and increase success in the bedroom3. It has even been shown to increase sensation to improve sexual desire and passion3!
Achieve Maximum Performance
Another key ingredient is Eurycoma longifolia (Longjack)2. Well-known as an aphrodisiac, Longjack has been scientifically shown to boost testosterone by 37%2! At the same time, this root extract reduces cortisol exposure by 16% which will make sure to lessen any stresses you may experience when getting intimate2. The dual-function of Longjack allows for your body to be ready and outperform itself when the moment is right! Also included in this passion-driven product are Tribulus Terrestris, L-Arginine, and Maca, which have been known to aid in increasing libido.

Don't spend another "in the moment" night stressing about performance, success, and sexual desire. Ultimate Nutrition's formula for Libido Enhancement has had many long hours of research thrust into it. Do you and your partner(s) a favor and grab a bottle! You already have 99 problems but with UP ALL NIGHT, intimacy ain't one.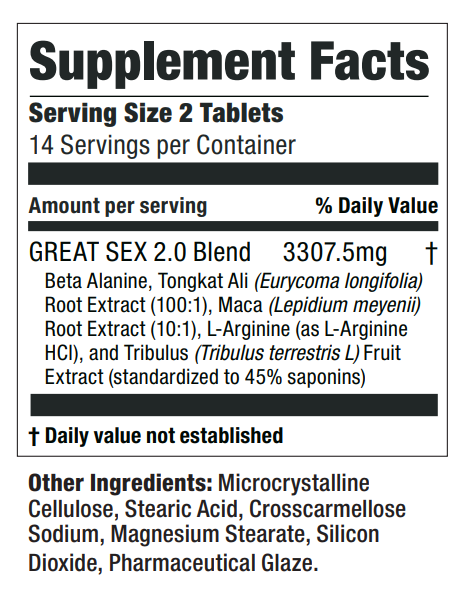 These statements have not been evaluated by the Food and Drug Administration. This product is not intended to diagnose, treat, cure, or prevent any disease.

References
Ericson, Mia, et al. "ß-alanine elevates dopamine levels in the rat nucleus accumbens: antagonism by strychnine." Amino acids4 (2010): 1051-1055.
Shawn M T., et al. "Effect of Tongkat Ali on stress hormones and psychological mood state in moderately stressed subjects" Journal of the International Society of Sports Nutrition28 (2013).
E et al. "International society of sports nutrition position stand: Beta-Alanine." Journal of the International Society of Sports Nutrition 12.28 (2015).
More items you might like
Loading...