Primeval Labs Vasogorge Black - 125 Cap (25 Servings)
Item #: PL266
UPC: 682863051742
30% Off w/code DPS10
Out of Stock
Nothing is more elusive or harder to maintain than the pump.
The pump isn't just for aesthetics either, with bigger muscle pumps also comes increased blood flow, amino acid and oxygen delivery -- encouraging better performance, stamina, and gains!*
Vasogorge is a stimulant-free, pre workout supplement designed to promote greater vasodilation, blood flow, and cellular swelling. It can be used as a standalone pre workout, or stacked with your favorite stimulant-based pre workout, such as Primeval Labs Mega Pre Red.
Vasogorge Black Features:
1.5 grams HydroMax to aid hydration and muscle fullness*

254mg VasoDrive-AP to combat vasoconstriction*

Transparently dosed

NO stimulants

Will not disrupt sleep*

ZERO jitters or crash*
Vasogorge Black Ingredients
HydroMax 65% Glycerol (1,500mg)
HydroMax is a superior form of glycerol included to enhance cellular swelling. As opposed to glycerol monostearate, which is 25% glycerol at most, HydroMax contains 65% pure glycerol by weight, providing significantly more of the cell-saturating compound per gram.*
HydroMax essentially transforms muscle cells into ultra-absorbent sponges that soak up extra water, enhancing hydration levels. This helps promote greater endurance during training as well as some pretty impressive "water-based" pumps, too.*
VasoDrive-AP (254mg)
VasoDrive-AP is a research-backed combination of lactotripeptides derived from casein protein that have been demonstrated to combat vasoconstriction, support optimal blood flow, and normalize blood pressure by inhibiting angiotensin converting enzyme (ACE).*
Inhibiting ACE has also been noted to improve insulin sensitivity, which facilitates greater nutrient uptake and delivery, allowing for greater performance, stamina, and pumps.*

Dosing
Consume 5 capsules 15 – 20 minutes before workout.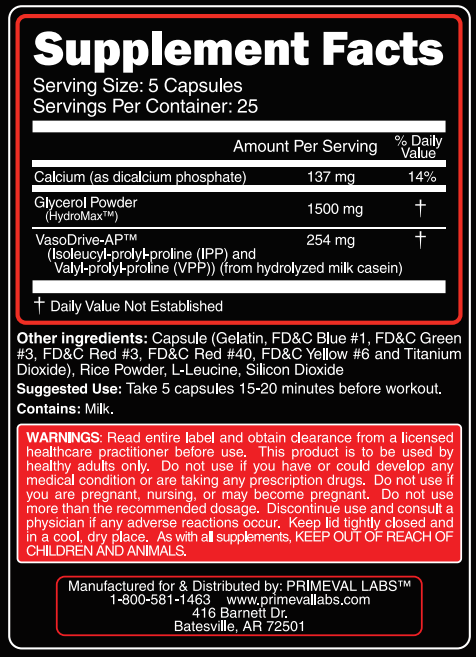 More items you might like
Loading...