GAT Nitraflex BURN Blue Raspberry - 30 Servings
Item #: GAT95
UPC: 816170022281
20% Off w/code DPS10
Out of Stock
BUILD MUSCLE REDUCE BODY FAT
HYPEREMIA & THERMOGENIC FORMULA
NEW NITRAFLEX BURN is a scientifically advanced muscle building powerhouse designed to build lean, dense muscle while simultaneously burning subcutaneous body fat.* Feel your power surging within minutes. NITRAFLEX BURN will motivate your training and help take your physique and performance to the next level!
Unique properties of some of the key compounds in Nitraflex:
HYPEREMIA MASSIVE MUSCLE PUMPS:
Blood-engorged muscle (Hyperemia) creates muscle pumps. Inducing impressively full muscle pump esthetics takes precise formulation. It takes the potent, athletics-enhancing compound blend in NITRAFLEX BURN!
POWERFUL THERMOGENICS:*
Feel the thermogenesis accelerate and the power surging within minutes. This advanced, specially designed formula helps metabolize fat and control appetite.
SCIENTIFICALLY ADVANCED FORMULA:
NITRAFLEX BURN has Clinically studied high-ratio Citrulline:Arginine to prevent arginase overactivity. It also contains scientifically validated Cognitive Sharpeners including Resveratrol, and N-Acetyl-L-Tyrosine (NALT), for heightened alertness, intensity and laser focus workouts!*
Other ingredients: Pineapple Fruit Powder, Citric Acid, Natural and Artificial Flavors, Silicon Dioxide, Acesulfame Potassium, Sucralose, FD&C Blue #1 (Lake).
Size: 30-serving (318g)
30 Serving Flavors: Blue Raspberry & Pink Lemonade
SPECIAL TIMES OF USE (TAKE 1 SERVING) Nitra ex BURN can be taken for:
• Competitive Sports
• Extreme energy/focus
• Long distance runs/cardio
• Powerlifting/weight training
• Martial Arts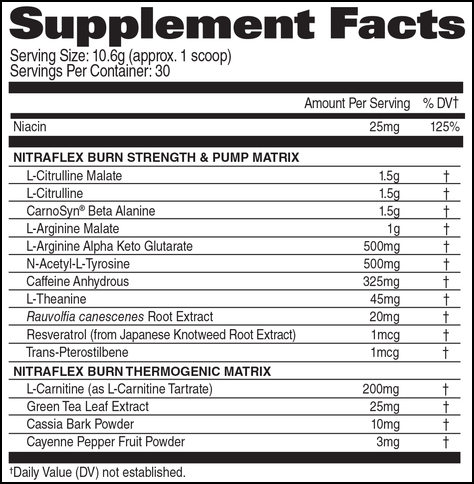 More items you might like
Loading...