Outbreak Nutrition BUILD - 100 Cap
Item #: OBN15
UPC: 850000901094
20% Off w/code DPS10
Out of Stock
BUILD - MUSCLE GROWTH DETONATOR
Outbreak Build is the strongest natural anabolic muscle-building product, period.

You can look in the New World, the Old World, the Damn Universe – nothing stacks muscle like Outbreak Build.

It's no secret what ingredients are needed to stack on muscle naturally. It's not proprietary. It's just that nobody was crazy enough to actually combine all those ingredients into one badass formula at an affordable price.

We don't give a sh*t about profit margins. All we care about is getting you what you need to bulk up and crack heads for The Resistance.

To formulate Build, we took every strong, natural muscle-building ingredient we could find and delivered them in clinical dosages proven to build muscle. Get Build in your system, and you'll be the fastest, strongest and most brutal version of yourself possible.

We don't hide behind a "proprietary" hidden formula, so you know exactly what you're getting.

Don't believe us? Here it is – our Full Disclosure Formula.

You're welcome.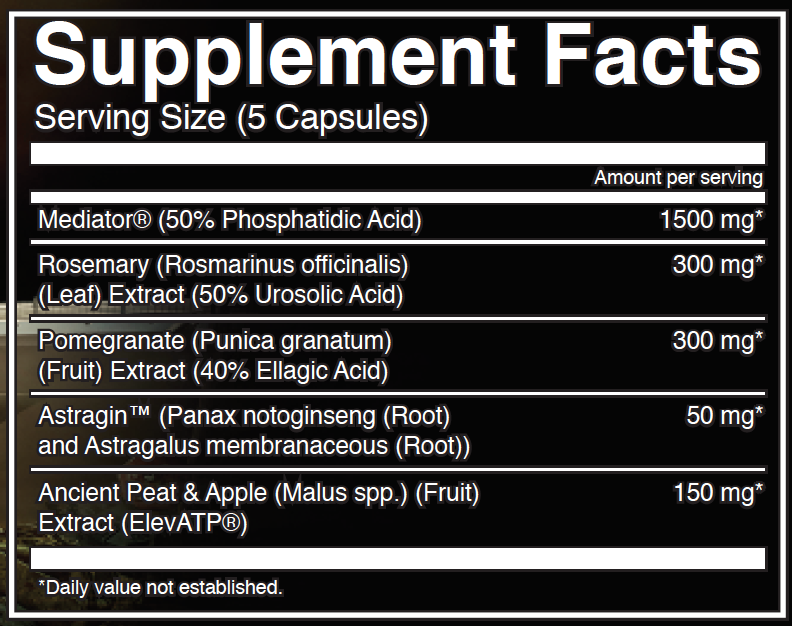 Mediator® Phosphatidic Acid 50% 1500mg- Phosphatidic Acid (PA) has been consistently shown to increase lean muscle, decrease fat and dramatically increase strength. In one study, participants who took PA doubled their lean muscle mass and strength compared to participants who did not. Few ingredients rival PA as natural muscle builders and on its own it can cost an arm and a leg. We won't ask that of you; unless we get really hungry.
Study:
https://jissn.biomedcentral.com/articles/10.1186/1550-2783-9-47

Study:
https://nutritionandmetabolism.biomedcentral.com/articles/10.1186/1743-7075-11-29

Study:
https://www.ncbi.nlm.nih.gov/pubmed/27274715
AstraGin® 50mg - AstraGin® is a 100% natural compound composed of highly purified saponins isolated from the Astragalus Membranaceus and Panax Notoginseng plant. It dramatically increases the muscle-building ingredients found in Build for maximum benefit! It also holds a U.S. patent for "method for enhancing nutrient absorption" as well as multiple international patents.
SUGGESTED USE
5 CAPSULES WITH WATER AN HOUR PRIOR TO WORKING OUT.
Take 5 capsules of Build an hour prior to working out on training days. The product is not required on non training days but may further increase effectiveness.
Warning: Build is an exceptionally potent body recomposition product and therefore: you should not use Build if being treated for blood pressure, thyroid issues, stroke, any heart related conditions, any disorder related to the liver or kidneys, any psychiatric illness or disorder and/or any other mental health issue. Build should not be taken in conjunction with any medication at all without the prescribing doctor's permission. You should always check with your doctor before taking any supplement. If any adverse effects begin, discontinue use and if necessary consult with a doctor. Drink plenty of water when taking Build.
Disclaimer: KEEP OUT OF REACH OF CHILDREN. These statements have not been evaluated by the Food and Drug Administration. This product is not intended to diagnose, treat, cure or prevent any illness or disease.
More items you might like
Loading...