Redcon1 Breach Ballistic Strawberry Kiwi - 30 Servings
Item #: RDC88
UPC: 647603261539
35% Off w/code DPS10
Out of Stock
Breach Ballistic is the next generation in BCAA formulas, now with the added benefit of caffeine, nootropics, and antioxidants. Breach Ballistic dramatically aids in recovery, performance, and is shown to decrease a considerable amount of muscle soreness. With the added brain enhancers (nootropics) it makes for a highly effective performance drink that can be consumed throughout the day to build muscle and keep you mentally locked in to perform at your best - regardless of the task at hand.
BCAA's account for 1/3 of muscle tissue. Simply put, if you are not supplementing with BCAA's you are not maximizing your performance. And as a serious weight trainer or athlete we are constantly breaking down muscle tissue through exercise making Breach Ballistic a necessary staple in your supplement program.
Improves Energy & Mental Focus

Acts a catalyst for new muscle growth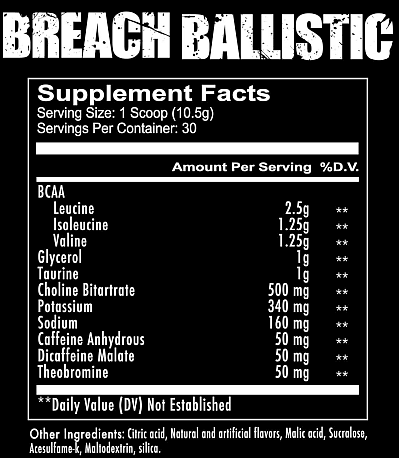 More items you might like
Loading...