Kaged Muscle Amino Synergy Raspberry Lemonade - 30 Servings
Item #: KM041
UPC: 852253007936
-20% Off Special w/code DPS10
Out of Stock
Fermented and Vegan-sourced EAAs

Promotes Healthy Muscle*

Supports Muscle Protein Synthesis

Naturally Flavored for Amazing Taste
A NEW GENERATION OF MUSCLE SUPPORT*
Amino Synergy is one of the most exciting developments in the realm of bodybuilding science. When you're pushing your body to the max day in and day out, you deserve the highest quality amino acids you can get to fuel your efforts—and that's exactly what you'll get with Kaged Muscle's latest innovation. Amino Synergy is an advanced full spectrum essential amino acid (EAA) formula that delivers fermented and vegan-friendly EAAs.*
WHY YOU NEED AMINO ACIDS
Amino acids, the building blocks of proteins, are protein in its purest form. They make up proteins that account for 20% of our bodies. Protein plays a crucial role in most biological processes, forming essential components of muscle as well as cell membranes and is essential in metabolic systems.
We acquire amino acids by synthesizing them in the body (non-essential amino acids) or by ingesting them (essential amino acids) in foods, beverages, and supplements. Your body cannot create the essential amino acids – they need to be sourced from food and supplements. That's why it's so important for athletes and bodybuilders to consume high-quality sources of amino acids, like Amino Synergy, every day.
NOT ALL AMINO ACIDS ARE THE SAME
The truth is that not all amino acids are created equal. Many companies use amino acids derived from animal by-products such as bird feathers or human hair that have undergone harsh chemical treatments.
Kaged Muscle is committed to delivering products that are unmatched in quality and backed by science to help individuals lead a fit, healthy lifestyle, and we always put quality before profits. We formulate to a higher standard and provide athletes with only pure, highly effective, premium quality products. With this commitment to quality in mind, our team set out to develop top-shelf amino acid formulas to help take your physique to the next level.*
Built on the strength of industry-leading fermentation techniques, Kaged Muscle is able to provide high quality, fermented and vegan sourced amino acids. In fact, it's this method that is one critical differentiator between most "leading" amino acid products and our newest ground-breaking formula, Amino Synergy.
WHY AMINO SYNERGY?
Vegan friendly

Naturally flavored

No artificial colors

Gluten free

Kosher

Tastes amazing

ULTRA-PREMIUM ESSENTIAL AMINO ACIDS
Amino Synergy's AjiPure(R) MP9 Matrix is engineered to give you all nine essential amino acids: L-leucine, L-lysine, L-valine, L-isoleucine, L-threonine, L-phenylalanine, L-methionine, L-histidine, and L-tryptophan. This matrix of amino acids helps support protein synthesis to promote healthy muscle while supporting your physique goals.*
HOW AMINO SYNERGY WORKS
Amino Synergy is formulated with a leucine-enriched EAA matrix. MP9 supports the mTOR signaling pathway and protein synthesis.* mTOR, or mammalian target of rapamycin, is the body's master protein synthesis regulator. This powerful pathway controls the anabolic and catabolic signaling of skeletal muscle mass, regulating muscle hypertrophy (growth) and muscle wastage (breakdown). Amino Synergy delivers a combination of leucine-enriched EAAs to help combat muscle breakdown and support protein synthesis so you can start maximizing the results you work hard for in the gym and on the field.*
INNOVATIVE ESSENTIAL AMINO ACIDS MATRIX
Amino Synergy is an advanced formula designed for any athlete who is looking to promote healthy muscle and support protein synthesis.* In addition to the innovative full spectrum MP9 Essential Amino Acid Matrix, this powerful formula also delivers 500 mg of freeze dried coconut water powder per serving.
This clean formula contains no artificial flavors and colors, uses an exclusive, proprietary combination of ingredients and cutting-edge technologies for an unrivaled, great tasting versatile product you can use any time of day.
And when you don't have time to mix an EAA drink or if you prefer capsules over powders, you can try Amino Synergy vegetable capsules. While many EAA capsules are manufactured from gelatin, which is derived from collagen extracted from the skins, bones, and connective tissues of animals, Amino Synergy uses only vegetable capsules.
Like all Kaged Muscle products, quality, purity, and composition are 100% guaranteed. You know you're getting only the best from Kaged Muscle—you don't have to worry about inferior raw materials being used or corners being cut during formulation to make better profits. We don't compromise on quality, ever—and we don't expect you to either!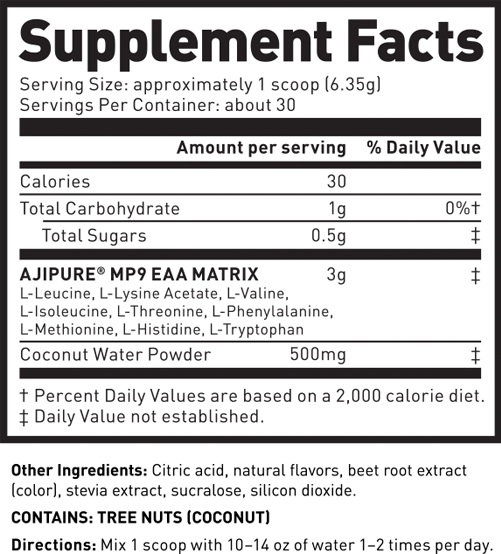 *These statements have not been evaluated by the Food and Drug Administration. This product is not intended to diagnose, treat, cure, or prevent any disease.
More items you might like
Loading...