Animal Energy - 60 Cap
Item #: UV404
UPC: 039442032874
Sure, you can GET it... But can you KEEP it? Tons of products out there from energy drinks to caffeine pills can deliver energy quickly. But how many can do that while providing longer lasting energy – along with focus and mood – as well? And all this without filling you up with sugar and calories? Whether you're training 1-2 hours several times a week and need to be at your peak or just need a solid pick-me-up on off days to get things done, you can count on Animal Energy® to deliver all that in a single, easy-to-use capsule. If your problem is low energy and a lack of focus then Animal Energy, with its unique 2-stage delivery system, can help you stay on track and get dialed in without the jitters or crash. Animal Energy – it can help you when you need to be strong and help push you through days that feel long.


What Makes It Unique?
Generally speaking, Animal Energy competes with all energy products from coffee (Starbucks) and energy drinks (Monster, Bang, Red Bull) to pre-workouts
(Fury, Rage XL, C4) and OTC caffeine pills (NoDoz, Vivarin, Jet-Alert). Specifically in the supplement industry, Animal Energy competes against pre-
workouts and also caffeine supplements like AllMax Nutrition's Pure Caffeine, Prolab's Pure Caffeine, and Nutricost's Pure Caffeine.
These supplements, along with OTC products like NoDoz, typically provide only 200mg caffeine per tablet/capsule. Furthermore, these products are typically
straight caffeine anhydrous with no additional value-add ingredients. Prices range from $3.99 to upwards of $20 or more.
Animal Energy, on the other hand, is priced competitively at under $10 for a comparable 60-dose bottle. This price is especially attractive because
Animal Energy features a unique "2-Stage" source of both short and longer lasting energy and focus. Animal Energy accomplishes this by combining
the benefits of fast-acting, pure caffeine anhydrous with five special herbal ingredients. L-Tyrosine is added to round out the product by helping to reduce
the perception of fatigue.
What Solution Does It Provide?
Animal Energy provides both short and longer-term energy and focus, unlike regular "caffeine pills," allowing individuals to train with greater performance,
focus and effort. It's great before exercise, to help ward off the midday slump, or whenever you need to get important work done. Unlike expensive coffee or
energy drinks, you don't have to worry about fitting Animal Energy into your macros – there are no added calories. You don't have to worry about sugars
or chemicals you can't pronounce either. Animal Energy won't "fill you up" or make it difficult to eat your next meal.
Who Can Benefit From It?
Anyone who needs a convenient (1 capsule dose), cost-effective (~$0.16/capsule), clean source of both quick and lasting energy/focus without the jitters
or crash can benefit from Animal Energy use – whether it's for exercise, working, or studying.
2-stage clean energy – quick and lasting

Jitter-free energy; no crash

Razor sharp focus

Convenient 1 capsule dosage

Cost-effective performance
No calories, fi ts into any macros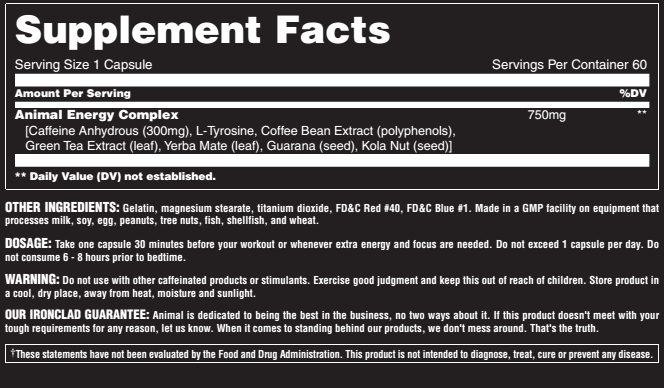 More items you might like
Loading...