MyoBlox Mania 2.0 - 56 Cap Testosterone Support
Item #: MY109
UPC: 850001912235
MANIA 2.0 TESTOSTERONE SUPPORT

THE BEST JUST GOT EVEN BETTER! When formulating Mania™ 2.0, the objective was clear that this formula needed to be nothing short of superior. We have utilized the freshest quality materials in their respected amounts to support gains in multiple facets, from boosting testosterone to increasing your strength in the gym. Equipped with proven ingredients that have been shown to support muscle gains, we are confident that you will love this new upgraded Mania!
EMPOWER YOURSELF

TESTOSTERONE / GH SUPPORT †

HYDRATION & VO2 SUPPORT †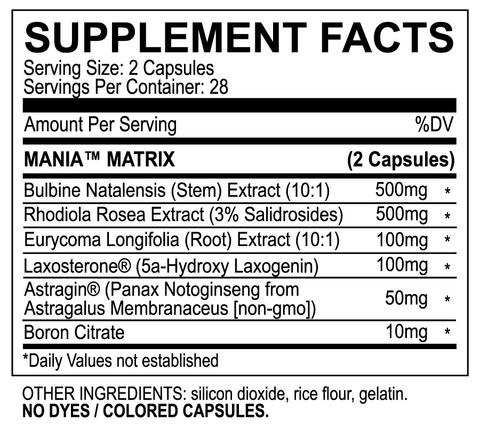 †These Statements Have Not Been Evaluated By The FDA. This Product Is Not Intended To Diagnose, Treat, Cure, Or Prevent Disease.
†Exercise And Proper Diet Are Necessary To Maintain Results. †Results Are Not Guaranteed And Vary Depending Upon Starting Point, Goals, And Effort.
†Must Be 18 Years Or Older To Purchase.

More items you might like
Loading...