Outbreak Nutrition Rise - 180 Cap
Item #: OBN04
UPC: 850000901087
20% Off w/code DPS10
Out of Stock
So what's in this bad boy?
Zinc & Magnesium 200% & 50% RDI– These two minerals are crucial to supporting healthy testosterone levels. Without adequate levels of these, it's nearly impossible to increase them. In the post-apocalyptic wasteland, they can be tough to find.
AgresTest (Fadogia agrestis) 10:1 Extract 1200mg – This highly potent trademarked extract quickly and significantly boosts testosterone levels and through clinical studies has also been shown to enhance drive and even increase stamina in the bedroom, not that you need that of course.
KSM-66 (Ashwaghandha Extract) 500mg – Ashwaghanda has a plethora of benefits for men and we have been able to source the most potent and well studied version, KSM-66. This ingredient increases endurance, drive, and free testosterone levels, as well as being a very strong adaptogen – meaning you will stay focused and calm no matter how tough the day is.
Fenugreek (Trigonella foenum-graecum) 500mg- Fenugreek has been consumed for hundreds of years for its virility-inducing effects. We now know it works by increasing drive through raising testosterone levels. We have sourced a high-quality version to ensure the highest level of effects.
Longjack (Eurycoma longifolia) 100:1 Extract 300mg– LongJack extract does two important things in this formula; it provides a fantastic aphrodisiac effect, as well as potent anti-estrogenic qualities.
Boron Citrate 100mg (equivalent 10mg boron) – Boron supports healthy hormone levels and increases free testosterone. Inadequate boron consumption can significantly hinder testosterone levels in men.
Red Seaweed (E. cottonii) Extract 500mg – This extract has recently been shown in clinical studies to be a POWERHOUSE estrogen blocker, even outperforming certain medications. This ingredient in the massive 500mg dosage is enough to have you covered.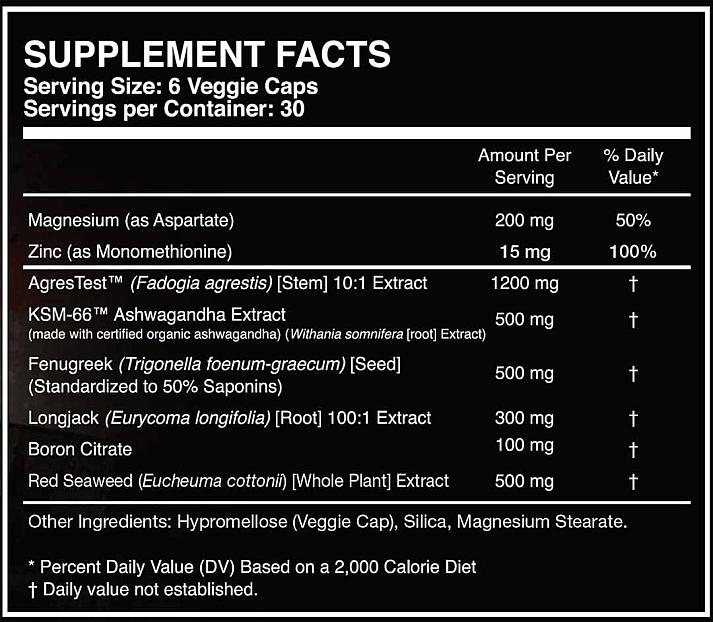 More items you might like
Loading...