Primeval Labs Mega Pre Pineapple Mango - 40 Scoops
Item #: PL242
UPC: 704438490821
30% Off w/code DPS10
Quantity Discounts: Order More & Save!
Order 2 or more for $36.99 each
Today's pre workout market is in utter disarray. On one hand there are products containing nothing but a proprietary cocktail of stimulants, which is great for energy but little else, and on the other hand, you have the supersized pre workouts that pack large doses of ingredients you really don't need immediately preceding an intense workout.
Out of this chaos, emerges a pre workout designed with the singular intent of providing everything you need before a workout to optimize athletic performance -- Mega Pre.
What is Mega Pre?
Mega Pre is a revelation to the pre workout landscape, one that will completely change the way you view pre workouts. Touting a robust formula packing 8 clinically-backed ingredients, Mega Pre provides the essential components your mind and muscles need before a workout to maximize blood flow, nutrient delivery, and hydration.
Each time using Mega Pre, you'll experience greater strength, power, stamina, focus, and endurance. All of the essential you need to maximize your performance on a daily basis are here in Mega Pre.
What you won't find in Mega Pre is a litany of stimulants that do nothing aside from temporarily increasing mental energy, only to leave you dragging shortly after. Mega Pre is the truest sense of what a pre workout should aspire to be.
You asked for the best, and Primeval Labs has delivered the best in Mega Pre!
Why No Stimulants?!
The simple truth of the matter is that stimulants and stimulant blends are often the cheapest component to pre workout formulas. Rather than throw in a bunch of cheap stimulants and charge the customer an egregious amount of money, Primeval Labs has invested time, effort, and money to bring you the finest quality ingredients all at their clinically backed doses.
On top of that, stimulants can act as vasoconstrictors (reducing the diameter of blood vessels), which goes against everything that Mega Pre is intended to do -- promote increase blood flow for greater performance, gains, and PUMPS.
If you're really hurting for some stims, we offer several stim-based options that can be stacked with Mega Pre or you can simply pop a caffeine tab!
Benefits
Heightened focus

Enhanced blood flow

Improved oxygen and nutrient delivery

Increased nitric oxide production

Enhanced protein synthesis

Greater stamina and endurance

Skin-tearing pumps

Increased performance

Enhanced muscle growth

Reduced fatigue

Optimized hydration

Superior flavoring
Ingredients
L-Citrulline (6g)
Mega Pre is designed to increase dilate blood vessels, promote blood flow, enhance your performance, and give massive muscle pumps. There's no single better ingredient to start off a comprehensive pump-boosting pre workout formula than L-Citrulline!
Simply put, L-Citrulline is one of the premier nitric oxide-boosting compounds around, and substantially more effective than L-Arginine due to its superior bioavailability.[1] L-Citrulline is a powerful endogenous precursor of L-arginine, which is the primary substrate for NO synthase, allowing for greater N.O. production and vasodilation in the body. This translates to tremendous vascularity and PUMPS![1]
L-Citrulline is also an incredibly effective ergogenic in addition to its vein-swelling properties. Numerous clinical studies have shown that L-Citrulline enhances Vo2 kinetics, ATP production, endurance, athletic performance, and even lean body mass![2,3,4,5]

Betaine (3g)
Primeval Labs has included Betaine at a whopping 4g per full serving. Derived from choline, betaine is a must-have ingredient in any performance boosting pre workout. It has been clearly shown to increase strength and lean mass, similar to that of creatine, and been found to actually enhance endogenous creatine production, via methylation of the amino acid homocysteine.
To sum it up into tangible results, betaine increases your power, strength, overall performance, and muscle growth.[6,7]

GlycerPump (2g)
Hydration is a crucial, yet underemphasized, component of performance. Even a little as a 2% drop in hydration levels can lead to increased fatigue, decreased performance, and reduced cognitive function. To support your hydration needs even in the most extreme training conditions, Primeval Labs includes GlycerPump.
GlyerPump is a cutting-edge, stabile form of glycerol containing 65% pure glycerol by weight. You've probably seen other forms of glycerol in pre workouts before, but none can match the effectiveness and quality of GlycerPump. Unlike all other forms of glycerol, GlycerPump won't clump in the tub or leave gobs of undissolved powder on the sides of your shaker. It also offers superior mixability and flavoring ability too.
GlycerPump transforms the cells inside your muscles to become super absorbent "sponges" that take up extra water and swell. The end result of this cellular swelling is superior hydration, increased stamina, and amazing "water-based" pumps!

Choline Bitartrate (1g)
Ever feel disconnected or unfocused during your workout despite taking a bunch of caffeine, yohimbine, or other stimulant? Do you walk out of the gym beyond frustrated before your workout is even over due to not feeling connected?
What you're missing (and what your pre workout is lacking) is some much needed focus. More specifically, the reason you're not into your workout is due to an absent mind-muscle disconnection. This special connection enables you to feel each and every muscle fiber contract during your workout, allowing you to get the most from every single repetition.
To heighten your focus and foster a firm mind-muscle connection, Primeval Labs includes a massive 1g dose of choline bitartrate. This powerful nootropic increase production of the "learning transmitter" acetylcholine, which promotes focus and solidifies the "mind-muscle connection."[10,11]
Get ready to "feel" your workout like never before!

L-Norvaline (300mg)
L-Norvaline is a derivative of the branched-chain amino acid Valine that supports cardiovascular function and blood flow. Seeing that optimizing muscular blood flow is preeminent in Mega Pre, it's no surprise this ingredient is an automatic inclusion!
Norvaline prolongs the nitric oxide boosting effects of L-Citrulline by stunting arginase activity in the body.[12] Inhibiting arginase promotes unrestricted nitric oxide production, resulting in substantially greater vasodilation and pumps that last for hours after your workout!

VasoDrive-AP (254mg)
Angiotensin converting enzyme (ACE) is a devilish little enzyme in the body that causes vasoconstriction. Left unchecked, ACE reduces blood flow, impacting nutrient and oxygen delivery to working muscles, starving them of the essential nutrient they need to perform at a high level.
Enter VasoDrive-AP, a groundbreaking ingredient that inhibits ACE activity in the body. Vaso-Drive is a patented, proprietary ingredient derived from casein comprised of two tripeptides -- Valyl-Prolyl-Proline (VPP) and Isoleucyl-Prolyl-Proline(IPP).
Clinical studies using VasoDrive-AP demonstrate the novel ingredient promotes healthy blood pressure, arterial elasticity and blood flow, and protects muscle cells against free radical-related dysfunction.[6,7,8] In other words, VasoDrive-AP enhances blood flow, insulin sensitivity, and athletic performance all through reducing ACE activity in the body.[13,14,15]

Huperzine A (100mcg)
Huperzine is an incredibly powerful nootropic that serves to enhance the effects of Choline Bitartrate by inhibiting acetylcholinesterase, the enzyme that degrades acetylcholine.[16] Pairing Huperzine + Choline make for a long-lasting, highly effective nootropic due the promotes sustained focus and a superior mind-muscle connection.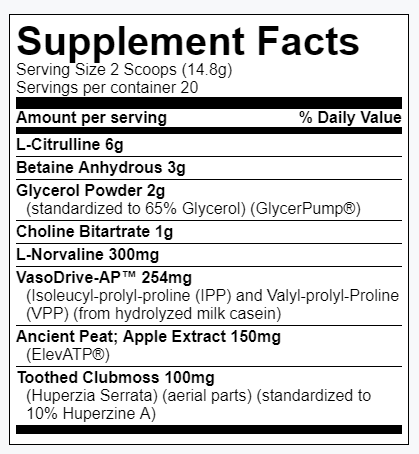 References

Curis E., et. al; "Citrulline and the gut;"; Current Opinion in Clinical Nutrition and Metabolic Care; September 2007
Bailey SJ, Blackwell JR, Lord T, Vanhatalo A, Winyard PG, Jones AM. l-Citrulline supplementation improves O2 uptake kinetics and high-intensity exercise performance in humans. J Appl Physiol (1985). 2015 Aug 15;119(4):385-95
Pérez-Guisado J, Jakeman PM. Citrulline malate enhances athletic anaerobic performance and relieves muscle soreness. J Strength Cond Res. 2010 May;24(5):1215-22.
Suzuki T, Morita M, Kobayashi Y, Kamimura A. Oral L-citrulline supplementation enhances cycling time trial performance in healthy trained men: Double-blind randomized placebo-controlled 2-way crossover study. J Int Soc Sports Nutr. 2016;13(1):6. doi:10.1186/s12970-016-0117-z.
Gonzales JU, Raymond A, Ashley J, Kim Y. Does l-citrulline supplementation improve exercise blood flow in older adults? Exp Physiol. September 2017. doi:10.1113/EP086587.
Lee EC, Maresh CM, Kraemer WJ, et al. Ergogenic effects of betaine supplementation on strength and power performance. Journal of the International Society of Sports Nutrition. 2010;7:27. doi:10.1186/1550-2783-7-27.
Trepanowski JF, Farney TM, McCarthy CG, Schilling BK, Craig SA, Bloomer RJ. The effects of chronic betaine supplementation on exercise performance, skeletal muscle oxygen saturation and associated biochemical parameters in resistance trained men. J Strength Cond Res. 2011;25. doi:10.1519/JSC.0b013e318217d48d.
Hellsten Y, Skadhauge L, Bangsbo J; Effect of ribose supplementation on resynthesis of adenine nucleotides after intense intermittent training in humans . Am J Physiol Regul Integr Comp Physiol. (2004) http://www.ncbi.nlm.nih.gov/pubmed/14660478
Brault JJ1, Terjung RL; Purine salvage to adenine nucleotides in different skeletal muscle fiber types . J Appl Physiol (1985). (2001) http://www.ncbi.nlm.nih.gov/pubmed/11408435
Wallace JMW, McCormack JM, McNulty H, et al. Choline supplementation and measures of choline and betaine status: a randomised, controlled trial in postmenopausal women. Br J Nutr. 2012;108(7):1264-1271. doi:10.1017/S000711451100674X. https://www.ncbi.nlm.nih.gov/pubmed/22172554
Cohen BM, Renshaw PF, Stoll AL, Wurtman RJ, Yurgelun-Todd D, Babb SM. Decreased brain choline uptake in older adults. An in vivo proton magnetic resonance spectroscopy study. JAMA. 1995;274(11):902-907. https://www.ncbi.nlm.nih.gov/pubmed/7674505
El-Bassossy HM, El-Fawal R, Fahmy A. Arginase inhibition alleviates hypertension associated with diabetes: effect on endothelial dependent relaxation and NO production. Vascul Pharmacol. 2012;57(5-6):194-200. doi:10.1016/j.vph.2012.01.001.
FitzGerald RJ, Meisel H. Milk protein-derived peptide inhibitors of angiotensin-I-converting enzyme. Br J Nutr. 2000;84 Suppl 1:S33-37.
Hirota T, Ohki K, Kawagishi R, et al. Casein hydrolysate containing the antihypertensive tripeptides Val-Pro-Pro and Ile-Pro-Pro improves vascular endothelial function independent of blood pressure-lowering effects: contribution of the inhibitory action of angiotensin-converting enzyme. Hypertension research : official journal of the Japanese Society of Hypertension. 2007;30(6):489-496.
Fekete ÁA, Givens DI, Lovegrove JA. Casein-Derived Lactotripeptides Reduce Systolic and Diastolic Blood Pressure in a Meta-Analysis of Randomised Clinical Trials. Nutrients. 2015;7(1):659-681.
Zhao, Q; Effects of huperzine A on acetylcholinesterase isoforms in vitro: comparison with tacrine, donepezil, rivastigmine and physostigmine.; State Key Laboratory of Drug Research, Shanghai Institute of Materia Medica, Shanghai Institutes for Biological Sciences, Chinese Academy of Sciences; 2002
More items you might like
Loading...