CTD Sports Isolicious Whey Isolate Protein Fruity Cereal Crunch - 4 Lb
Item #: TD063
UPC: 852228007169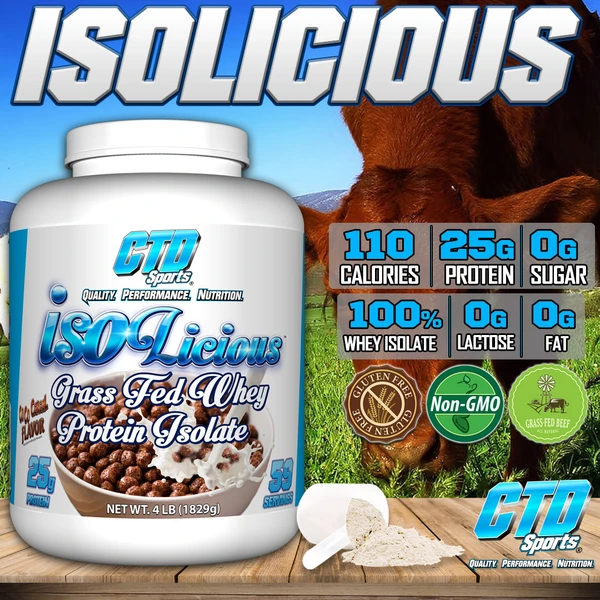 Quality. P
erformance. Nutrition. Grass Fed Whey Protein Isolate. Non-GMO. Gluten-Free.
WHAT IS ISOLICIOUS?
Isolicious is 100% grass fed whey isolate that comes in amazing cereal flavors. Isolicious is gluten free with zero fat and zero sugar.
HOW DOES IT WORK?
Isolicious is 100% whey isolate and offers a full spectrum of amino acids including BCAA's. Isolicious is also easily digestible and gluten free.
WHEN IS THE BEST TIME TO TAKE IT?
Before workouts, after workouts or prior to bed.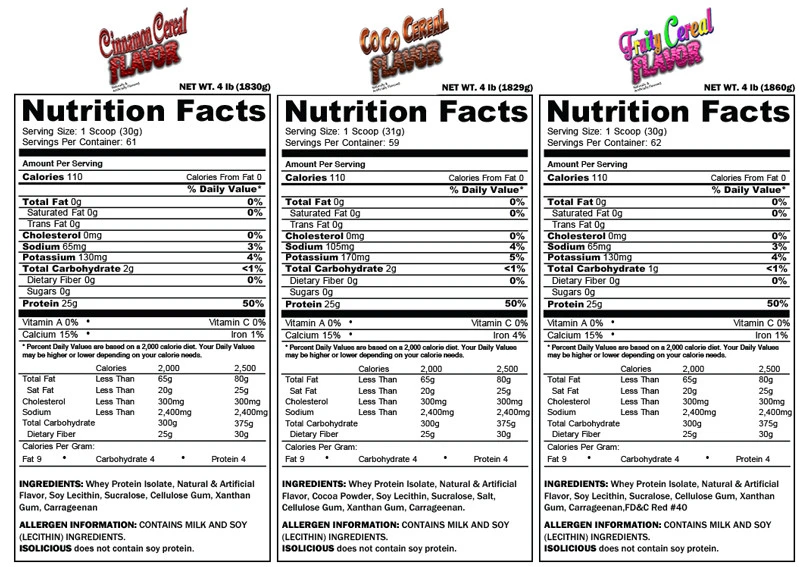 Nutritional Facts†
Serving Size: 1 Scoop
Servings Per Container: 62
Amount Per Serving
Serving
% DV
Calories

110

Calories from Fat

0 g

Total Fat

0 g

0.000%

Saturated Fat

0 g

0.000%

Cholesterol

0 mg

0.000%

Sodium

65 mg

3.000%

Potassium

130 mg

4.000%

Total Carbohydrate

1 g

-1.000%

Dietary Fiber

0 g

0.000%

Sugars

0 g

Protein

25 g

50.000%

Other Ingredients: Whey Protein Isolate, Natural & Artificial Flavor, Soy Lecithin, Sucralose, Cellulose Gum, Xanthan Gum, Carrageenan, FD&C Red #40
*These statements have not been evaluated by the Food and Drug Administration. This product is not intended to diagnose, treat, cure or prevent any disease.
†Nutritions Facts are a simulation of the product "Nutrition Label". For the actual Nutrition Label please refer to the product packaging.
More items you might like
Loading...