Redcon1 Tango Grape - 30 Servings
Item #: RDC36
UPC: 647603261669

Improve your performance with Redcon1's highly powered creatine formula. Force the muscle to explode with new muscle growth due to a surge in ATP production and cell swelling with ultra-accelerated protein synthesis activation.
Tango has been known to produce the best results when training with maximum intensity, but since when do Redcon1 athletes train with anything but full throttle intensity and ferocity? Once you begin to use Tango you'll first notice how great it tastes, but also how your body seems to be responding better than it has with other creatine products.
Included inside each serving is Betaine which will not only help protect against dehydration, a common side-effect of creatine, but even more importantly will help the body absorb more ingested creatine and maintain even more water in the muscle cell, ultimately greatly impacting protein synthesis.
Tango is every serious athlete's go-to creatine. Improve your performance, increase strength and size, and recover fast!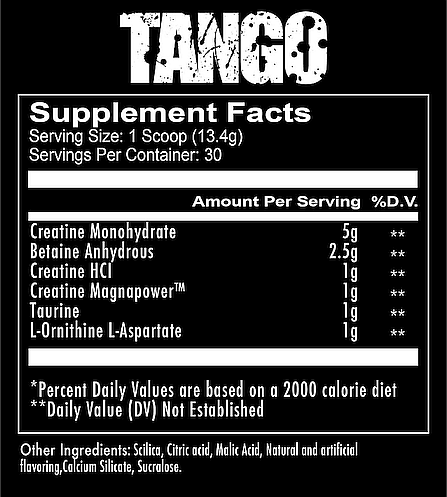 More items you might like
Loading...