Redcon1 Mental Trigger - 60 Cap
Item #: RDC35
UPC: 647603260952
Unlock brain focus, attentiveness, and creativity with our highly advanced focus formula, Mental Trigger. The vast majority of supplements on the market address the physical needs we demand, but finally one has come along to address our mental needs. Focus ingredients like the ones we've included in Mental Trigger are cutting edge chemical compounds that people from all walks of life have been capitalizing on and gaining the competitive edge on those who have been going without. We firmly believe Mental Trigger will be one of the most widely used supplements anywhere in the world. Whether cramming for a big test, preparing for a job interview, or reaching next to impossible deadlines – Mental Trigger - it'll have you ready and wear you need to be when it counts the most.
1. Is MENTAL TRIGGER only for people who work out?
No, all types of people can benefit from athletes, to students, to gamers; anyone in need of heightened focus capability.
2. Can I take MENTAL TRIGGER before doing homework or taking a test?
Yes. MENTAL TRIGGER will help improve mental focus and clarity.
3. I drive a lot, would MENTAL TRIGGER be a good product to take before driving?
Yes, it can increase alertness and focus while driving.
4. How does MENTAL TRIGGER work?
MENTAL TRIGGER is a combination of focus and stimulant ingredients. These ingredients are able to pass the blood-brain barrier effectively stimulating the central nervous system.
5. I take Adderall, can I still take MENTAL TRIGGER?
We suggest that you do not mix prescription medications with MENTAL TRIGGER.
6. Would MENTAL TRIGGER be good to take before playing video games?
Absolutely. MENTAL TRIGGER can improve reaction time and hand-eye coordination.
7. Can I take MENTAL TRIGGER before playing a sport?
Yes, however, we suggest you practice with it before using it in games.
8. How can I stack MENTAL TRIGGER with other stimulants throughout the day?
Take MENTAL TRIGGER as needed on days where heightened alertness and focus is desired. We suggest separating your dosages of MENTAL TRIGGER 3-4 hours from other stimulants.
9. How far before bed should I cut off taking MENTAL TRIGGER?
At least 6 hours prior to bed.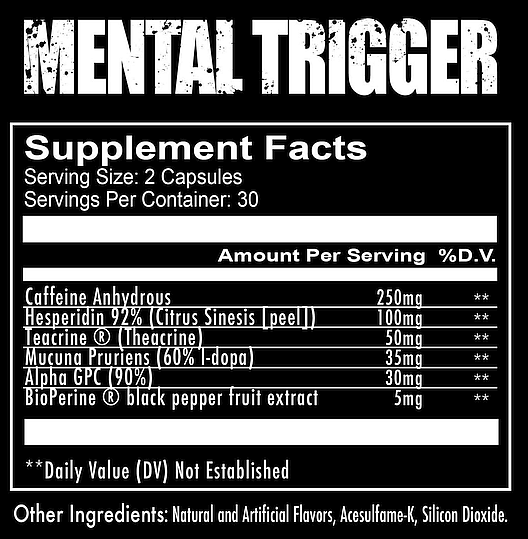 More items you might like
Loading...