Muscletech Cell Tech Performance Series Fruit Punch - 3 Lb
Item #: MM510
UPC: 631656703184
20% Off w/code DPS10
Out of Stock
POST-WORKOUT
CELL-TECH
Subjects built 3.4 lbs. of muscle in 7 days!
Increase muscle size and strength
Maximize muscle creatine
Improved between-set recovery for greater muscle performance
Clinically proven key compounds
THE MOST POWERFUL CREATINE FORMULA
CELL-TECH is a scientifically engineered hardcore creatine formula that is patent-protected and contains core ingredients supported by numerous clinical trials. Each two-scoop serving of CELL-TECH delivers 7g of HPLC-certified creatine monohydrate and 3 grams of creatine HCl. This dose of creatine is far higher than most creatine products, and yet those creatine products don't utilize a delivery system! Ask yourself, how much creatine from these untested formulas is actually making its way into your muscles?
CELL-TECH delivers a multi-stage combination of carbohydrates, including glucose polymers, dextrose, ModCarb™ (oat bran, quinoa, buckwheat, millet), waxy maize and highly branched cyclic dextrin totaling 75g per two scoops. After each max serving of CELL-TECH, insulin levels rapidly peak in the bloodstream, priming muscles for maximum creatine hypersaturation and retention. This is the key to CELL-TECH's unique ability to significantly increase insulin levels beyond what regular creatine supplements are capable of. The anabolic rush generated by this exclusive carb blend is engineered to force glucose, creatine and amino acids into the muscles at levels that are unmatched by any other creatine formula.
In fact, based on available published research, CELL-TECH is the fastest acting, most powerful advanced musclebuilding creatine formula ever developed, and once you see how dramatically and rapidly CELL-TECH can help transform your physique, you won't want to consider using anything else!
Forces a Powerful Insulin Spike
CELL-TECH delivers a multi-stage combination of carbohydrates that forces a powerful insulin spike post-workout.
Celltech
Increases Glut-4 Transporters for Creatine Uptake
The powerful carbohydrates in CELL-TECH trigger insulin output, enabling insulin to shuttle the massive 10g dose of creatine and other nutrients straight into the muscle.
Celltech
With Added Alpha Lipoic Acid
CELL-TECH contains a full 200mg dose of alpha lipoic acid (ALA). Research suggests that ALA helps improve the absorption of creatine and glucose into the muscle cell through specialized transporters.
Celltech
Increases Cell Volumization – Priming Muscles for Growth
Improved GLUT-4 availability and increased muscle cell sensitivity allows insulin to rapidly replenish creatine and glycogen stores, facilitating glycogen super-compensation and an intense muscle-expanding effect. CELL-TECH also contains free-form amino acids that aid in this dramatic cell volumization!
Clinically Proven – Faster Muscle Growth and More Strength
CELL-TECH is more than just a supplement that works in theory. It's actually been put to the test in a clinical setting – further cementing its effectiveness! In fact, subjects who consumed the amount of creatine and carbohydrates supplied during the CELL-TECH loading stage gained, on average, 3.4 lbs. of muscle in 7 days. Subjects taking creatine with juice gained only 0.8 lbs.3
In a second study performed at McMaster University, test subjects who used CELL-TECH for 8 weeks significantly increased their strength on the bench press by 17%, leg press by 29% and biceps curl by 28% respectively.4
Enhanced Nutrient Transport
Each serving of CELL-TECH includes 200mg of the powerful compound alpha lipoic acid (ALA). Research suggests that ALA helps improve the absorption of creatine and glucose into the muscle cell through specialized transporters. This powerful nutrient-partitioning agent significantly improves the insulin sensitivity of active insulin receptors on the cells' surface for greater nutrient uptake and creatine saturation.
Cell-Volumizing BCAAs
CELL-TECH also supplies the branched chain amino acids L-leucine, L-valine and L-isoleucine in a 2:1:1 ratio. Branched chain amino acids are free-form amino acids – singular molecules that are quickly digested and absorbed into the bloodstream. CELL-TECH also contains the amino acids taurine and alanine. These free-form amino acids are two of the most abundant amino acids in muscle and aid in cell volumization.
No Cycling
A clinical study revealed that the use of CELL-TECH did not lead to the down regulation of creatine transporters. This allows athletes to continue to benefit from creatine use, instead of cycling on and off.5 This means you can use it all year long – just like protein.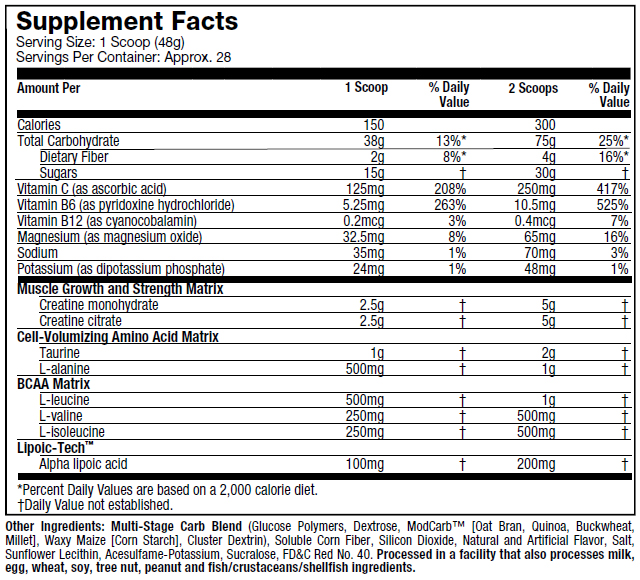 REFERENCES
1. Biolo et al., 1995. Journal of Clinical Investigation. 95:811-819.
2. Green et al., 1996. American Journal of Psychology. 271:E821-826.
3. Kalman et al., 2000. Medicine & Science in Sports & Exercise. 32(5):562(5136)[Abstract].
4. Tarnopolsky et al., 2001. Med Sci Sports Ecerc. 33(12):2044-52.
5. Parise et al., 2000. Canadian Journal of Applied Physiology. 25(5):396[Abstract].
More items you might like
Loading...