Redline Max 300 7-Hour Energy 2.5oz Exotic Fruit - 12 Btls
Item #: PD508
UPC: 610764000484
VPX Redline Max 300 is an intensive pre-workout supplement in the form of a great-tasting 2.5-ounce shot. Its potent energy-boosting properties will help power you through even the toughest training sessions without the bloating you can get from a full-sized drink.
Users of VPX Redline Max 300 will love the amino acids, vitamins, electrolytes it contains — along with enough caffeine to produce additional ketones if taken on an empty stomach. (Ketones are burnt for energy in the absence of carbs and may help you lose weight whether you are in a state of ketosis or not, according to various studies).
VPX Redline Max 300 contains ZERO sugars, no artificial flavors, and no artificial colors. You get the extra focus and boost of amino acids, vitamins and electrolytes, and the effects — enhanced focus, endurance and performance — last up to seven hours!
Warning
Do not use this product if you are pregnant or nursing. Do not consume this product if you are taking any prescription drug and/or have any medical condition. The user of this product assumes all liability if this product is used in a manner not consistent with label guidelines. This product contains caffeine and should not be used with any other caffeine-containing products. This product is intended for use by healthy individuals only.
Too much caffeine may cause nervousness, irritability, sleeplessness, and, occasionally, rapid heartbeat. Not recommended for use by children under 18 years of age.
Disclosure: These statements have not been evaluated by the Food and Drug Administration. This product is not intended to diagnose, treat, cure, or prevent any disease.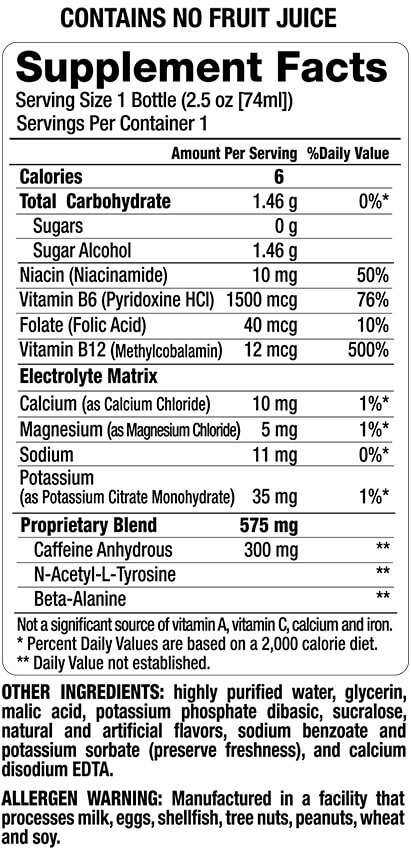 More items you might like
Loading...