Kaged Muscle Hydra-Charge Fruit Punch - 60 Servings
Item #: KM023
UPC: 094393450603
HYDRATION & ANTIOXIDANT SUPPORT
HYDRA-CHARGE
Anyone looking for a delicious, naturally flavored Electrolyte + Antioxidant mixture to help flavor your daily beverages.
A CLEAN & REFRESHING REPLACEMENT FOR SUGARY SPORTS DRINKS.
Delivers 5 Essential Electrolytes
Enhances Performance & Endurance
Refreshing, Delicious & Thirst Quenching
Provides Powerful Antioxidant Support
No Artificial Colors, Flavors, or Dyes
DIRECTIONS
Directions For Hydra-Charge:
As an electrolyte supplement, mix 1 scoop in 10–14 ounces of water along with your favorite Kaged Muscle® supplements.

THE NEXT LEVEL OF HYDRATION IN SPORTS NUTRITION
Electrolyte matrix designed to give you a boost before, during, or after workouts
Provides calcium, phosphorus, magnesium, sodium, and potassium
Formulated with SPECTRA, a high-ORAC antioxidant blend that delivers a blend of fruit, vegetable, and herbal concentrates and extracts
Carefully engineered with no artificial flavors for a flavor-packed experience unlike any other.
Banned Substance Free
Kaged Muscle Hydra-Charge is a powerhouse of flavor packed with electrolytes and nutrients. The custom flavoring system of Hydra-Charge is a delicious way to deliver electrolytes to support hydration before, during and after intense training. Hydra-Charge contains five essential electrolytes and is combined with SPECTRA™, which features a blend of fruit, vegetable and herbal extracts for antioxidant support.*
TURN IT UP WITH TAURINE
Taurine is an amino acid that supports performance enhancement and also helps the body utilize electrolytes.*
Scientists have discovered that taurine can assist endurance athletes in timed trials.*
In addition, taurine can aid muscle size by acting as a cell volumizer and drawing more fluid into muscle cells.
WHY HYDRA-CHARGE?
Tastes Amazing
0 grams of Sugar
Vegetarian
No Artificial Flavors
No Artificial Colors
Exposure to moisture or heat may cause powder to clump or harden. Store in a cool, dry place, avoid direct sunlight, humidity and high temperatures. Replace lid securely after each use. This product contains a silica gel pack. Do not eat. Contents may settle during shipping. Sold by weight, not volume.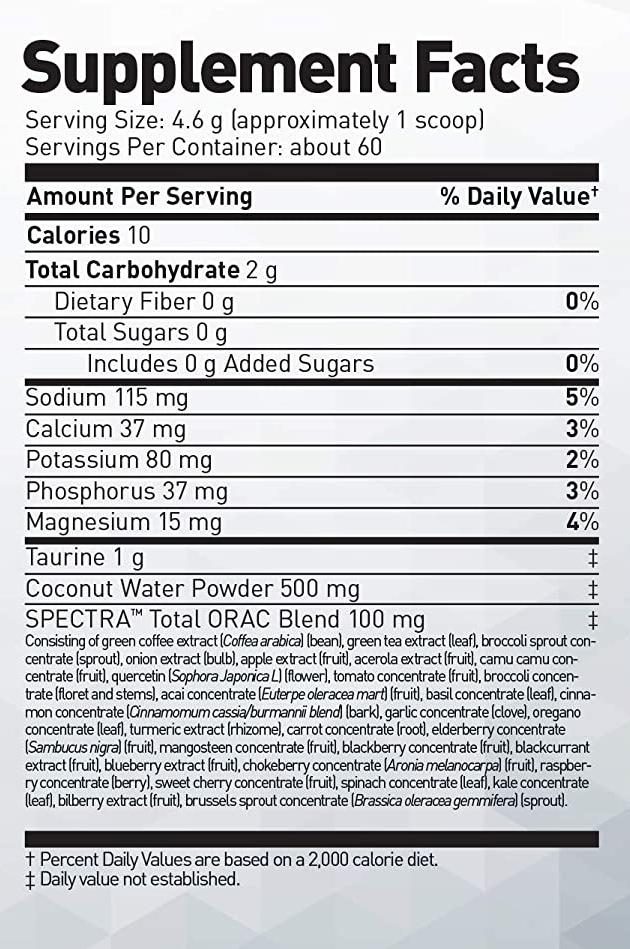 More items you might like
Loading...