Kaged Muscle Clean Burn - 180 Cap
Item #: KM019
UPC: 027829403522
-20% Off Special w/code DPS10
Out of Stock
Carve your body without the Jitters
CLEAN BURN™ WAS FORMULATED WITH CUTTING EDGE PREMIUM INGREDIENTS THAT ARE BACKED BY STUDIES AND NOT CLAIMS
While most weight-loss formulas only address some of the typical person's weight management issues, Clean Burn™ attacks the problem from ALL angles! Fat burning is a complex, multiple-pathway process. An effective fat burner approaches this process along multiple metabolic pathways as KAGED MUSCLE™ has done with Clean Burn™.* It takes the right combination of ingredients to burn fat without making you edgy. Clean Burn™ delivers it in a special blend.
L-CARNITINE
L-Carnitine is essential for transporting long-chain fatty acids across the mitochondrial membrane to help break down fat and generate energy.* Carnipure™ was developed in Switzerland and is backed by numerous studies. [1,2]
SET YOUR METABOLISM ON FIRE WITH
CAPSIMAX®
Capsimax® Capsicum Extract is a proprietary encapsulated form of premium, highly concentrated natural capsicum fruit extract, manufactured from the active principles of hot red peppers. A number of clinical studies on the active component of Capsimax®, capsaicinoids, have shown that they help manage appetite, support healthy metabolism to burn calories, help increase energy expenditure in the body, and reduce body mass and body fat. [3,4]
INHIBIT FAT STORAGE WITH
GREEN TEA
Unlike other common weight-loss agents that stimulate sympathetic hormone release and therefore tend to raise heart rate and blood pressure, green tea works through a completely different mechanism. The catechins in green tea have been shown to inhibit the enzyme that breaks down norepinephrine so that its biological effects (e.g., increased metabolic rate, increased fat breakdown) are prolonged.* [5] Green tea may also act to reduce food intake [6,7] and inhibit the main enzymes involved in fat storage.* [8,9] EGCG is an effective stimulator of thermogenesis, the biochemical process by which fat in the body is "burned" to provide energy. Studies with humans have shown that, by stimulating thermogenesis, EGCG can help burn calories and contribute to weight loss.* [10-12]
THE SUGAR DESTROYER
GYMNEMA SYVESTRE EXTRACT
How often have you experienced that afternoon slump? It's midway through the day, you're tired and your get-up-and-go seems like it's all gone. When your blood sugar levels are naturally out of balance, energy feels like it's draining away. Your blood sugar levels can drop naturally, often late in the afternoon, triggering sugar cravings. For more than 2,000 years, Gymnema sylvestre has been used traditionally as a key herb to help maintain healthy blood sugar levels already within a healthy range.* In India, it's called Gurmar, the "Sugar Destroyer". That's because since ancient times, natural clinicians have noted that can help to suppress the taste of sugar.*
CRUSH CRAVINGS AND STABILIZE SUGAR WITH
CHROMEMATE®
ChromeMate® is a unique, patented, niacin-bound chromium complex that supports the bioavailability and efficacy of chromium.* Research suggests that ChromeMate® is absorbed and retained within the body significantly more than chromium picolinate.* ChromeMate® has been suggested to promote weight loss while helping preserve precious muscle.*

In a randomized, placebo-controlled, 43-patient study, researchers from the University of Texas found that subjects taking 4 mg of ChromeMate® delivering 400 mcg of chromium a day in combination with exercise, experienced significant weight loss (2.4 lbs) after eight weeks. [13]
WHY CLEAN BURN™ VS.
OTHER WEIGHT LOSS PRODUCTS?
The answer is simple—all our ingredients meet MICROPURE™ standards which means they are 3rd party tested for purity and potency! In return for a premium price, our manufacturers commit to strict ethical and environmental standards, ensuring the ingredients in KAGED MUSLCE™ products are manufactured with care.


Certified Free of Banned Substances

Vegetable Capsules
STACK WITH
PURCAF™
NOW THAT YOU'VE HEARD WHAT CLEAN BURN™
CAN DO, STOP THINKING ABOUT GETTING RID OF

THAT EXTRA BODY FAT AND DO IT!

Follow my 4WEEKS2SHRED Video Series and add Clean Burn™ to your fat loss supplement stack and you will see for yourself. Clean Burn™ was one of the SECRET WEAPONS that helped me get shredded in my 4WEEKS2SHRED Video Trainer.
1. Muller DM, Seim H et al.: Effects of oral L-Carnitine supplementation on in vivo long-chain fatty acid oxidation in healthy adults. Metabolism 2002;51(11):1389-1391
2. Wutzke KD, Lorenz H: The effect of L-Carnitine on fat oxidation, protein turnover, and body composition in slightly overweight subjects. Metabolism 2004;53(8):1002-1006
3. Bloomer et al. Effect of oral intake of capsaicinoid beadlets on catecholamine secretion and blood markers of lipolysis in healthy adults: a randomized, placebo controlled, double-blind, cross-over study. Lipids Health Dis 2010, 9:72
4. Lopez et al. Eight weeks of supplementation with a multi-ingredient weight loss product enhances body composition, reduces hip and waist girth, and increases energy levels in overweight men and women. J Int Soc Sports Nutr. 2013 Apr 19;10(1):22
5. Borchardt RT, Huber JA. Catechol O-methyltransferase. 5. Structure-activity relationships for inhibition by flavonoids. J Med Chem. 1975 Jan;18(1):120-2.
6. Kao YH, Hiipakka RA, Liao S. Modulation of endocrine systems and food intake by green tea epigallocatechin gallate. Endocrinology. 2000 Mar;141(3):980-7.
7. Kao YH, Hiipakka RA, Liao S. Modulation of obesity by a green tea catechin. Am J Clin Nutr. 2000 Nov;72(5):1232-4.
8. Watanabe J, Kawabata J, Niki R. Isolation and identification of acetyl-CoA carboxylase inhibitors from green tea (Camellia sinensis). Biosci Biotechnol Biochem. 1998 Mar;62(3):532-4.
9. Tian WX, Li LC, Wu XD, Chen CC. Weight reduction by Chinese medicinal herbs may be related to inhibition of fatty acid synthase. Life Sci. 2004 Mar 26;74(19):2389-99.
10. Dulloo AG, Duret C, Rohrer D, Girardier L, Mensi N, Fathi M, Chantre P, Vandermander J. Efficacy of a green tea extract rich in catechin polyphenols and caffeine in increasing 24-h energy expenditure and fat oxidation in humans. Am J Clin Nutr 1999;70:1040-5.
11. Dulloo AG, Seydoux J, Girardier L, Chantre P, Vandermander J. Green tea and thermogenesis: interactions between catechin-polyphenols, caffeine, and sympathetic activity. Int J Obes Relat Metab Disord 2000 Feb;24(2):252-8.
12. Nagao T, Komine Y, Soga S, Meguro S, Hase T, Tanaka Y, Tokimitsu I. Ingestion of a tea rich in catechins leads to a reduction in body fat and malondialdehyde-modified LDL in men. Am J Clin Nutr 2005;81(1):122-9.
13. Grant KE, Chandler RM, Castle AL, Ivy JL. Chromium and exercise training: effect on obese women. Med Sci Sports Exerc. 1997;29:992-998.
* These statements have not been evaluated by the Food and Drug Administration. This product is not intended to diagnose, treat, cure, or prevent any disease.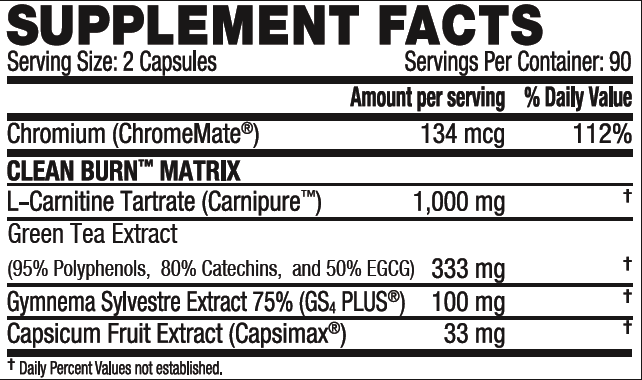 More items you might like
Loading...