Optimum Nutrition Isolate Protein Chocolate - 5 Lb (67 Servings)
Item #: ON806
UPC: 748927054583
All of the protein in each serving of ON Isolate is from Whey Isolate, ultra-filtered for exceptional purity. By using only high-quality Whey Isolate, we're able to pack 25 grams of protein into every serving with just 1 gram of sugar and 1 gram of fat. Mix a scoop into cold water or milk first thing in the morning, before endurance training or after weight training to kick-start recovery. That way, you can get back to chasing ambitious goals tomorrow.
Instantized for Easy Mixing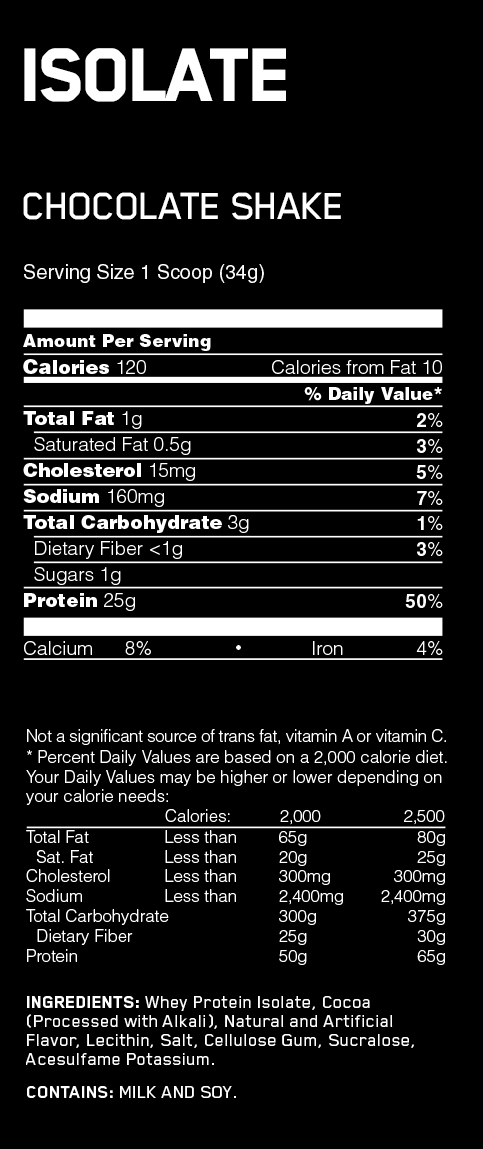 THESE STATEMENTS HAVE NOT BEEN EVALUATED BY THE FOOD AND DRUG ADMINISTRATION. THIS PRODUCT IS NOT INTENDED TO DIAGNOSE, TREAT, CURE OR PREVENT ANY DISEASE. FOR BEST RESULTS SUPPLEMENTS SHOULD BE TAKEN AS DIRECTED OVER TIME, AT MAXIMUM DOSAGE IN CONJUNCTION WITH A HEALTHY DIET AND REGULAR EXERCISE PROGRAM. RESULTS MAY VARY.
More items you might like
Loading...