ANSI Whey 25 Whey Protein Cookies & Cream - 10 Lb (2 X 5 Lb)
Item #: AI099
20% Off w/code DPS10
Out of Stock
Pro Whey 25
• 25g Ultra Muscle Building Protein*
• Loaded With Muscle-building Glutamine and BCAAs*
• Only 2g Fat
• 0g Sugar
• No Trans Fat
• No Aspartame
• Gluten Free
• Mixes Instantly
ANSI's Pro-Series Whey 25 is a premium whey protein blend consisting of whey protein concentrate and whey protein isolate. Each serving yields 25 grams of quality protein and only 2 grams of sugar and fat. Whey 25 is also loaded with glutamine and BCAAs for maximum recovery and recuperation. This innovative combination of high quality proteins is engineered to provide you with the necessary building blocks to support lean muscle tissue.*

Stats are for 5 Lb Vanilla flavor. Other flavors may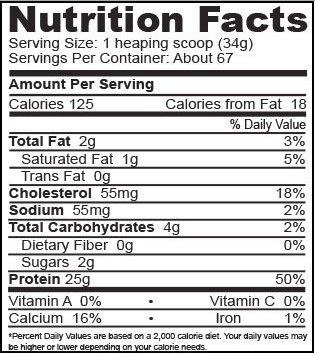 Ingredients: Pure Isolate Protein Blend (Ultra-Filtered Whey Protein Isolate and Hydrolyzed Protein Isolate), Cross Flow Full Spectrum Whey Protein Concentrate, 100% Low DE Maltodextrin Complex (Containing short, medium and long linear chains), Cocoa Powder, Natural and Artificial Flavors, Xanthan Gum, Acesulfame Potassium and Sucralose.
Allergy Information: Contains Milk and Soy Lecithin.
Directions: Add one (1) heaping scoop of Pro-Series Whey 25™ Hi-Protein Isolate to 8-10 ounces of cold water, milk or beverage of choice. Increase or decrease the amount of liquid to tailor flavor and consistency to your desired preference.
When to Use: Before and After Exercise - Makes an excellent pre and post workout shake by providing fast digesting proteins for immediate muscle support including the perfect medium digesting proteins for optimum recovery. Best results when taken 30 minutes before and after exercise.
With Meals: Use Pro-Series Whey 25™ Hi-Protein Isolate with your meals to increase desired protein quantity.

More items you might like
Loading...