SNS Serious Nutrition Solutions Huperzine A 99% - 120 Cap
Item #: SN031
UPC: 899773000764
Supports Short & Long Term Memory*
Huperzine A 99% contains 100 mcg of 99% Huperzine A Extract per capsule.
Huperzine A 99% can be cost effectively used to help enhance short and long term memory through boosting Acetylcholine (Ach) levels. Ach is the main neurotransmitter in the brain involved with memory.
Huperzine A 99% is Commonly Used for:
Short & Long Term Memory Enhancement*
Supporting Maximized Learning Potential*
Supporting Brain Function*
The Goals of the Serious Nutrition Solutions Baseline Series are simple ones – to provide top quality products at the most cost effective prices, and to provide a straight forward approach to the consumer about what the products are, and what they are used for.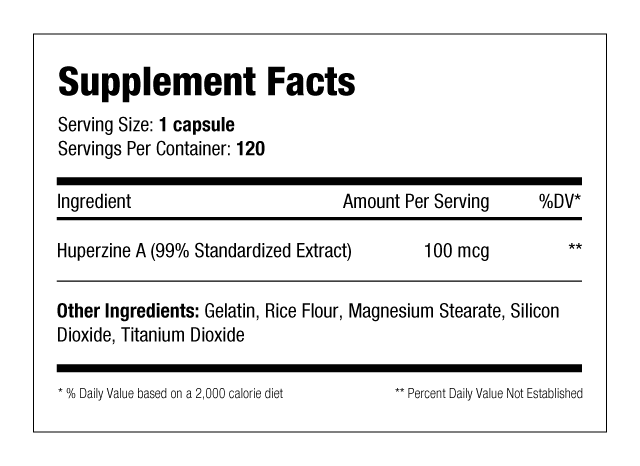 Directions:
As a dietary supplement, take 1 to 4 capsules daily with meals.
Warnings:
This product is intended for healthy adults over 18 years of age. Do not use this product if you are pregnant or nursing a baby. Always consult a physician before using this, or any dietary supplement, especially if you have any pre-existing medical condition or are taking any medications. Keep stored in a cool, dry place away from children.

Serious Nutrition Solutions – Baseline Series
Straight Forward, Top Quality, Cost Effective Sports Nutrition
More items you might like
Loading...