LG Sciences Battle Hardener Kit - 3 Btls
Item #: LG165
This New LG Sciences prohormone kit bridges the best of both worlds in your bodybuilding journey, to get Huge and Ripped. We took 17-Proandro our flagship cutting agent, often compared to Winstrol on how it feels on cycle. Than, we added in pBold the strongest legal prohormone to Boldenone paving the way for massive lean mass gains. Ultimately, this kit will have the guy that is training hard and eating right, seeing some huge lean mass and strength gains; all the while drying those muscles out for that shredded, ripped look. Get Some!
Insane Lean Muscle Gains
Unthinkable Strength Gains
Hard, Dry, Striated Muscles
Increase Appetite
Non-Liver Toxic & 100% Legal and Safe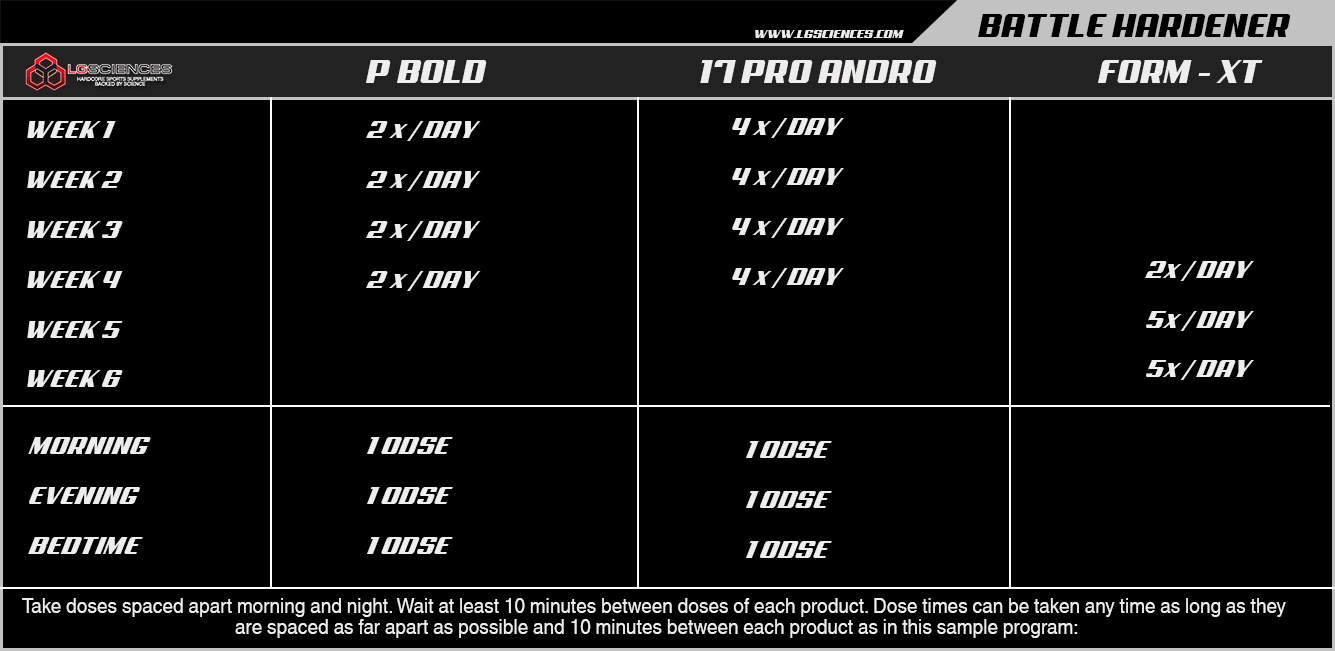 What Can the Battle Hardener Kit do for me?
The Battle Hardener Kit is for the guy who wants to get serious about getting into amazing shape. When paired with an intense workout program like in the military boot camp, the stack of these prohormones will give you the desire to eat and compete unlike anything on the market.
You have to eat to grow, it's that simple. The choice of foods that you pick can have a profound effect on your growth but you also have to have the desire to eat! pBold is a derivative of the ilegal anabolic EQ (equipoise, boldenone) and it imparts lean gains along with increased hunger to help you get the lean calories that you need to maintain muscle mass during the intense workouts. The typical man trying to put on lean mass will need to consume around 1g of protein per pound of body weight per day. That is a lot of chicken and steak, so the lean mass gainer in pBold will help keep that hunger up while repairing and building.
Muscle density is key to looking good. Muscle density is what gives men that hard, lean look with lots of striations in the muscle. The advanced prohormone in 17-ProAndro can only be compared to the illegal anabolic Winstrol in effects. In fact most of our experienced users say specifically that this prohormone feels just like "Winny" when on a cycle. Users report increased muscle density and better recovery which leads to an overall more ripped and lean appearance along with the ability to really hit the gym hard due to increased recovery.
When the cycle is over you need a natural boost in your own testosterone to keep the gains coming, which is why we use Form-XT to blast the boys back into full production. Form-XT has the unique aromatase inhibitor 3,5-Diene along with support nutrients that will help you recover fully and keep those hard earned gains after a cycle.
Get Maximum absorption with our liquid delivery method!
The liquid delivery system gives you immediate absorption in the mouth and then prolonged absorption through the digestive tract. This allows for better bio-availability and more immediate action in the body. 1-Andro is best taken by holding the liquid under your tongue for 60 seconds, then swishing it around your mouth and swallowing completely. This allows the maximal absorption. Doses can be taken any time of the day but are best spaced out as far as possible. At a minimum you should wait at least 20 minutes between doses.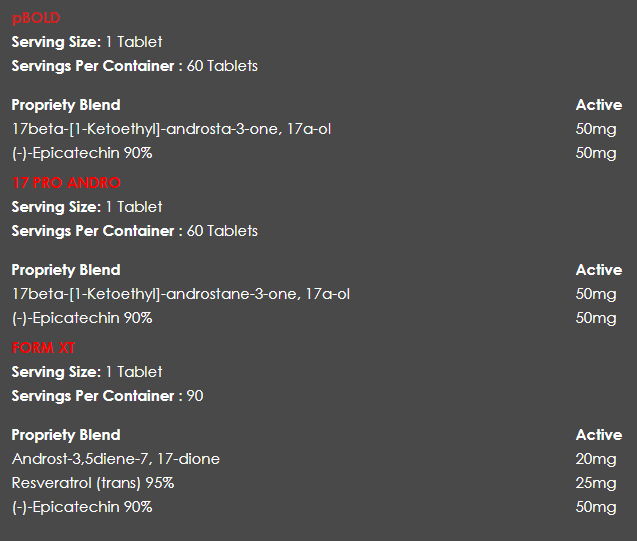 Things To Know About LG Sciences Prohormones:
1) There is effectively no liver toxicity with legal prohormones. 2) All claims are dependant on proper diet and exercise. 3) All prohormone products have the possibility of side effects, but they are rare (read the warning on the bottle for a full description). 4) Prohormones should only be taken by people over 21 unless with a doctors supervision. WARNINGS:
KEEP OUT OF REACH OF CHILDREN. NOT FOR USE BY INDIVIDUALS UNDER THE AGE OF 21 YEARS. Consult a physician or licensed qualified health care professional before using this product if you have, or have a family history of, prostate cancer, prostate enlargement, heart disease, low "good" cholesterol (HDL), or if you are using any other dietary supplement, prescription drug, or over the counter drug. Do not exceed recommended serving. Exceeding recommended serving may cause serious adverse health effects. Possible side effects include acne, hair loss, hair growth on the face (in women), aggressiveness, irritability, and increased levels of estrogen. Discontinue use and call a physician or licensed qualified health care professional immediately if you experience rapid heart beat, dizziness, blurred vision, or other similar symptoms. Made in a facility that may process dairy, peanuts, tree nuts, wheat, fish, barley and shellfish. Do not use if governed by any body that prohibits hormone use.
More items you might like
Loading...