-Optimum Nutrition Opti-Women MultiVitamin - 60 Cap *Expiration date 9/23
Item #: ON731
UPC: 748927024500
Closeout
20% Off Special Offer
OPTI-WOMEN
Multi-Vitamin for Active Women
40 Active Ingredients
23 Vitamins & Minerals
150 Milligrams of Calcium per 2-Capsule Serving
Multi-Vitamin for Active Women
OPTI-WOMEN® is more than a multi. It's a Nutrient Optimization System providing 40 active ingredients including 23 vitamins and minerals designed to support the nutrient needs of active women. Each 2-capsule serving delivers wide-reaching nutrient support in Vegetarian Society approved Vcaps.¹
40 Active Ingredients

17 Specialty Ingredients
23 Vitamins & Minerals
150 Milligrams of Calcium per 2-Capsule Serving
18 Milligrams of Iron per 2-Capsule Serving
600 Micrograms of Folate per 2-Capsule Serving
Made with Vegetarian Society Approved Vcaps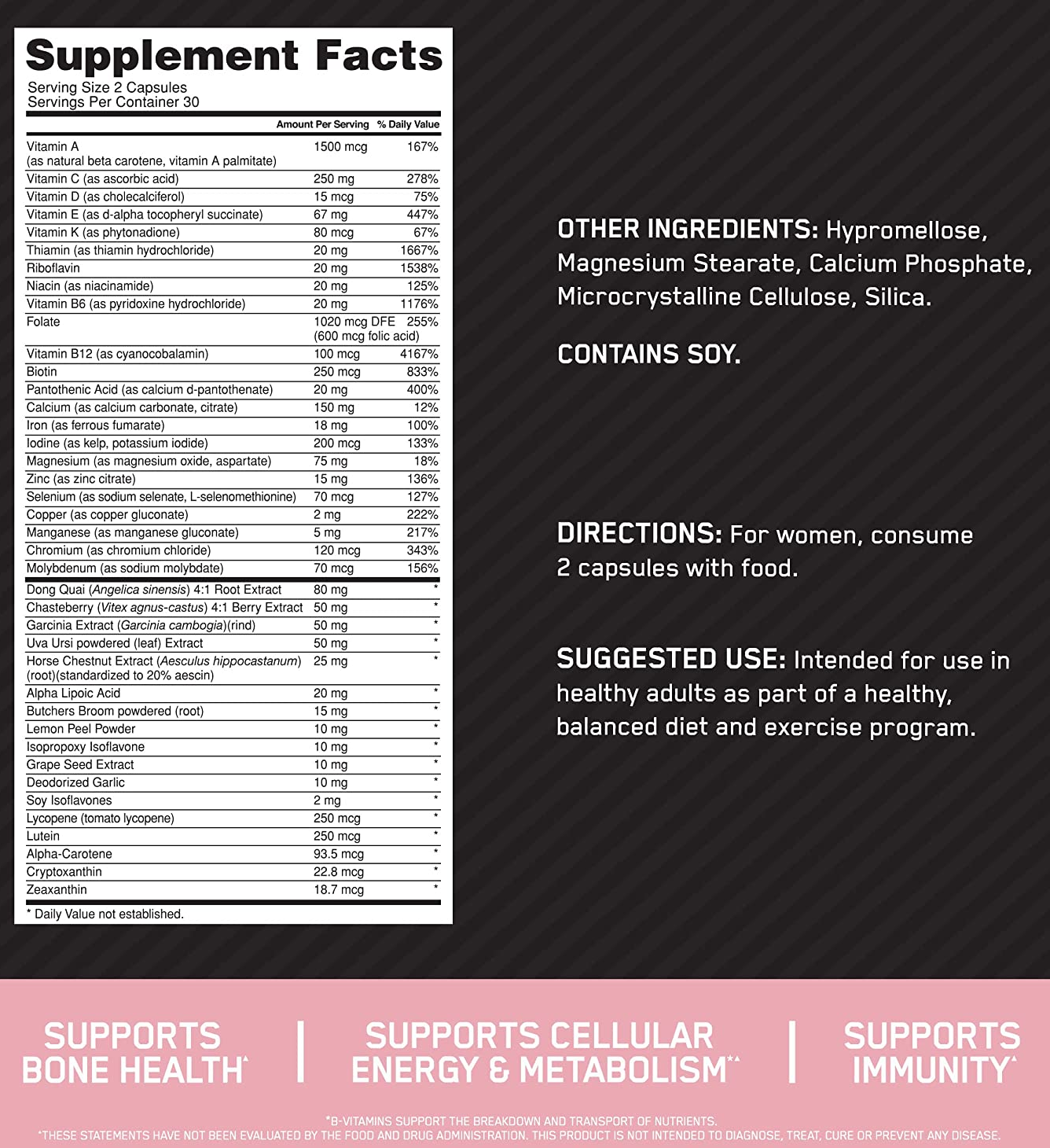 **Product Packaging Information
Please note due to Covid challenges, we have faced supply chain constraints sourcing packaging components for our products. As a result, packaging cap and bottle colors may vary, temporarily, across some of our products. Despite these challenges, we are here to help you stay stocked with your favorite Optimum Nutrition products to support your fitness goals. Rest assured that these variances affect packaging only, it does not affect the product inside. We are still delivering the same high quality products backed by 30 years of the highest quality standards. Thank you for your understanding during this time.
1. These statements have not been evaluated by the food and drug administration. This product is not intended to diagnose, treat, cure or prevent any disease.
More items you might like
Loading...