Cellucor COR-Performance Whey Whipped Vanilla - 5 Lb
Item #: CE147
UPC: 810390028696
SETTING THE NEW STANDARD IN PROTEIN*
COR-Performance Whey is an optimal source of protein when you're looking to maintain lean muscle, replenish nutrients after a workout, and indulge your sweet tooth guilt-free.
Every two scoops of COR-Performance Whey is packed with 24g of fast-acting Whey protein and digestive enzymes so that you can satisfy your protein needs any time of the day.
360° VIEW OF COR-PERFORMANCE WHEY
Packed with protein to help maintain and build lean muscle.*
Dessert inspired flavors.
Great as a snack, meal replacement and ingredient in recipes.*
Low carbohydrate, low fat
Added digestive enzymes
LOW CARB/LOW FAT
You need carbs and you need fat, but do you need them in your protein supplement? When you want the benefits of lean protein with minimal carbs and fat, COR-Performance Whey is second to none.
GUILT-FREE INDULGENCE
COR-Performance Whey sets the bar high for protein. Cellucor's team of flavor experts is passionate about delivering the best-tasting protein money can buy. With a full line of dessert-inspired flavors, you'll have no problem satisfying your taste buds.
Don't take our word for it… Online fitness hub and retailer, Bodybuilding.com, named COR-Performance Whey the "Breakout Supplement of the Year" in 2013 for its premium formula and outstanding flavors.
GET CREATIVE
COR-Performance Whey is as versatile as it is delicious, making it the perfect ingredient for protein packed recipes. From pancakes and waffles, to puddings and ice cream, COR-Performance Whey lets you get creative with how you devour your protein!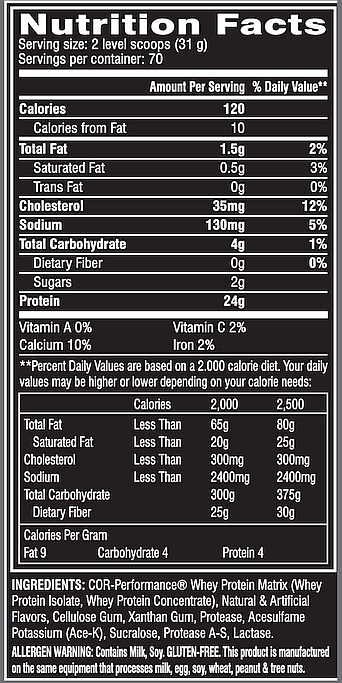 Nutritional Facts†
Serving Size: 2 Level Scoops
Servings Per Container: 70
Amount Per Serving
Serving
% DV
Calories

120

Calories from Fat

10

Total Fat

1.5 g

2.000%

Saturated Fat

0.5 g

3.000%

Trans Fat

0 g

0.000%

Cholesterol

35 mg

12.000%

Sodium

130 mg

5.000%

Total Carbohydrate

4 g

1.000%

Dietary Fiber

0 g

Sugars

2 g

Protein

24 g

Other Ingredients: COR-Performance Whey Protein Matrix (Whey Protein Isolate, Whey Protein Concentrate), Natural & Artificial Flavors, Cellulose Gum, Xanthan Gum, Protease, Acesulfame Potassium (Ace-K), Sucralose, Protease A-S, Lactase.
*These statements have not been evaluated by the Food and Drug Administration. This product is not intended to diagnose, treat, cure or prevent any disease.
†Nutritions Facts are a simulation of the product "Nutrition Label". For the actual Nutrition Label please refer to the product packaging.
More items you might like
Loading...