Labrada Muscle Mass Gainer Chocolate - 12 Lb
Item #: LB336
UPC: 710779570023
Labrada's MUSCLE MASS GAINER was created by our Labrada Research and Development team to help you gain muscle weight fast. Muscle Mass Gainer is perfect for "hard gainers," -- those are the athletes who find it hard, or next to impossible, to gain weight.
MUSCLE MASS GAINER is a high-calorie bodybuilding shake fortified with muscle building protein, carbohydrates, creatine monohydrate and essential nutrients.
MUSCLE MASS GAINER makes it easy for you to get lots of calories along with the highest quality muscle-building protein, so you can gain weight FAST.
MUSCLE MASS GAINER makes a delicious shake containing a highly- concentrated 1930 calories and 84 grams of protein when mixed with 32oz of whole milk!
MUSCLE MASS GAINER contains 17g of muscle-building branched chain amino acids (BCAA's) to help you quickly recover from your workouts and get bigger, faster.
MUSCLE MASS GAINER contains no dextrose, sucrose, or corn syrup solids.
Serving Size: 9 Scoops (341g) / Half Serving - 4.5 Scoops (171g)
Servings Per Container: 16 Full Servings or 32 half Servings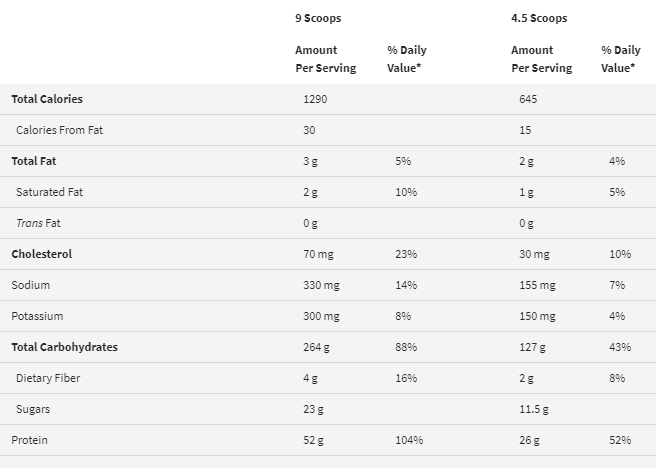 Use this product as a food supplement only. Do not use for weight reduction.
Ingredients: Maltodextrin, Cross Flow Ultra-Micro Filtered Whey Protein Concentrate, Dutch Cocoa Powder, Fructose, Natural & Artificial Flavors, Whey Protein Isolate, Calcium Caseinate, Vitamin & Mineral Blend (Di-Calcium Phosphate, Magnesium Oxide, Ascorbic Acid, Vitamin E Acetate, Biotin, Niacinamide, Potassium Iodide, Zinc Oxide, Electrolytic Iron, Vitamin A Acetate, Copper Gluconate, D-Calcium Pantothenate, Vitamin D, Pyridoxine Hydrochloride, Riboflavin, Thiamin Mononitrate, Cyanocobalamin, Folic Acid), Creatine Monohydrate, L-Glutamine, Ace-K, Sucralose, Milk Protein Isolate, Cellulose, Fibersol-2 (fiber).
Contains Milk, Soy (Lecithin). Note: Soy lecithin helps the powder to dissolve in water.
Directions:
Add 9 scoops of Muscle Mass Gainer to 32 oz. of milk or water, cover and blend until smooth. Or you may follow the bodyweight chart below:
More items you might like
Loading...