Muscletech NitroTech Performance Series Cookies & Cream - 4 Lb (approx. 40 servings)
Item #: MM350
UPC: 631656703313
PROTEIN NITRO-TECH
Whey + isolate peptides as primary source
Builds 70% more lean muscle than regular whey1
Superior to regular whey protein formulas1
Amplifies recovery, performance & strength
In a six-week, double-blind study involving 36 test subjects who have at least three years of weight-training experience divided into three groups, subjects who have combined the core ingredients in Nitro-Tech® with a weight-training program gained 70% more lean muscle than subjects using regular whey protein (8.8 vs. 5.1 lbs.) and increased their bench press more than subjects using regular whey protein (34 vs. 14 lbs.).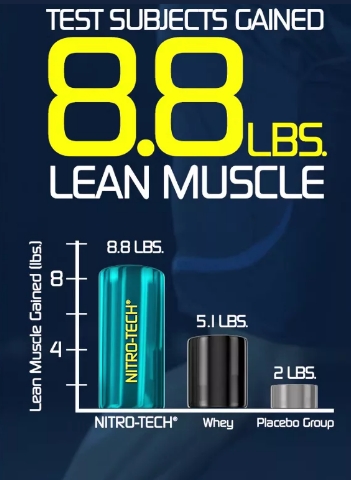 NITRO-TECH FUELS THE PROS
Very few proteins completely change the game, and for years bodybuilders were given very few options for protein sources that were scientifically formulated to help build more muscle. Basically, you could change protein brands every month and see no difference in gains at all.
This changed with the launch of Nitro-Tech®. MuscleTech® researchers invested countless hours working to create a protein formula that packs on more muscle and builds more strength than regular whey protein. With the powerful Nitro-Tech® formula, they succeeded, and now bodybuilders and other athletes have an advanced whey protein supplement that actually delivers superior musclebuilding results!

Nitro-Tech® is a scientifically engineered, enhanced whey protein formula designed for all athletes who are looking for more muscle, more strength and better performance. Nitro-Tech® contains protein sourced primarily from whey protein peptides and whey isolate – two of the cleanest and purest protein sources available. Other whey protein supplements might have only a few grams of these highly bioavailable and easily digested proteins. Nitro-Tech® is also enhanced with the most studied form of creatine for even better gains in muscle and strength.
MULTI-PHASE FILTRATION TECHNOLOGY
Each scoop of Nitro-Tech® contains 30 grams of protein, primarily from whey protein isolate and whey peptides. These have several advantages over other forms of protein.
For starters, they are rapid absorbing, and with the highest biological value, your body can easily assimilate the amino acids from the protein to build some seriously impressive muscle. This makes Nitro-Tech® an ideal choice as a post-workout protein and for igniting muscle protein synthesis any time throughout the day.
The whey protein in Nitro-Tech® has been filtered using multi-phase filtration technology for less fat, lactose and impurities than cheaper protein sources. Furthermore, Nitro-Tech® is manufactured according to cGMP standards, as is required for all dietary supplements to ensure quality and integrity.
BUILD MORE STRENGTH THAN WITH REGULAR WHEY PROTEIN
Nitro-Tech® contains a research-proven 3-gram dose of creatine monohydrate, which combined with whey protein, helps to build more strength than regular whey protein. In a breakthrough study, subjects using the core ingredient combination in Nitro-Tech® increased their 1-rep max bench press by 34 lbs., compared to only 14 lbs. for subjects using regular whey protein.
1 Regular whey protein is good, but the core ingredients in NITRO-TECH® are shown to be superior to regular whey protein. In the same 6-week study, subjects using the core ingredients in NITRO-TECH® gained more lean muscle than subjects using regular whey protein (8.8 vs. 5.1 lbs.) and gained 2 times the strength on bench press than subjects using regular whey protein (34 vs. 14 lbs.).
LTRA-CLEAN FORMULA
Take a look at other protein powders and you might be shocked by what you find! Some of these proteins are loaded with fat and some have over 10 grams of carbs per scoop! Nitro-Tech® doesn't fill your shaker cup with carbs – there are other supplements designed to do that. Instead, each scoop of Nitro-Tech® contains 30 grams of protein, primarily from whey protein and isolate peptides, with only 4 grams of carbs, depending on the flavor, and no more than 2.5 grams of fat!
BEST-IN-CLASS TASTE
Enjoying a clean formula doesn't mean you have to deal with excess carbs and fat. For some companies, the taste of their protein is the only thing they have going for them, so they load up their protein formulas with cheap proteins that are easy to flavor, and then chase that with a load of flavoring in the form of sugar, carbs and fat. At MuscleTech® we believe that you shouldn't have to sacrifice macronutrients for results. That's why our research team works closely with some of the top protein-flavoring professionals in the world, and each flavor of Nitro-Tech® is tested in internal taste tests.
The result is a great-tasting formula that doesn't pack the extra sugar and carbs you'll see in other protein powders. This gives you more protein per scoop and a better overall macronutrient profile.
Label below is for chocolate flavor. Other flavors may vary slightly.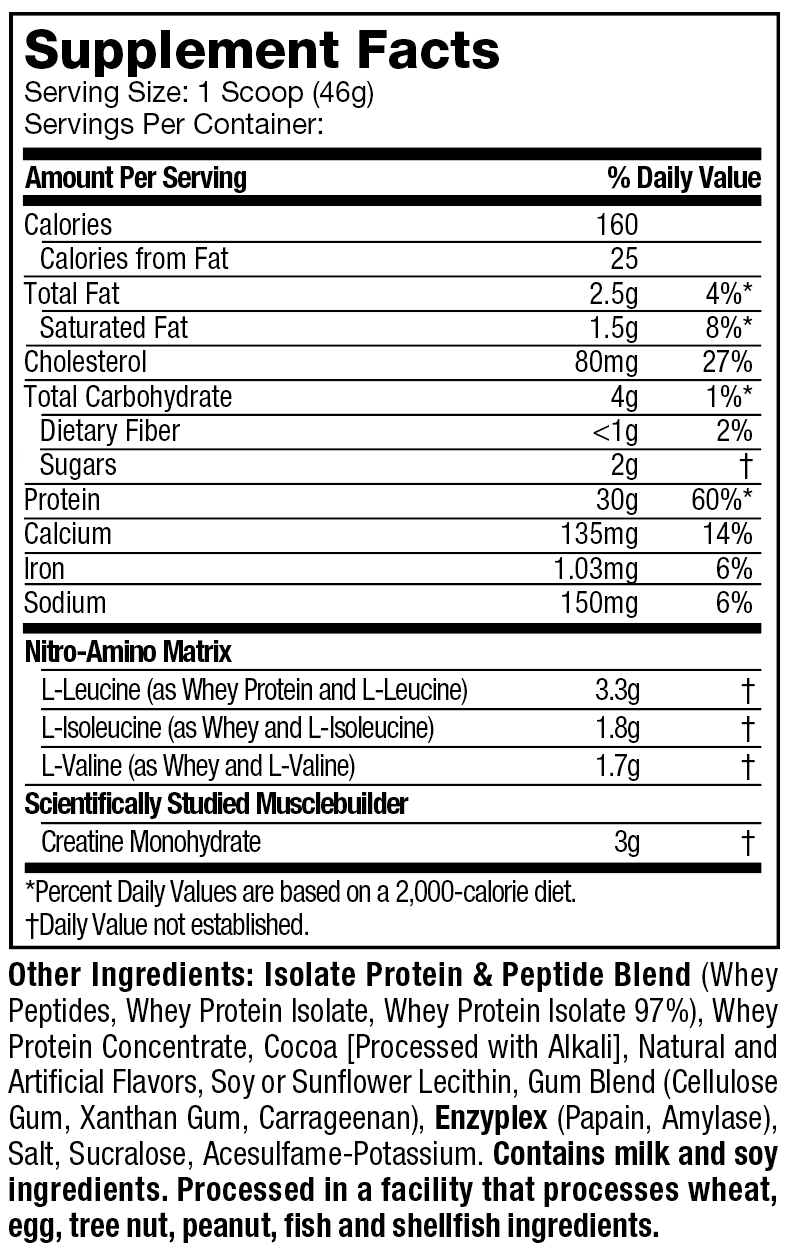 Nutritional Facts†
Serving Size: 1 Scoop
Servings Per Container: 50
Amount Per Serving
Serving
% DV
Calories

140

Calories from Fat

15

Total Fat

1.5 g

2.000%

Saturated Fat

0.5 g

3.000%

Trans Fat

0 g

Cholesterol

30 mg

10.000%

Sodium

160 mg

7.000%

Total Carbohydrate

1 g

-1.000%

Sugar

1 g

Protein

30 g

60.000%

Calcium

100 mg

10.000%

Super Amino Strength Matrix

Proprietary Blend: Creatine monohydrate (3g), L-Alanine(as L-Alanine, whey protein isolate and whey protein concentrate)(2g), Glycine (as glycine, whey protein isolate and whey protein concentrate)(1g), Taurine (1g)

Enzyplex

Proprietary Blend: Papain (50mg), Amylase (50mg)
Other Ingredients: Whey protein isolate (supplying whey protein isolate and hydrolyzed protein isolate), protein and amino acid matrix (whey protein concentrate [ultra-filtered], L-Valine, L-Leucine, L-Glutamine) natural and artificial flavors, cream filled chocolate cookie pieces (enriched flour [wheat flour, niacin, reduced iron, thiamin mononitrate, riboflavin, folic acid], high oleic canola oil, alkalized cocoa, high-fructose corn syrup, cornstarch, leavening agent [baking soda and/calcium phosphate] salt, emulsifier [soy lecithin], vanillin, chocolate), salt, gum blend (cellulose gum, xanthan gum, carrageenan), soy lecithin, acesulfame-potassium, sucralose.
*These statements have not been evaluated by the Food and Drug Administration. This product is not intended to diagnose, treat, cure or prevent any disease.
†Nutritions Facts are a simulation of the product "Nutrition Label". For the actual Nutrition Label please refer to the product packaging.
More items you might like
Loading...
Copyright 2019 - 2020 DPS Nutrition
[{"u":"\/b\/466\/5-nutrition.htm","n":"5% Nutrition"},{"u":"\/b\/1\/ab-fx-cream.htm","n":"Ab Fx Cream"},{"u":"\/b\/5\/american-bodybuilding.htm","n":"ABB American Bodybuilding"},{"u":"\/b\/411\/allmax-nutrition.htm","n":"AllMax Nutrition"},{"u":"\/b\/446\/alpha-gainz.htm","n":"Alpha Gainz"},{"u":"\/b\/4\/alri.htm","n":"ALRI"},{"u":"\/b\/9\/ansi.htm","n":"ANSI - Advance Nutrient Science"},{"u":"\/b\/461\/apollon-nutrition.htm","n":"Apollon Nutrition"},{"u":"\/b\/204\/aps-nutrition.htm","n":"APS Nutrition"},{"u":"\/b\/10\/ast-sports-science.htm","n":"Ast Sports Science"},{"u":"\/b\/11\/avant-labs.htm","n":"Avant Labs"},{"u":"\/b\/136\/the-beast-nutrition.htm","n":"Beast Sports Nutrition"},{"u":"\/b\/197\/betancourt-nutrition.htm","n":"Betancourt Nutrition"},{"u":"\/b\/15\/beverly-international.htm","n":"Beverly International"},{"u":"\/b\/454\/bhu-fit.htm","n":"BHU Fit Bars"},{"u":"\/b\/368\/big-lift-protein.htm","n":"Big Lift Protein"},{"u":"\/b\/449\/black-magic-supply-co..htm","n":"Black Magic Supply Co."},{"u":"\/b\/471\/black-market-labs.htm","n":"BlackMarket Labs"},{"u":"\/b\/391\/blackstone-labs.htm","n":"Blackstone Labs"},{"u":"\/b\/369\/brand-new-energy.htm","n":"Brand New Energy"},{"u":"\/b\/17\/bsn.htm","n":"BSN"},{"u":"\/b\/470\/bucked-up.htm","n":"Bucked Up"},{"u":"\/b\/474\/built-bar.htm","n":"Built Bar"},{"u":"\/b\/296\/cellucor.htm","n":"Cellucor"},{"u":"\/b\/18\/champion-nutrition.htm","n":"Champion Performance"},{"u":"\/b\/455\/chaos-pain.htm","n":"Chaos and Pain"},{"u":"\/b\/403\/chef-robert-irvines-fit-crunch-bars.htm","n":"Chef Robert Irvine's Fit Crunch Bars"},{"u":"\/b\/439\/chefs-cut-jerky.htm","n":"Chef's Cut"},{"u":"\/b\/457\/chemix.htm","n":"Chemix - The Guerrilla Chemist"},{"u":"\/b\/402\/cobra-labs.htm","n":"Cobra Labs"},{"u":"\/b\/155\/competitive-edge-labs.htm","n":"Competitive Edge Labs CEL"},{"u":"\/b\/214\/con-cret.htm","n":"Con-Cret ProMera Sports"},{"u":"\/b\/21\/controlled-labs.htm","n":"Controlled Labs"},{"u":"\/b\/312\/convenient-nutrition.htm","n":"Convenient Nutrition"},{"u":"\/b\/142\/core-nutritionals.htm","n":"Core Nutritionals"},{"u":"\/b\/187\/ctd-labs.htm","n":"CTD Sports"},{"u":"\/b\/23\/cytosport.htm","n":"Cytosport"},{"u":"\/b\/355\/deluxe-whey.htm","n":"Deluxe Whey Protein"},{"u":"\/b\/307\/designer-whey.htm","n":"Designer Whey"},{"u":"\/b\/27\/diesel-nutrition.htm","n":"Diesel Nutrition"},{"u":"\/b\/30\/dps-nutrition.htm","n":"Dps Nutrition"},{"u":"\/b\/32\/dymatize.htm","n":"Dymatize"},{"u":"\/b\/484\/eat-me-guilt-free.htm","n":"Eat Me Guilt Free"},{"u":"\/b\/34\/eclipse.htm","n":"Eclipse Sports Supplements"},{"u":"\/b\/194\/efx-sports.htm","n":"EFX Sports"},{"u":"\/b\/408\/epg.htm","n":"EPG"},{"u":"\/b\/322\/evomuse.htm","n":"EvoMuse"},{"u":"\/b\/315\/finaflex.htm","n":"Finaflex"},{"u":"\/b\/412\/fit-crunch.htm","n":"Fit Crunch Bars"},{"u":"\/b\/464\/g-code-nutrition.htm","n":"G Code Nutrition"},{"u":"\/b\/41\/gaspari-nutrition.htm","n":"Gaspari Nutrition"},{"u":"\/b\/43\/gat.htm","n":"GAT Sport"},{"u":"\/b\/44\/gift-certificates.htm","n":"Gift Certificates"},{"u":"\/b\/482\/glaxon.htm","n":"Glaxon"},{"u":"\/b\/131\/goliath-labs.htm","n":"Goliath Labs"},{"u":"\/b\/485\/hanks-protein-plus.htm","n":"Hank's Protein Plus"},{"u":"\/b\/343\/hardrock-supplements.htm","n":"HardRock Supplements"},{"u":"\/b\/46\/hi-tech-pharmaceuticals.htm","n":"Hi Tech Pharmaceuticals"},{"u":"\/b\/126\/liv-52.htm","n":"Himalaya Liver Care"},{"u":"\/b\/453\/hps-human-performance-science.htm","n":"HPS Human Performance Science"},{"u":"\/b\/434\/dermacrine-topical.htm","n":"Iconic Formulations"},{"u":"\/b\/146\/i-force-nutrition.htm","n":"iForce Nutrition"},{"u":"\/b\/473\/ignite-nutrition.htm","n":"Ignite Nutrition"},{"u":"\/b\/472\/innovapharm.htm","n":"InnovaPharm"},{"u":"\/b\/447\/iron-legion.htm","n":"Iron Legion"},{"u":"\/b\/415\/isopure.htm","n":"Isopure"},{"u":"\/b\/407\/kaged-muscle.htm","n":"Kaged Muscle"},{"u":"\/b\/56\/labrada.htm","n":"Labrada Nutrition"},{"u":"\/b\/483\/legendary-foods.htm","n":"Legendary Foods"},{"u":"\/b\/379\/lenny-larrys-cookies.htm","n":"Lenny & Larry's Cookies"},{"u":"\/b\/57\/lg-sciences-legal-gear.htm","n":"Lg Sciences"},{"u":"\/b\/443\/lifeaid-beverage-co..htm","n":"LifeAid Beverage Co."},{"u":"\/b\/58\/man-sports.htm","n":"Man Sports"},{"u":"\/b\/427\/merica-labz.htm","n":"Merica Labz - Merica Energy - Merica Snax"},{"u":"\/b\/59\/met-rx.htm","n":"Met-Rx"},{"u":"\/b\/286\/metabolic-nutrition.htm","n":"Metabolic Nutrition"},{"u":"\/b\/60\/mhp.htm","n":"MHP"},{"u":"\/b\/61\/molecular-nutrition.htm","n":"Molecular Nutrition"},{"u":"\/b\/456\/mpa-matt-porter-approved.htm","n":"MPA Matt Porter Approved"},{"u":"\/b\/475\/outright-bar.htm","n":"MTS Outright Bar"},{"u":"\/b\/385\/muscle-addiction.htm","n":"Muscle Addiction"},{"u":"\/b\/64\/muscle-sandwich.htm","n":"Muscle Sandwich"},{"u":"\/b\/277\/musclemeds.htm","n":"MuscleMeds"},{"u":"\/b\/242\/muscle-pharm.htm","n":"MusclePharm"},{"u":"\/b\/66\/muscletech.htm","n":"Muscletech"},{"u":"\/b\/417\/mutant.htm","n":"Mutant"},{"u":"\/b\/440\/myoblox.htm","n":"MyoBlox"},{"u":"\/b\/68\/natures-best.htm","n":"Natures Best"},{"u":"\/b\/419\/neobium.htm","n":"Neobium"},{"u":"\/b\/72\/now-foods.htm","n":"Now Foods"},{"u":"\/b\/348\/nuts-n-more.htm","n":"Nuts 'n More"},{"u":"\/b\/478\/nxt-bars.htm","n":"Nxt Bars"},{"u":"\/b\/52\/iss-research.htm","n":"Oh Yeah Nutrition"},{"u":"\/b\/442\/one-bars.htm","n":"ONE Bars"},{"u":"\/b\/77\/optimum-nutrition.htm","n":"Optimum Nutrition - ON"},{"u":"\/b\/78\/ostrim.htm","n":"Ostrim"},{"u":"\/b\/437\/outbreak-nutrition.htm","n":"Outbreak Nutrition"},{"u":"\/b\/323\/p28-high-protein-spread.htm","n":"P28 Foods"},{"u":"\/b\/476\/perfect-sports.htm","n":"PERFECT Sports"},{"u":"\/b\/398\/performax-labs.htm","n":"Performax Labs"},{"u":"\/b\/253\/pes-performance-enhancing-supplements.htm","n":"PES"},{"u":"\/b\/480\/phase-one-nutrition.htm","n":"Phase One Nutrition"},{"u":"\/b\/127\/power-crunch-bars.htm","n":"Power Crunch Bars"},{"u":"\/b\/83\/primaforce.htm","n":"PrimaForce"},{"u":"\/b\/414\/primeval-labs.htm","n":"Primeval Labs"},{"u":"\/b\/221\/professional-supplements.htm","n":"Pro Supps"},{"u":"\/b\/85\/promax.htm","n":"Promax Bars"},{"u":"\/b\/435\/psycho-pharma.htm","n":"Psycho Pharma"},{"u":"\/b\/331\/pure-protein.htm","n":"Pure Protein"},{"u":"\/b\/220\/purus-labs.htm","n":"Purus Labs"},{"u":"\/b\/467\/quantum-energy-squares.htm","n":"Quantum Energy Squares"},{"u":"\/b\/260\/quest-bar.htm","n":"Quest Nutrition"},{"u":"\/b\/418\/redcon1.htm","n":"RedCon1"},{"u":"\/b\/477\/rescue-vite.htm","n":"Rescue Vite"},{"u":"\/b\/465\/5-percent-nutrition.htm","n":"Rich Piana 5% Nutrition"},{"u":"\/b\/413\/robert-irvines-fit-crunch-bars.htm","n":"Robert Irvine's Fit Crunch Bars"},{"u":"\/b\/88\/rto.htm","n":"Rto"},{"u":"\/b\/452\/ryse-supplements.htm","n":"RYSE"},{"u":"\/b\/89\/san.htm","n":"SAN Nutrition"},{"u":"\/b\/137\/scivation.htm","n":"Scivation"},{"u":"\/b\/486001\/smartsweets.htm","n":"SmartSweets"},{"u":"\/b\/91\/serious-nutrition-solutions.htm","n":"SNS Serious Nutrition Solutions"},{"u":"\/b\/210\/species-nutrition.htm","n":"Species Nutrition"},{"u":"\/b\/445\/steel-supplements.htm","n":"Steel Supplements"},{"u":"\/b\/337\/top-secret-nutrition.htm","n":"Top Secret Nutrition"},{"u":"\/b\/108\/ultimate-nutrition.htm","n":"Ultimate Nutrition"},{"u":"\/b\/479\/uncle-petes-hand-sanitizer.htm","n":"Uncle Pete's Hand Sanitizer"},{"u":"\/b\/109\/universal-nutrition.htm","n":"Universal Nutrition & Animal"},{"u":"\/b\/401\/usn-sports-nutrition.htm","n":"USN - Ultimate Sports Nutrition"},{"u":"\/b\/130\/usp-labs.htm","n":"Usp Labs"},{"u":"\/b\/460\/vega.htm","n":"VEGA"},{"u":"\/b\/216\/vigor-labs.htm","n":"Vigor Labs"},{"u":"\/b\/370\/vmi-sports.htm","n":"VMI Sports"},{"u":"\/b\/113\/vpx-sports.htm","n":"Vpx Sports"},{"u":"\/b\/463\/xtreme-performance-gels.htm","n":"Xtreme Performance Gels"}]
[[{"id":2018,"u":"\/d\/2018\/candy.htm","n":"Candy"},{"id":1557,"u":"\/d\/1557\/5-htp.htm","n":"5-HTP"},{"id":1558,"u":"\/d\/1558\/7-keto.htm","n":"7-Keto"},{"id":1795,"u":"\/d\/1795\/akg-alpha-ketoglutarate.htm","n":"AAKG"},{"id":1560,"u":"\/d\/1560\/accessories.htm","n":"Accessories"},{"id":1561,"u":"\/d\/1561\/acetyl-l-carnitine.htm","n":"Acetyl-L-Carnitine"},{"id":1937,"u":"\/d\/1937\/adrenal-care.htm","n":"Adrenal Care"},{"id":1765,"u":"\/d\/1765\/agmatine.htm","n":"Agmatine"},{"id":1830,"u":"\/d\/1830\/almond-butter.htm","n":"Almond Butter"},{"id":1932,"u":"\/d\/1932\/almonds.htm","n":"Almonds"},{"id":1832,"u":"\/d\/1832\/alpha-gpc.htm","n":"Alpha GPC"},{"id":1562,"u":"\/d\/1562\/alpha-lipoic-acid.htm","n":"Alpha-Lipoic Acid"},{"id":1563,"u":"\/d\/1563\/amino-acids.htm","n":"Amino Acids"},{"id":1564,"u":"\/d\/1564\/antioxidants.htm","n":"Antioxidants"},{"id":1962,"u":"\/d\/1962\/anxiety-support.htm","n":"Anxiety Support"},{"id":1951,"u":"\/d\/1951\/appetite-control.htm","n":"Appetite Control"},{"id":1913,"u":"\/d\/1913\/apple-cider-vinegar.htm","n":"Apple Cider Vinegar"},{"id":1800,"u":"\/d\/1800\/arachidonic-acid.htm","n":"Arachidonic Acid"},{"id":1567,"u":"\/d\/1567\/arginine-ethyl-ester.htm","n":"Arginine"},{"id":1868,"u":"\/d\/1868\/ashwagandha.htm","n":"Ashwagandha"},{"id":1568,"u":"\/d\/1568\/astaxanthin.htm","n":"Astaxanthin"},{"id":1970,"u":"\/d\/1970\/astragalus.htm","n":"Astragalus"},{"id":1957,"u":"\/d\/1957\/bacopa-extract.htm","n":"Bacopa Extract"},{"id":1998,"u":"\/d\/1998\/bar-deals.htm","n":"Bar Deals"},{"id":1569,"u":"\/d\/1569\/bars.htm","n":"Bars"},{"id":1570,"u":"\/d\/1570\/bcaa-recovery-aminos-branch-chained-amino-acids.htm","n":"BCAA"},{"id":1825,"u":"\/d\/1825\/bee-pollen.htm","n":"Bee Pollen"},{"id":1851,"u":"\/d\/1851\/beef-protein.htm","n":"Beef Protein"},{"id":1955,"u":"\/d\/1955\/beet-root.htm","n":"Beet Root"},{"id":1952,"u":"\/d\/1952\/berberine.htm","n":"Berberine"},{"id":1999,"u":"\/d\/1999\/bergamot.htm","n":"Bergamot"},{"id":1572,"u":"\/d\/1572\/beta-alanine.htm","n":"Beta-Alanine"},{"id":1995,"u":"\/d\/1995\/beta-sitosterol.htm","n":"Beta-Sitosterol"},{"id":1976,"u":"\/d\/1976\/betaine-hcl.htm","n":"Betaine HCl"},{"id":1912,"u":"\/d\/1912\/biotin.htm","n":"Biotin"},{"id":1760,"u":"\/d\/1760\/blowout-products.htm","n":"Blowout Products"},{"id":2008,"u":"\/d\/2008\/bone-broth.htm","n":"Bone Broth"},{"id":2001,"u":"\/d\/2001\/borage-oil.htm","n":"Borage Oil"},{"id":1577,"u":"\/d\/1577\/boron.htm","n":"Boron"},{"id":1808,"u":"\/d\/1808\/bromelain.htm","n":"Bromelain"},{"id":1816,"u":"\/d\/1816\/bulbine-natalensis.htm","n":"Bulbine Natalensis"},{"id":1578,"u":"\/d\/1578\/caffeine-energy-preworkout-stay-alert-capsules.htm","n":"Caffeine"},{"id":1579,"u":"\/d\/1579\/calcium.htm","n":"Calcium"},{"id":1872,"u":"\/d\/1872\/calcium-d-glucarate.htm","n":"Calcium D-Glucarate"},{"id":1580,"u":"\/d\/1580\/carb-products.htm","n":"Carbohydrate Products"},{"id":1581,"u":"\/d\/1581\/casein.htm","n":"Casein Protein"},{"id":1956,"u":"\/d\/1956\/cereal.htm","n":"Cereal"},{"id":1997,"u":"\/d\/1997\/chips.htm","n":"Chips"},{"id":1783,"u":"\/d\/1783\/cholesterol-support.htm","n":"Cholesterol Support"},{"id":1831,"u":"\/d\/1831\/choline.htm","n":"Choline"},{"id":1584,"u":"\/d\/1584\/chondroitin.htm","n":"Chondroitin"},{"id":1585,"u":"\/d\/1585\/chromium.htm","n":"Chromium"},{"id":1772,"u":"\/d\/1772\/cinnamon.htm","n":"Cinnamon"},{"id":1588,"u":"\/d\/1588\/cissus.htm","n":"Cissus"},{"id":1589,"u":"\/d\/1589\/citrulline.htm","n":"Citrulline"},{"id":1590,"u":"\/d\/1590\/cla.htm","n":"CLA"},{"id":1591,"u":"\/d\/1591\/clothing.htm","n":"Clothing"},{"id":1920,"u":"\/d\/1920\/coffee.htm","n":"Coffee"},{"id":1938,"u":"\/d\/1938\/collagen.htm","n":"Collagen"},{"id":1864,"u":"\/d\/1864\/colostrum.htm","n":"Colostrum"},{"id":1846,"u":"\/d\/1846\/cookies.htm","n":"Cookies"},{"id":1593,"u":"\/d\/1593\/coenzyme-q10.htm","n":"CoQ10 Coenzyme Q10"},{"id":1996,"u":"\/d\/1996\/cortisol-support.htm","n":"Cortisol Support"},{"id":1597,"u":"\/d\/1597\/creatine.htm","n":"Creatine"},{"id":1596,"u":"\/d\/1596\/creatine-ethyl-ester.htm","n":"Creatine HCL & Ethyl Ester"},{"id":1759,"u":"\/d\/1759\/curcumin.htm","n":"Curcumin"},{"id":1941,"u":"\/d\/1941\/cycle-support.htm","n":"Cycle Support"},{"id":1758,"u":"\/d\/1758\/d-aspartic-acid.htm","n":"DAA - D-Aspartic Acid"},{"id":1885,"u":"\/d\/1885\/dandelion-root.htm","n":"Dandelion Root"},{"id":1983,"u":"\/d\/1983\/deer-antler.htm","n":"Deer Antler"},{"id":1598,"u":"\/d\/1598\/dessicated-liver.htm","n":"Dessicated Liver"},{"id":1972,"u":"\/d\/1972\/dextrose.htm","n":"Dextrose"},{"id":1974,"u":"\/d\/1974\/dha.htm","n":"DHA"},{"id":1599,"u":"\/d\/1599\/dhea.htm","n":"DHEA"},{"id":1775,"u":"\/d\/1775\/digestive-aids.htm","n":"Digestive Aids"},{"id":1821,"u":"\/d\/1821\/dim.htm","n":"DIM"},{"id":1766,"u":"\/d\/1766\/diuretics.htm","n":"Diuretics"},{"id":1601,"u":"\/d\/1601\/dmae.htm","n":"DMAE"},{"id":1945,"u":"\/d\/1945\/e-sports-gaming-supplements.htm","n":"E Sports Gaming Supplements"},{"id":1907,"u":"\/d\/1907\/eaas.htm","n":"EAA's Essential Amino Acids"},{"id":1991,"u":"\/d\/1991\/echinacea.htm","n":"Echinacea"},{"id":1604,"u":"\/d\/1604\/efa.htm","n":"EFA"},{"id":1605,"u":"\/d\/1605\/egg-protein.htm","n":"Egg Protein"},{"id":1988,"u":"\/d\/1988\/elderberry.htm","n":"Elderberry"},{"id":1756,"u":"\/d\/1756\/endurance.htm","n":"Endurance"},{"id":1980,"u":"\/d\/1980\/energy-drinks.htm","n":"Energy Drinks"},{"id":1744,"u":"\/d\/1744\/energy-products.htm","n":"Energy Products"},{"id":1977,"u":"\/d\/1977\/epiandrosterone.htm","n":"Epiandrosterone"},{"id":1981,"u":"\/d\/1981\/epicatechin.htm","n":"Epicatechin"},{"id":1786,"u":"\/d\/1786\/anti-estrogen.htm","n":"Estrogen Control"},{"id":1753,"u":"\/d\/1753\/fat-loss-products.htm","n":"Fat Loss Products"},{"id":1611,"u":"\/d\/1611\/fenugreek.htm","n":"Fenugreek"},{"id":1612,"u":"\/d\/1612\/fiber.htm","n":"Fiber"},{"id":1614,"u":"\/d\/1614\/fish-oil.htm","n":"Fish Oil"},{"id":1615,"u":"\/d\/1615\/flax-seed.htm","n":"Flax Seed"},{"id":1856,"u":"\/d\/1856\/focus.htm","n":"Focus"},{"id":1616,"u":"\/d\/1616\/folic-acid.htm","n":"Folic Acid"},{"id":1617,"u":"\/d\/1617\/forskolin.htm","n":"Forskolin"},{"id":1993,"u":"\/d\/1993\/fruits.htm","n":"Fruits"},{"id":1619,"u":"\/d\/1619\/gaba.htm","n":"GABA"},{"id":1948,"u":"\/d\/1948\/gaming.htm","n":"Gaming"},{"id":1620,"u":"\/d\/1620\/gift-certificates.htm","n":"Gift Certificates"},{"id":1621,"u":"\/d\/1621\/ginkgo-biloba.htm","n":"Ginkgo Biloba"},{"id":2011,"u":"\/d\/2011\/glucomannan.htm","n":"Glucomannan"},{"id":1625,"u":"\/d\/1625\/glucosamine-sulfate.htm","n":"Glucosamine Sulfate"},{"id":1915,"u":"\/d\/1915\/glucose-disposal.htm","n":"Glucose Regulation"},{"id":1626,"u":"\/d\/1626\/glutamine.htm","n":"Glutamine"},{"id":1820,"u":"\/d\/1820\/glycerol.htm","n":"Glycerol"},{"id":1883,"u":"\/d\/1883\/gotu-kola.htm","n":"Gotu Kola"},{"id":1802,"u":"\/d\/1802\/grape-seed-extract.htm","n":"Grape Seed Extract"},{"id":1781,"u":"\/d\/1781\/green-coffee-bean-extract.htm","n":"Green Coffee Bean Extract"},{"id":1631,"u":"\/d\/1631\/green-tea.htm","n":"Green Tea"},{"id":1632,"u":"\/d\/1632\/greens-food.htm","n":"Greens"},{"id":2009,"u":"\/d\/2009\/gut-health.htm","n":"Gut Health"},{"id":1990,"u":"\/d\/1990\/hand-sanitizer.htm","n":"Hand Sanitizer"},{"id":1986,"u":"\/d\/1986\/heart-health.htm","n":"Heart Health"},{"id":1939,"u":"\/d\/1939\/higenamine.htm","n":"Higenamine"},{"id":1640,"u":"\/d\/1640\/hmb.htm","n":"HMB"},{"id":1643,"u":"\/d\/1643\/horny-goat-weed.htm","n":"Horny Goat Weed"},{"id":1774,"u":"\/d\/1774\/humanofort.htm","n":"Humanofort"},{"id":1879,"u":"\/d\/1879\/hyaluronic-acid.htm","n":"Hyaluronic Acid"},{"id":1882,"u":"\/d\/1882\/hydration.htm","n":"Hydration"},{"id":1975,"u":"\/d\/1975\/immune-support.htm","n":"Immune Support"},{"id":1969,"u":"\/d\/1969\/indole-3-carbinol-i3c.htm","n":"Indole-3-Carbinol I3C"},{"id":1909,"u":"\/d\/1909\/intra-workout.htm","n":"Intra Workout"},{"id":1648,"u":"\/d\/1648\/iron.htm","n":"Iron"},{"id":1649,"u":"\/d\/1649\/isolate-whey-protein.htm","n":"Isolate Protein"},{"id":1933,"u":"\/d\/1933\/jerky.htm","n":"Jerky"},{"id":1789,"u":"\/d\/1789\/joint-formulas.htm","n":"Joint Formulas"},{"id":1918,"u":"\/d\/1918\/keto-products.htm","n":"Keto Products"},{"id":1652,"u":"\/d\/1652\/kre-alkalyn.htm","n":"Kre-Alkalyn"},{"id":1828,"u":"\/d\/1828\/krill-oil.htm","n":"Krill Oil"},{"id":1961,"u":"\/d\/1961\/ksm-66.htm","n":"KSM-66","i":"dept\/logo-img-4x_1595877971-0.jpg"},{"id":1653,"u":"\/d\/1653\/l-arginine.htm","n":"L-Arginine"},{"id":1654,"u":"\/d\/1654\/l-carnitine.htm","n":"L-Carnitine"},{"id":1655,"u":"\/d\/1655\/l-dopa.htm","n":"L-Dopa"},{"id":2016,"u":"\/d\/2016\/l-glycine.htm","n":"L-Glycine"},{"id":1656,"u":"\/d\/1656\/l-leucine.htm","n":"L-Leucine"},{"id":1657,"u":"\/d\/1657\/l-lysine.htm","n":"L-Lysine"},{"id":1835,"u":"\/d\/1835\/l-ornithine.htm","n":"L-Ornithine"},{"id":1921,"u":"\/d\/1921\/l-phenylalanine.htm","n":"L-Phenylalanine"},{"id":2010,"u":"\/d\/2010\/l-theanine.htm","n":"L-Theanine"},{"id":1923,"u":"\/d\/1923\/l-tryptophan.htm","n":"L-Tryptophan"},{"id":1659,"u":"\/d\/1659\/l-tyrosine.htm","n":"L-Tyrosine"},{"id":1947,"u":"\/d\/1947\/laxogenin.htm","n":"Laxogenin"},{"id":2005,"u":"\/d\/2005\/lecithin.htm","n":"Lecithin"},{"id":1768,"u":"\/d\/1768\/libido.htm","n":"Libido"},{"id":1761,"u":"\/d\/1761\/liver-detox.htm","n":"Liver Protection"},{"id":1662,"u":"\/d\/1662\/longjack.htm","n":"Longjack"},{"id":1922,"u":"\/d\/1922\/lutein.htm","n":"Lutein"},{"id":1663,"u":"\/d\/1663\/lycopene.htm","n":"Lycopene"},{"id":1664,"u":"\/d\/1664\/maca.htm","n":"Maca"},{"id":1954,"u":"\/d\/1954\/macadamia-nut-oil.htm","n":"Macadamia Nut Oil"},{"id":1854,"u":"\/d\/1854\/magnesium.htm","n":"Magnesium"},{"id":1973,"u":"\/d\/1973\/maltodextrin.htm","n":"Maltodextrin"},{"id":1897,"u":"\/d\/1897\/mct-oil.htm","n":"MCT"},{"id":1764,"u":"\/d\/1764\/meal-replacement-mrps.htm","n":"Meal Replacement MRP's"},{"id":1668,"u":"\/d\/1668\/melatonin.htm","n":"Melatonin"},{"id":1672,"u":"\/d\/1672\/milk-thistle.htm","n":"Milk Thistle"},{"id":1989,"u":"\/d\/1989\/mk-7-vitamin-k.htm","n":"MK-7 Vitamin K"},{"id":1675,"u":"\/d\/1675\/msm.htm","n":"MSM"},{"id":1673,"u":"\/d\/1673\/mucuna.htm","n":"Mucuna"},{"id":1674,"u":"\/d\/1674\/multivitamins.htm","n":"Multi-Vitamins"},{"id":1827,"u":"\/d\/1827\/n-acetyl-cysteine-nac.htm","n":"N-Acetyl Cysteine (NAC)"},{"id":1896,"u":"\/d\/1896\/nadh.htm","n":"NADH"},{"id":1979,"u":"\/d\/1979\/nattokinase.htm","n":"Nattokinase"},{"id":1898,"u":"\/d\/1898\/natural-protein.htm","n":"Natural Protein"},{"id":1806,"u":"\/d\/1806\/new-products.htm","n":"New Products"},{"id":1874,"u":"\/d\/1874\/niacin.htm","n":"Niacin"},{"id":1676,"u":"\/d\/1676\/no2-nitric-oxide.htm","n":"NO2 Nitric Oxide Boosters"},{"id":1966,"u":"\/d\/1966\/nootropics.htm","n":"Nootropics"},{"id":1833,"u":"\/d\/1833\/oatmeal.htm","n":"Oatmeal"},{"id":1678,"u":"\/d\/1678\/omega-3.htm","n":"Omega Fish Oils"},{"id":1860,"u":"\/d\/1860\/optimum-nutrition-specials.htm","n":"Optimum Nutrition - Specials"},{"id":1965,"u":"\/d\/1965\/overstock.htm","n":"Overstock"},{"id":1894,"u":"\/d\/1894\/paba.htm","n":"PABA"},{"id":1992,"u":"\/d\/1992\/paleo.htm","n":"Paleo"},{"id":1788,"u":"\/d\/1788\/pancake-mix.htm","n":"Pancake Mix"},{"id":1987,"u":"\/d\/1987\/pantothenic-acid.htm","n":"Pantothenic Acid"},{"id":1787,"u":"\/d\/1787\/post-cycle-support.htm","n":"PCT Post Cycle Support"},{"id":1826,"u":"\/d\/1826\/pea-protein.htm","n":"Pea Protein"},{"id":1763,"u":"\/d\/1763\/peanut-butter-products.htm","n":"Peanut Butter Products"},{"id":1968,"u":"\/d\/1968\/phosphatidic-acid-pa.htm","n":"Phosphatidic acid (PA)"},{"id":1684,"u":"\/d\/1684\/phosphatidyl-serine.htm","n":"Phosphatidyl Serine"},{"id":1861,"u":"\/d\/1861\/plant-protein.htm","n":"Plant Based Protein"},{"id":1958,"u":"\/d\/1958\/policosanol.htm","n":"Policosanol"},{"id":1743,"u":"\/d\/1743\/recovery.htm","n":"Post Workout - Recovery"},{"id":1687,"u":"\/d\/1687\/potassium.htm","n":"Potassium"},{"id":1754,"u":"\/d\/1754\/preworkout-formulas.htm","n":"Pre Workout"},{"id":1971,"u":"\/d\/1971\/pre-workout-stimulant-free.htm","n":"Pre Workout - Stimulant Free"},{"id":1940,"u":"\/d\/1940\/prebiotic.htm","n":"Prebiotic"},{"id":2006,"u":"\/d\/2006\/primrose-oil.htm","n":"Primrose Oil"},{"id":1814,"u":"\/d\/1814\/probiotic.htm","n":"Probiotic"},{"id":1942,"u":"\/d\/1942\/prolactin-control.htm","n":"Prolactin control"},{"id":1750,"u":"\/d\/1750\/prostate-formulas.htm","n":"Prostate Formulas"},{"id":1959,"u":"\/d\/1959\/protein-blends.htm","n":"Protein Blends"},{"id":1880,"u":"\/d\/1880\/protein-deals.htm","n":"Protein Special Offers"},{"id":1689,"u":"\/d\/1689\/protein-powders.htm","n":"Protein Powders"},{"id":1762,"u":"\/d\/1762\/pudding.htm","n":"Pudding"},{"id":1960,"u":"\/d\/1960\/pump-products.htm","n":"Pump products"},{"id":1904,"u":"\/d\/1904\/pycnogenol.htm","n":"Pycnogenol"},{"id":1934,"u":"\/d\/1934\/quercetin.htm","n":"Quercetin"},{"id":1692,"u":"\/d\/1692\/ready-to-drink-rtd.htm","n":"Ready To Drink RTD's"},{"id":1935,"u":"\/d\/1935\/recovery.htm","n":"Recovery"},{"id":1863,"u":"\/d\/1863\/red-yeast-rice.htm","n":"Red Yeast Rice"},{"id":1771,"u":"\/d\/1771\/relora.htm","n":"Relora"},{"id":1693,"u":"\/d\/1693\/resveratrol.htm","n":"Resveratrol"},{"id":1839,"u":"\/d\/1839\/rhodiola.htm","n":"Rhodiola"},{"id":2002,"u":"\/d\/2002\/ribose.htm","n":"Ribose"},{"id":1695,"u":"\/d\/1695\/same.htm","n":"SAMe"},{"id":1696,"u":"\/d\/1696\/saw-palmetto.htm","n":"Saw Palmetto"},{"id":1785,"u":"\/d\/1785\/sexual-health.htm","n":"Sexual Health"},{"id":1699,"u":"\/d\/1699\/shaker-bottles.htm","n":"Shaker Bottles"},{"id":1701,"u":"\/d\/1701\/silymarin.htm","n":"Silymarin"},{"id":1752,"u":"\/d\/1752\/sleep-products.htm","n":"Sleep Products"},{"id":1927,"u":"\/d\/1927\/snacks.htm","n":"Snacks"},{"id":1994,"u":"\/d\/1994\/spirulina.htm","n":"Spirulina"},{"id":1705,"u":"\/d\/1705\/stevia.htm","n":"Stevia"},{"id":1982,"u":"\/d\/1982\/stinging-nettle.htm","n":"Stinging Nettle"},{"id":1706,"u":"\/d\/1706\/straps.htm","n":"Straps"},{"id":1963,"u":"\/d\/1963\/stress-support.htm","n":"Stress Support"},{"id":1914,"u":"\/d\/1914\/super-food.htm","n":"Superfoods"},{"id":1709,"u":"\/d\/1709\/synephrine.htm","n":"Synephrine"},{"id":1658,"u":"\/d\/1658\/l-taurine.htm","n":"Taurine"},{"id":1784,"u":"\/d\/1784\/testosterone-boosters.htm","n":"Testosterone Support"},{"id":1889,"u":"\/d\/1889\/teacrine.htm","n":"Theacrine"},{"id":1845,"u":"\/d\/1845\/tonalin.htm","n":"Tonalin"},{"id":1844,"u":"\/d\/1844\/tongkat-ali.htm","n":"Tongkat Ali"},{"id":1984,"u":"\/d\/1984\/topicals.htm","n":"Topicals"},{"id":1713,"u":"\/d\/1713\/tribulus.htm","n":"Tribulus"},{"id":1848,"u":"\/d\/1848\/tudca.htm","n":"TUDCA"},{"id":1811,"u":"\/d\/1811\/turmeric.htm","n":"Turmeric"},{"id":1876,"u":"\/d\/1876\/twinpack-specials.htm","n":"TWINPACK Specials"},{"id":1936,"u":"\/d\/1936\/ubiquinol.htm","n":"Ubiquinol"},{"id":1870,"u":"\/d\/1870\/uc-ii.htm","n":"UC II"},{"id":1798,"u":"\/d\/1798\/ursolic-acid.htm","n":"Ursolic Acid"},{"id":1717,"u":"\/d\/1717\/vanadyl-sulfate.htm","n":"Vanadyl Sulfate"},{"id":1946,"u":"\/d\/1946\/vaso-6.htm","n":"Vaso 6"},{"id":1873,"u":"\/d\/1873\/vegan-protein.htm","n":"Vegan Protein"},{"id":1721,"u":"\/d\/1721\/vitamin-b.htm","n":"Vitamin B"},{"id":2000,"u":"\/d\/2000\/vitamin-b-1.htm","n":"Vitamin B-1"},{"id":1809,"u":"\/d\/1809\/vitamin-b-12.htm","n":"Vitamin B-12"},{"id":1794,"u":"\/d\/1794\/vitamin-b-6.htm","n":"Vitamin B-6"},{"id":1722,"u":"\/d\/1722\/vitamin-c.htm","n":"Vitamin C"},{"id":1723,"u":"\/d\/1723\/vitamin-d.htm","n":"Vitamin D"},{"id":1724,"u":"\/d\/1724\/vitamin-e.htm","n":"Vitamin E"},{"id":1926,"u":"\/d\/1926\/vitamin-k.htm","n":"Vitamin K"},{"id":1725,"u":"\/d\/1725\/waxy-maize.htm","n":"Waxy Maize"},{"id":1757,"u":"\/d\/1757\/weight-gainers.htm","n":"Weight Gainers"},{"id":1726,"u":"\/d\/1726\/whey-protein.htm","n":"Whey Protein"},{"id":1727,"u":"\/d\/1727\/whey-protein-isolate.htm","n":"Whey Protein Isolate"},{"id":1731,"u":"\/d\/1731\/wraps.htm","n":"Wraps & Straps"},{"id":1847,"u":"\/d\/1847\/zinc.htm","n":"Zinc"},{"id":1735,"u":"\/d\/1735\/zma.htm","n":"ZMA"}]]