Designer Whey Protein Gourmet Chocolate - 4 Lb
Item #: DG002
UPC: 844334003661
20% Off w/code DPS10
Out of Stock
DESIGNER WHEY 20G NATURAL 100% WHEY PROTEIN
20g of natural, GMO-free whey protein concentrate and GMO-free whey protein isolate. Made with premium whey from milk free of artificial growth hormones and antibiotics, with the full spectrum of peptides plus added Glutamine, Leucine, Taurine and Phenylalanine to support fitness and dietary goals.
• 20g of natural protein per serving complete with all the essential amino acids
• 110 calories per serving
• Natural digestive enzymes to support protein absorption
• 100% daily value of important B-Vitamins to convert protein to energy and to boost metabolism
• Rich in Calcium, Vitamin D, Phosphorus, Magnesium, Zinc, and Electrolytes for post-workout recovery
• Probiotics for healthy digestion and immune health
• Natural, prebiotic fiber helps you feel full and keep hunger away for hours
• No added sugar
• No artificial flavors, sweeteners, colors, or preservatives
• Certified Gluten-free and kosher
• Flip top lid with scoop holder on jars for easy opening and access to powder
• Environmentally sustainable packaging
• Made in the USA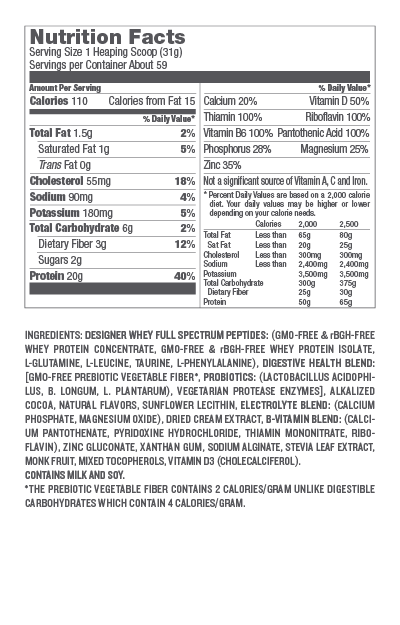 More items you might like
Loading...