Metabolic Nutrition T.A.G. Fruit Punch - 400 Grams
Item #: MB011
UPC: 764779698874
-20% Off Special w/code DPS10
T.A.G., or Trans Alanyl Glutamine, is the only true Muscle-Targeted Glutamine. Due to its unique di-peptide bond, T.A.G. creates a jacket to protect glutamine all the way through to the muscle. T.A.G. is an ideal solution for muscle repair, reducing muscle tissue degradation, and enhancing recovery.*
Glutamine has been a staple for athletes and fitness enthusiasts for benefits to muscle recovery and glutamine's impact on the body's immune system as a whole. While glutamine has many advantages to helping improve performance and health, it is often under-utilized in supplement programs due to poor absorption kinetics. However, T.A.G. has been scientifically engineered to deliver the full dose of glutamine necessary due to its unique bonding with alanine. Enhanced absorption means real results, and with enhanced recovery, you can go longer and stronger than ever before.*

Do not exceed recommended dose. Not intended for use by persons under the age of 18, those with a medical condition, or those with a history of kidney disease. Do not use if pregnant or lactating. If you are under the care of a physician, please consult your physician before using this product. Do not use if tamper resistant seal is broken. STORE IN A COOL, DRY PLACE AND AVOID EXCESSIVE HEAT. KEEP OUT OF REACH OF CHILDREN.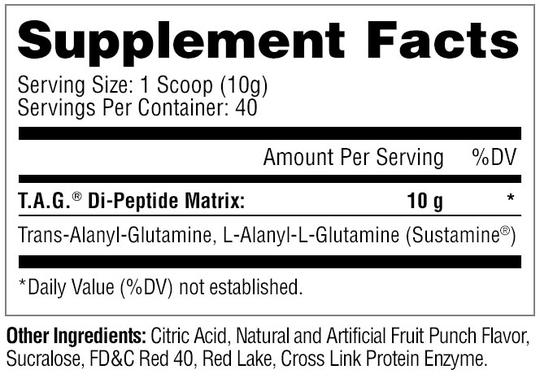 * These statements have not been evaluated by the Food and Drug Administration. This product is not intended to diagnose, treat, cure, or prevent any disease.
More items you might like
Loading...